As streaming services continue to turn their attention to creating original programming, it seems like the films that paved the way for them to even exist are getting cast aside in favour of these productions. Enter Filmstruck Curzon, a brand-new platform that claims to offer a wide range of cinema's most iconic and ground-breaking releases. Currently, the service is only available in the UK but is planning to be rolled out around the world over the next two years.
Backed by the likes of Warner Brothers, Curzon Cinema, and Criterion, on paper Filmstruck seems to be a classic cinema lover's dream. After spending a few days with the service, I can safely say that dreams do come true.
First impressions of Filmstruck Curzon after signup are promising. The grey and yellow interface is slick, with a minimalist design. Immediately after logging in, a large rotating slider advertises the currently featured themes and highlights of the catalog and covers all genres available. There are no frills, but there needn't be; the content speaks for itself. Navigation seems initially basic with only four options: Featured, Themes, Genres, and Films. Delve deeper into these categories though and there are further breakdowns to find the exact genre or mood you're after.
The featured category essentially acts as the homepage of Filmstruck Curzon, and as previously mentioned it collates highlights from the service on one page. It appears that each month will have a specific theme too, as February is listed as 'Cult Film' month. At the time of writing (on the week of launch) there's six films contained within: Quentin Tarantino's modern gangster noir Reservoir Dogs, found footage horror The Blair Witch Project, the skin-tingling 1953 version of House of Wax, Edward Norton's Oscar-nominated turn in American History X, Jim Jarmusch's comedy anthology Coffee and Cigarettes and finally the timeless musical comedy Little Shop of Horrors. That's not to say other films on the site wouldn't meet the criteria of a cult classic, it just appears as if Filmstruck Curzon's curators mean business and are incredibly selective in their choices.
The themes tab is where the films really get compartmentalized. At present, there are over a dozen themes to choose from, but no doubt this will expand as more films get added. The themes range from a particular director's work (there's a Gus Van Sant triple bill available at the moment) to one that includes notables films with rock stars in the cast, with Prince's Purple Rain being a standout pick. But it's in the Themes tab where you'll find what will undoubtedly be the biggest draw for many film aficionados: The Criterion Collection.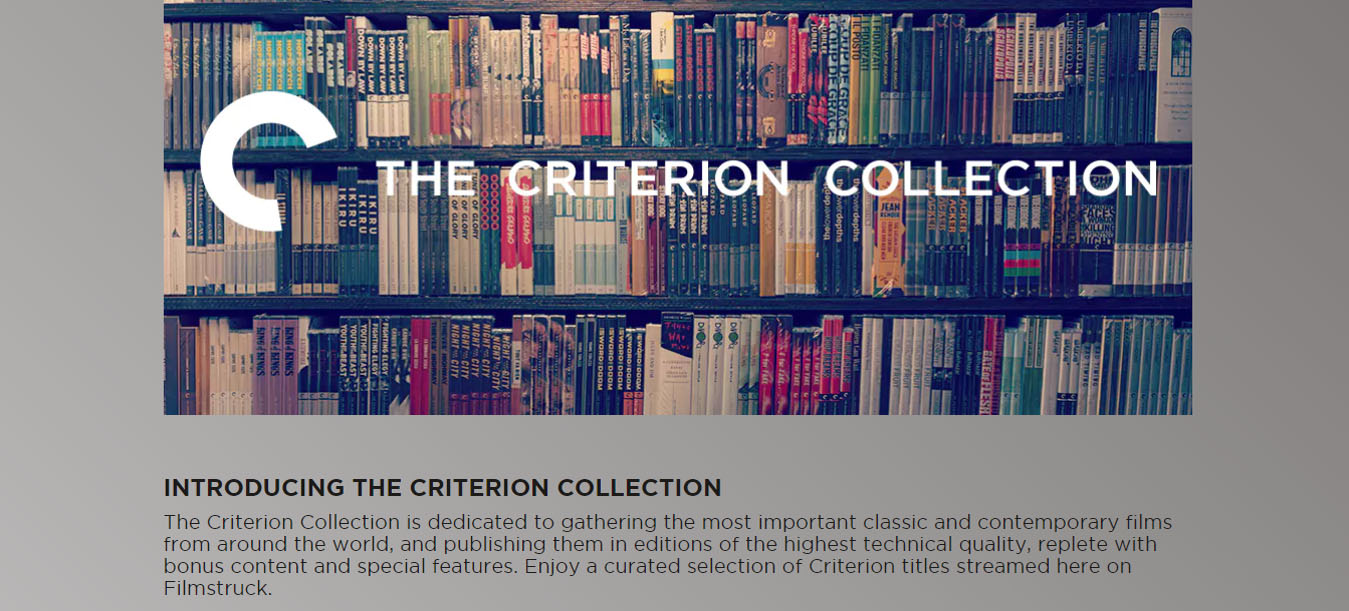 If you're not aware of what it is, The Criterion Collection aims to bring together the most important classic and contemporary films while releasing them in the highest possible quality. Filmstruck Curzon launches with an incredible 34 picks from the collection with the promise of new curated picks to come each month. Highlights of the highlights include Jûzô Itami's bizarre comedy Tampopo, the intensely claustrophobic 1955 mystery Diabolique and the 1925 landmark piece of cinema and propaganda Battleship Potemkin. This bundle of historically significant films alone makes the subscription fantastic value for money, and I implore anyone with even the most minuscule interest in cinema history to use this to further your knowledge. In addition to the films, there's exclusive interviews and special features which explore the importance of some films from the collection.
Another noteworthy theme is that of Curzon, the independent film company who have been creating diverse motion pictures for over 80 years. Their collection, curated in collaboration with Curzon Cinema, displays just how assorted and varied in genre their projects are, with inclusions such as iconic French New Wave picture Jules et Jim sitting right next to the ultra-violent and utterly sadistic Funny Games (US).
Along with the option to sort film by genres such as mainstream, arthouse, independent, documentary and much more, the Films tab lists all the content on offer in one place. There are currently 163 films to view at your leisure at launch and while this may seem slim pickings compared to competitor's catalogs, it's important to remember a few things: Filmstruck Curzon is in its very early stages and prioritise quality over quantity. How many times have you browsed through the libraries of other streaming services only to find there's either nothing that takes your fancy or they are films you've watched more times than you'd admit? Just a quick five-minute flick through Filmstruck Curzon's offerings left me with 18 titles added to my Watchlist. There are notably fewer movies in the horror category than the others, but as I've said Filmstruck Curzon is looking to fill a gap in the market rather than set up a stall that sells the same goods as other traders and there is already a service that exists which specialises in streaming horror movies.
After selecting a film, you're taken to its 'details' page. Here, you'll see information such as the poster, top-billed cast, director, its year of release, the runtime, genre and whether it's currently part of any theme. The majority of these tidbits of info are links and will take you to a filtered page containing further information on whatever it is you selected (for example, if you click an actor's name it will show other films available on the service that they star in and so forth). It would be great to see this filtering feature implemented a little more transparently, as I stumbled upon it by accident. The film detail page also gives the option to share what you're watching onto various social media outlets, although it only seems to share the homepage rather than a specific film.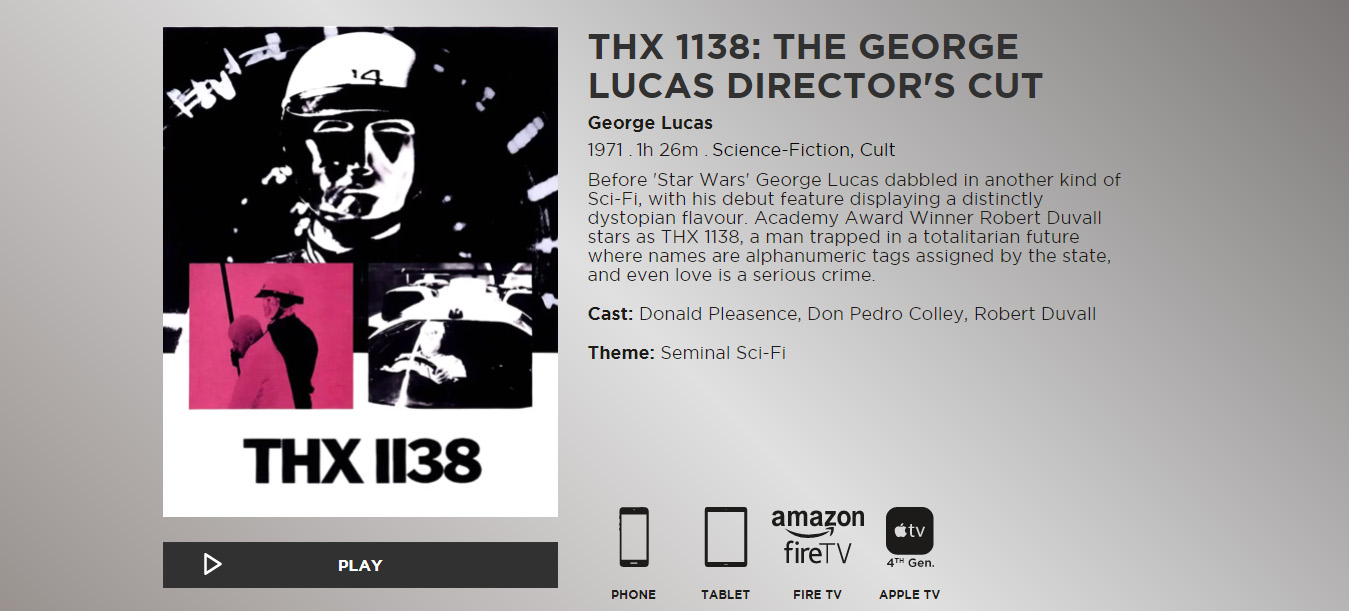 The film detail page is admittedly a little bare-bones and could have used some of the personality and attention as seen in the themed pages, such as having screenshots, interesting trivia or a trailer, but it ultimately gets the job done. Disappointingly though, I couldn't find any English-speaking titles that gave the option of subtitles – something that should arguably be included as standard. Foreign titles have them hardcoded as expected, but it's a shame that the omission of captions seems to have been so sorely overlooked.
A word of warning too: Filmstruck Curzon is not for the casual, once-in-a-blue-moon cinemagoer. There's a handful of films which are well-liked by the masses, including Christian Bale's American Psycho and (bizarrely) its little-known-for-good-reason sequel starring Mila Kunis as well as the Vietnam war flick Full Metal Jacket, but the platform is undoubtedly tailored for those who appreciate the technical side of filmmaking as well as its power to entertain.  I know it sounds pretentious, but their catalog is filled to the brim with challenging, experimental films from every decade of moviemaking existence that would simply go over the head of those who are after a piece of mindless entertainment. I imagine this to be an invaluable asset to any budding filmmakers or students too, as there are dozens of titles which helped shape cinema into what it is today.
Pricing for the service comes in two tiers: there's the monthly subscription at £5.99 with a 14-day free trial, or you could opt to pay for a year at £59.90 and get two months free. Filmstruck Curzon can be played anytime, anywhere on many platforms including a PC or laptop, Android devices, Amazon Fire TV and Apple Operating Systems. There's no word yet as to whether consoles will benefit from a dedicated app, but there has been confirmation of adding compatible devices soon.
Filmstruck Curzon is a vital companion to any cinephile. Their selection at launch is astounding, and with heavyweight companies such as Warner Brothers, Curzon, Turner Classic Movies and Criterion to name a few on board along with a slew of bonus interviews and documentaries available, it is looking likely to become the undisputed champion of streaming legendary releases.
Filmstruck Curzon is available now to UK residents. For more information and to begin a free trial trial, visit http://www.filmstruck.com

Of all the classic Universal Monster movies, The Invisible Man seems to be the most unknown, living in the impeccable shadow of its brothers Dracula, Frankenstein and The Wolf Man. This may be because The Invisible Man by definition, isn't a monster, but a insane scientist made invisible by his own experiments. There is nothing […]