With Warner Bros releasing the animated Scoob! in 2020, we dig up some delightful nuggets of trivia from the 2002 live-action Scooby-Doo to snack on. 
Jim Carrey was first choice for Shaggy
While it's hard to picture anyone other than Matthew Lillard as Shaggy, rubber-faced funnyman Jim Carrey was attached to the role in the early goings. The idea of a Scooby-Doo film first came about in the mid 1990's, with Carrey's name and star power being seriously considered. Mike Myers also expressed interest in playing the part. Ultimately though, the role would go to Lillard who would play the character in the 2004 sequel and voice him in the animated films from 2010. That is, until 2020's animated Scoob!, where he will be vocally replaced by Will Forte. The internet did not react well to this news and Lillard himself was reportedly not informed that he would be recast. Zoinks!
The first cut was R-Rated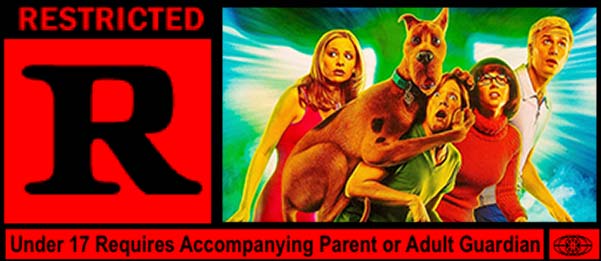 Long before his time at Marvel with Guardians of the Galaxy, writer James Gunn would get his big break with the live-action Scooby-Doo movie. His vision for the franchise was much raunchier than the original cartoon and was geared towards older kids. In 2017, on the 15th Anniversary of the films release, Gunn confirmed in a Facebook post that the first cut submitted to the MPAA (Motion Picture Assosiation of America) was slapped with a Restricted rating.
Apparently, the script really went all-in on Velma's sexuality, with Gunn stating that he's "pretty sure she's gay." One scene had Fred ogling Daphne as she put baggage in an Airplane overhead compartment. The script then called for a cut to Velma checking Daphne out too. Later on, the girls would share a kiss. What's more, there was so much cleavage on show throughout the film that it had to be CGI'ed out. When questioned in January 2020 about whether this cut would ever see the light of day, Gunn stressed that the film was intended to be PG-13 from the start. It was a "misinterpreted" joke which landed it in R territory. There are still countless double entendres to be found in the final product though. Take a look:
The Spooky Island Castle is a real attraction – and you can still visit
Filming for exterior shots of Spooky Island took place on the picturesque Tangalooma Island in Australia. For its indoor scenes, Scooby-Doo utilised the sound stages of Queensland's Village Roadshow Studios. Of course, the extravagant theme park itself is largely computer generated, but in 2002 Warner Brothers opened a ride based on the film that recreated the scenes inside Spooky Island's Castle. It can be found at the neighbouring Warner Bros. Movie World park and is a 'Wild Mouse' style ride. The entrance is modelled after the one seen in the film and ride cars are replicas of the demonic looking jesters that the gang encounter. The ride received a revamp in 2018 so there's plenty of life in the old dog yet!
Shaggy is a Vegetarian
There's hardly a moment when Shaggy isn't talking about food or devouring a snack, but did you know that he's a vegetarian? Casey Kasem, the DJ who voiced the character since its creation in 1969, was a dedicated vegan. When he began to follow the lifestyle, he requested the character do the same. Kasem was so dedicated to the Vegan cause that he quit the role in 1995 when asked to voice Shaggy for a Burger King commercial. He was replaced by Billy West, best known as Fry from Futurama and then Scott Innes. It wasn't until 2002 that he would return, on the grounds that our intrepid investigator would follow a vegetarian diet. This extended to the live-action depiction too. Kasem would lend his voice to the animated version until his retirement in 2009. In respect for Kasem, who died in 2014, the character continues to be a Veggie. His appetite may be insatiable, but you'll only find him eating Eggplant burgers with Scoob.
Tim Curry turned down a role due to Scrappy Doo
In another instance of alternative casting, long-time fan of the 'Doo Tim Curry almost stole the show as Spooky Island owner Emile Mondavarious. And he would've gotten away with it too if it wasn't for that meddlin' Scrappy. Yep, it wasn't the kids this time but Scooby's nephew who scuppered plans. Curry purportedly wasn't fond of the reckless pup and when he found out Scrappy would be in the film, he backed out. You can hear Curry's voice in two of the animated tales though; 1999's Scooby-Doo & the Witch's Ghost and 2008's Scooby-Doo & the Goblin King. 
The official song & music video is a mini-episode about drugs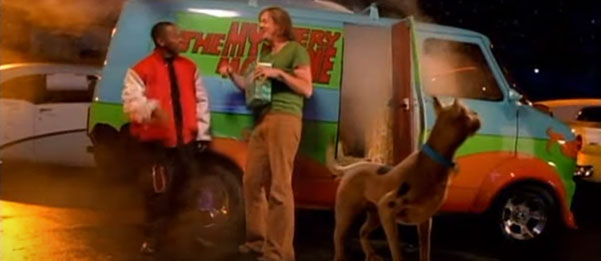 To coincide with the film's release, Hip Hop outfit OutKast recorded a song called Land of a Million Drums. A section of it can be heard when the gang first fly to Spooky Island. On the surface, it's a harmless and catchy tune in which Andre 3000 & Co. attempt to hunt down the thief of some Scooby Snacks. But look a little closer to the lyrics and you'll see they're not after food. At all. Lines such as "This one for Scooby, pass the doobie I'mma do me one, do me one", "Stuck in this green mini-van with my lungs in a choke hold" and countless references to "the stash" make it crystal clear they're on the hunt for the Devil's Lettuce.
The video doesn't help matters either, with one shot showing Shaggy emerging from a van internally engulfed with smoke. To keep things radio-friendly however, any offending words are censored with the sound of Scooby yelping. In the Land of a Million Drums, there might always be something going on – but Shaggy and OutKast are far too stoned to know what exactly that may be.
Scoob! is set for release on 15th May 2020 through Video On Demand platforms:

http://www.watchscoob.com 
Do you have fond memories of the live action Scooby-Doo movies? Are there any more interesting trivia tidbits we've missed? Let us know in the comments below! 

We take a look at other occasions where actors who would normally feel safe in one genre dipped their toes into the murky world of horrors or thrillers.

It'd be unsurprising if the audience themselves haven't performed the always popular 'disappearing act' - by leaving the cinema before the credits.

With a strong performance from Carrey, cute penguins and a well meaning moral, it caters for all the family.