In our Podcast Series Review Avenue Streetlight, we discuss and dissect a different film each episode. We go through the film in depth, discussing the plot and pivotal scenes so fair warning for

SPOILERS!
On this episode, we're entering to 'Cast Colosseum to square up against Ridley Scott's 2000 historical epic Gladiator. 20 years on from its release, are we still entertained? And who will be the Gladiator King in the quizzical showdown between Sean & Oliver?
Listen Below or click the following to enjoy through your favourite Podcast Provider:
YouTube | Spotify | iTunes
Don't forget to
SUBSCRIBE/FOLLOW

on these services to be the first to know when a new episode becomes available!
Gladiator is currently streaming on the UK Netflix catalogue.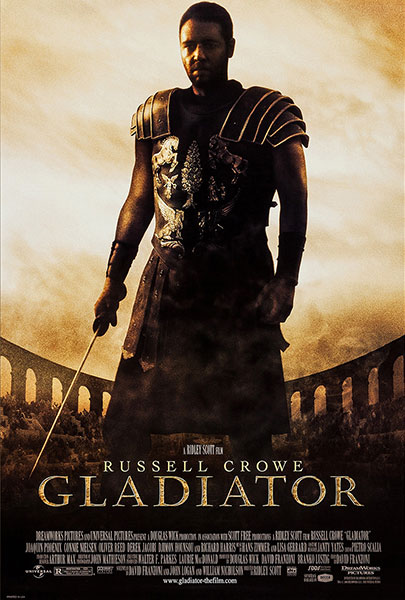 Episode Credits:
All Gladiator Sound Clips used courtesy of Universal & Dreamworks Pictures. They can be found throughout YouTube.
Gladiators (1992) TV theme soundbite used courtesy of ITV Studios & LWT and available on YouTube
Gladiator score by Hans Zimmer & Lisa Gerrard clips courtesy of Decca Records
Pirates of the Caribbean : Curse of the Black Pearl score clip used courtesy of Disney Records.
Comparison video available on YouTube
Mars, from Gustav Holst's Planet Suite, being played by The Royal Liverpool Philharmonic Orchestra and conducted by Sir Charles Mackerras. Available on YouTube.
Clips used for review and commentary purposes only and no copyright infringement is intended.
Opening & Intro music: "No. 8 Requiem" – Esther Abrami. YouTube Audio Library.
Outro music: "Wicked Things" – Quincas Moreira. YouTube Audio Library

"Light, Pulley Switch, On, A.wav" by InspectorJ (www.jshaw.co.uk) of Freesound.org
"Buzzer Sound / Wrong Answer" by Breviceps of Freesound.org
"Up Chime 2" by FoolboyMedia of Freesound.org
Further Reading & Sources
Extended Cut vs. Theatrical Cut Comparison
Gladiator Turns 20: Ridley Scott & Russell Crowe Look Back on Groundbreaking Historical Epic – Variety
Ridley Scott says Oliver Reed 'dropped down dead' after challenging sailors to drinking match while filming Gladiator – The Independent
History Buffs – Gladiator (YouTube)
The Making of Gladiator (YouTube)
Russell Crowe: Inside The Actors Studio (2004) (YouTube)
Gladiator IMDb Page
Gladiator Wikipedia Page 
Box Office Information correct at time of recording (19th July 2020) and obtained from The Numbers.