The Details
Release Date
12th October 2018 (Netflix Premiere)
Synopsis
In 1905, a drifter on a dangerous mission to rescue his kidnapped sister tangles with a sinister religious cult on an isolated island.
Starring
Dan Stevens, Richard Elfyn, Paul Higgins, Michael Sheen
It's the spooky season, and Netflix knows it. But alongside the seemingly huge success of its Gothic tale of trauma in their series The Haunting of Hill House as well as their existing catalogue of classics, is there room for a Netflix Original horror film this Halloween?
Budge over – Apostle deserves your undivided attention.
It's 1905, and drifter Thomas (Dan Stevens; The Guest) has been summoned by his estranged father for a mission: to infiltrate a mysterious island community (a land of "blasphemy and disease") and to rescue his sister who they have captured and imprisoned for ransom.
When he tricks his way ashore, Thomas discovers a crudely draconian but tight-knit village, fervently following the word of the Prophet Malcolm (Michael Sheen) and their "goddess". However, he soon finds the sinister truth of a faith born in blood and sacrifice. A faith that might just swallow him whole.
The first thing that can be said of Apostle is that it's an atmospheric tour de force. We're on the island within ten minutes of the opening credits, but there's a deep, dark sense of foreboding from the very start. Whether that's directly coming from the story or from the excellent score – led by vocal choirs and strings like a swarm of angry bees –  it undoubtedly bleeds into the plot's early mysteries, which instantly hook you. Who is Thomas? Why is the island so secretive? Who is the goddess? Despite many questions, the plot feels sharp and clear in the opening act.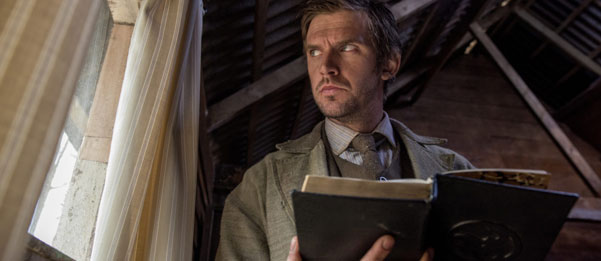 The acting is solid throughout the cast. Thomas, our enigmatic protagonist, is played by Beauty and the Beast's Dan Stevens, an excellent portrayal as the broken but doggedly resolute man the story needs him to be. He feels like a man on the edge and Stevens maintains this intensity throughout the film. The other major performance is that of Michael Sheen (Masters of Sex, The Queen), as Prophet Malcolm, leader of the community. This is a typically powerful performance from Sheen and he does justice to such an integral role; whether he's the kindly father of the village or a ruthless interrogator, you just can't look away when he gets going.
At the helm is writer/director Gareth Evans, most famous for his action film pedigree in The Raid  and its equally ass-kicking sequel. The brutality and bloodshed seen in the fight scenes of his previous work make the transition to Apostle during the frequent bloody climaxes, which include similarly brutal fights but also excruciating scenes of archaic punishment.  Make no mistake, this film is not for the faint-hearted. That said, there's a lot more in Evans' locker.
The island itself, and her cult-like villagers, are masterfully created with fantastic set and costume design that takes full advantage of  Netflix's bottomless wallet. Especially with such a similar premise, there's one hell of an urge to make a fundamental comparison of Evans' island to 1973's The Wicker Man setting of Summerisle. Both are British, both host simple-living, pious communes secluded from the mainland and both hide a dark secret. But the two markedly differ in how they make us feel the ever-present peril: instead of Summerisle's beguiling saccharine sweetness, Apostle's island is the bitter taste of soil and the metallic tang of blood.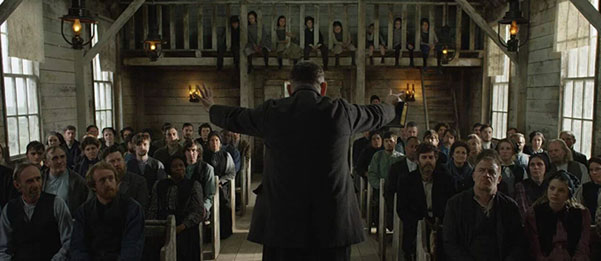 All of this is brilliantly put into frame by Matt Flannery, Gareth Evans' long-term cinematographer. The cold, bleak, beautiful landscape of coastal Wales is captured perfectly, but Flannery excels in his inventive ways to put us right in the characters' shoes, feeling their shock, anger, disorientation, pain or, more frequently, fear.
So what about fear? This is supposed to be a Halloween film after all; how does it scare us? Well, by way of "conventional" scares, Apostle offers well-executed moments, but no more than a handful. Its true strength as a horror film lies in its slow-burning dread punctuated by grotesque, bloodthirsty peaks as the island slowly reveals itself to Thomas. Thanks to excellent direction, we're right along there with him.
It must be said, around three-quarters of the way through the film, the plot and pacing lags a little and it's here you really feel the film's two-hour run time, but you'll soon be swept up again for the dramatic and blood-drenched conclusion.
Apostle is a fantastic horror experience, and an overall great film. With a well curated mix of genre themes (from the supernatural to its rampant gore) and a sharp, captivating visual style – reinforced with seamless acting, design, and direction – this is nigh-on unmissable for Netflix subscribers this October.
We Liked
The carefully curated dread
Explosive scenes of blood and gore
The island
Smart and creative cinematography
We Didn't Like
A bit longer than it needed to be.

Ambitious in narrative scope but ultimately overstuffed, Bless The Child might not possess any exceptional qualities but it's a solid fixture in the spooky gifted youngster subgenre.

Ari Aster's Midsommar dream is a psychedelic and sunbathed nightmare.