The Details
March 12, 2019
Release Date
22 February 2019
Synopsis
While serving a five-year sentence for a violent crime, a 12-year-old boy sues his parents for neglect.
Starring
Zain Al Rafeea, Yordanos Shiferaw, Boluwatife Treasure Bankole
Capernaum's alternative English title is "Chaos". A suitable name for this commanding and melancholic tale of extreme poverty in Lebanon. This is a film that pulls no punches in terms of its depiction of life for those at the bottom in a third world country, and it's all the more tragic that this film's focus is on children. The child in question is Zain: a 12-year-old boy serving significant prison time for attempted murder. Whilst in jail he decides to sue his parents for neglect and "being born". He is brought before the courts to take civil action against them. We then flashback several months and watch Zains life unfold before the aforementioned crime.
There are a few things about Capernaum that strike you straight away. Firstly, it's beautifully shot, masterfully even. The film starts with the camera floating above the tangled maze of Beirut's slums and is accompanied by a montage of young boys smoking and playing soldiers with knives amongst the garbage. This striking image of boyhood is somewhat sweet but unduly disheartening as their disregard for life is slowly being sewed. All set to a soundless image and Khaled Mouzanar's tranquil score. It's a beautiful film to watch despite all of its decay and hellish subject matter. There are knockout shots and sequences throughout that truly fill a cinema screen. It's enthralling.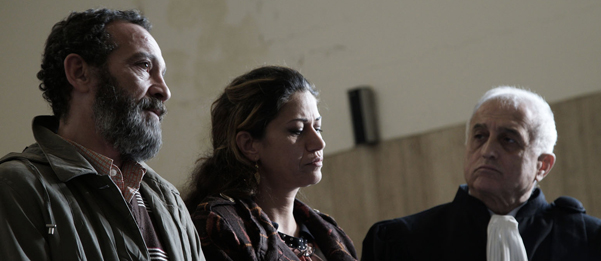 Not long later the quality of the actors hits you like a ton of bricks. Seen predominately through the eyes of young Zain (played by Zain Al Rafeea) means the film rests entirely on his young shoulders, and him being a Syrian refugee with no acting training or experience, it makes his performance even more conclusively sensational. Whether he is hurling curses in a fit of rage or sitting silently on the sidewalk, Al Rafeea brings you into his world and situation. There are large segments of the film occupied only by Zain and an infant resulting in little dialogue. Yet these scenes hold some of the most powerful and deep natured communication through the use of body language and Al Rafeea's heartbreaking eyes.
The supporting cast does not put a foot wrong either. Zains abusive and neglectful parents showcase the deeprooted problems of being unable to change one's own circumstances. Rahil (Yordanos Shiferaw), an undocumented Ethiopian woman hiding from the authorities whilst providing for her baby mirrors Zain's own struggle and demonstrates the terrifying strife of many refugee women. Everyone involved feels real and fleshed out, even down to Mr. Harout: an elderly employee at an amusement park who chain smokes whilst dressed in a stained Spider-Man costume (and subsequently calls himself cockroach-man). He provides Zain with a small amount of comfort and the film with one of its few tender moments.
With such sorrowful subject matter, Capernaum will certainly be a struggle for some to get through in a similar way that Schindler's List is for people. It also lingers a little too long during its final act when back in present day, and the courtroom scenes don't work as well as the rest of the film. But knowing that director Nadine Labaki put many of the cast's own experiences into the film hits hard, and watching Zain try to hide the signs that his younger sister has started her period to prevent her from being sold to an adult husband feels all too real. The same can be said seeing Zain walk down a chaotic highway with a baby in his arms, alone, for nobody to bat an eye. It's a painfully sad film for the majority of its runtime, but one that I appreciated immensely and urge you to see.
We Liked
Incredible amateur cast
Suitably brutal and important
Shot with great artistry and skill
We Didn't Like
Slightly overlong