The Details
Release Date
4th February 2019 (UK VOD Premiere)
Synopsis
A couple moves to an isolated, modern, safe apartment building with CCTV after the wife has problems with nightmares. However, something's not quite right with the building.
Starring
Christina Ricci, Brendan Fletcher, Vicellous Shannon, John Cusack
In Rob King's paranoia thriller Distorted, Christina Ricci (The Addams Family, Speed Racer) plays Lauren Curran, an artist plagued by nightmares brought on by a personal trauma that occurred in her home. In an attempt to alleviate the problem and to make her feel more secure, Lauren and her husband Russel (Brendan Fletcher; Freddy vs. Jason, Leprechaun: Origins) move to an apartment in a swanky new high surveillance tower block called The Pinnacle. At first, the residents seems to be pleasant and welcoming, but Lauren senses there's definitely something amiss with her new abode. With the help of investigative journalist and hacker Vernon Stansfield (John Cusack; 1408, Hot Tub Time Machine), can the duo uncover what's really going on at The Pinnacle?
The basic story of 'is this really going on, or is it all in my head'? has been done before countless times, including 2018's excellent iPhone shot Unsane, and no doubt been told better than it is here but Christina Ricci elevates the enjoyment levels of Distorted above what it would be without her involvement. It's not a particularly memorable performance from Ricci, but she gives off a convincingly alert performance where she looks as if she'd jump out of her skin at the drop of a pin to ensure the film is consistently engaging. Much like 2017's sci-fi silliness Singularity, Cusack's role is nothing more than an uninspired cameo of a few minutes in which he's clearly only here for the quick paycheck, but he's fooling no one as a shady hooded hacker.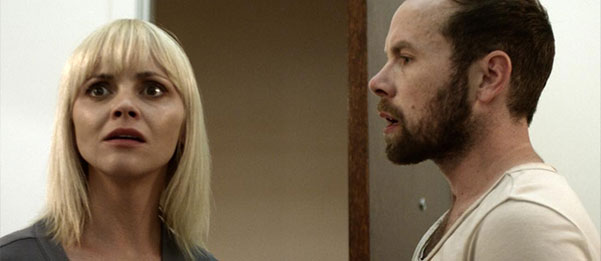 King does occasionally succeed in creating an atmosphere of paranoia through his directing, but other times his intention of giving the impression of indoctrination becomes overwhelming. Distorted should seriously come with a warning to anyone sensitive to flashing images, because there are moments which will make you feel like you're being legitimately brainwashed through Lauren's supposed visions by the rapid cuts of abstract and morbid pictures. I'm not exaggerating here – I had to look away at a few points because the startlingly bright white screen intercut with various subliminal messages went on for too long and started to make my head hurt.
Disappointingly, Distorted doesn't end as strongly as it starts. At under 90 minutes, it's a kilobyte-sized movie but even that begins to feel too long by the hour mark. It's a shame, because there are many avenues that screenwriter Arne Olsen (Mighty Morphin Power Rangers: The Movie, Repeaters) could have navigated down. Take, for example, The Pinnacle building itself; it's a criminally under-explored concept that with a little more explanation would have given the final reveal more of a kick.
Still, a spirited performance from Ricci and a slowly unravelling backstory to her character that ends up being a surprisingly touching subplot save Distorted from going completely awry – just remember to heed my earlier strobe lighting warning.
We Liked
Ricci's performance
Initially intriguing premise
We Didn't Like
Cusack is, once again, a bored looking glorified cameo
Migraine-inducing strobe lighting sequences
Doesn't explore the more interesting aspects of its high-tech story

Singularity boasts some occasionally slick visuals but it doesn't have an original idea in its database: these robot disguises aren't fooling anyone.

A few gags fall flat, but are clearly filler material in what is otherwise a satisfying comedy.