The Details
Release Date
16th March 2020 (Eureka Blu-Ray Debut), 22nd May 1942 (US Theatrical)
Synopsis
Covering a quarter-century of American 'syncopated" music (Ragtime, Jazz, Swing, Blues, Boogie Woogie)from prior to WWI through prohibition, the stock-market crash, the depression and the outbreak of WWII.
Starring
Adolphe Menjou, Jackie Cooper, Bonita Granville
In William Dieterle's toe-tapping jazz chronicle Syncopation, talented child pianist Kit (Bonita Granville; Nancy Drew: Detective) is forced to move to Chicago due to a business opportunity for her father. In doing so, she leaves behind her good friend Rex (Todd Duncan), an aspiring Cornet player who has just bagged a place in a Street Band. She promises to return to New Orleans someday to reconnect.
Fast forward ten years and Kit is now 17. Her love for the piano has not waned, however. One night when out walking alone, she meets  Johnny (Jackie Cooper; Superman's Perry White). He takes her to a party where she promptly shows off her New Orleans tinged ivory massaging skills – much to the anger and confusion of the Chicago crowd.
With the outbreak of World War One, Kit's fiancee Steve (George Bancroft; Stagecoach) is sent off to fight. Tragically, he's killed in battle and Johnny, who has carried a flame for Kit ever since they met, sees this as a chance to make his move. Eventually, he's offered a gig in a big jazz orchestra too. But as Johnny's stardom rises, can he manage juggling a life on the road with a marriage to a wonderful woman who wants to settle down?
Unsurprisingly, the people of Syncopation play second fiddle to its soundtrack. Covering a quarter-century of American 'syncopated music' (ragtime, jazz, swing, blues and boogie-woogie), it features tunes from the turn of the century through prohibition, The Great Depression and the outbreak of WW1. Despite covering a lot of ground, Syncopation is very light on showing how these styles came to be. It's less about the evolution of music and more about each characters personal connection to it.
Syncopation's overall narrative is rather translucent too, with events merely happening as an excuse to fit in a musical number. Obviously this is to be expect and more often than not, the segue works perfectly fine. But on the odd occasion it doesn't, it sticks out like a Keytar player in a brass band. Most notably, a sequence where Kit is in court for inciting a riot through her piano playing spurs an impromptu performance of the offending piece in the hallway. The public gallery, Judge and jury all spill out to listen, culminating in the strangest trial verdict in criminal history.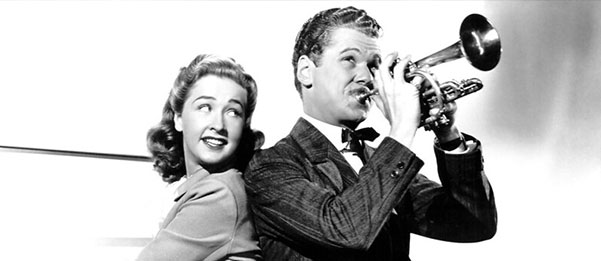 Kit and Johnny make for a sweet if unconvincing couple, with Kit never really seeming fully into the relationship. The most disappointing character arc for me is that of Rex, Kit's longtime friend. Intermittently popping up to show off his ever-growing fame, there isn't complete closure to his and Kit's relationship. Still, it's a vital inclusion and goes some way in representing the roots of the genre.
At the heart of Syncopation though is the importance of creative freedom in music. It runs through the picture like a stick of seaside rock and at various junctures is a cause of frustration for each of the main players. I particularly enjoyed Johnny's story, in which he finally makes it big getting a spot in a travelling Jazz Orchestra, only to feel trapped by the repetition of sheet music. This is fantastically displayed visually in a magnificent scene that depicts him imprisoned by musical notes.
Speaking of the big band, producers held a contest for the readers of 'The Saturday Evening Post" to vote on the musicians to make up the All-American Dance Band. The magazine's readers chose, in the above-the-title listing: Charlie Barnet, Benny Goodman, Harry James, Jack Jenney. Gene Krupa, Alvino Rey, Joe Venuti, and singer Connee Boswell. It's a veritable who's who of 1940's Jazz and they all get their moment to shine in dazzling solos. Gene Krupa especially impresses behind the drumkit, maniacally pounding the skins in the typical controlled spontaneity that the genre is known for. The idea of a public vote for casting certainly is a curious one. Imagine being able to potentially choose a guest director for a specific explosive action scene, or to finally get that dream casting to come to fruition.
In spite of its lacking main narrative and flimsy character relations, Syncopation is an essential watch for classical Jazz lovers. Its packed with larger-than-life music numbers and performances from all-time greats of the genre. Anyone with a remote interest in the style will find themselves bobbing their head along to the infectious beats – something which the extremely lenient jury in the film would still find me unashamedly guilty of.
Syncopation is out now for the first time in the UK through Eureka Entertainment & is available to order from

Eureka Store

and

Amazon

.
DUAL FORMAT SPECIAL FEATURES
Presented in 1080p on Blu-ray from a 2K restoration completed by the Cohen Film Collection
Progressive encode on the DVD
LPCM 2.0 audio (Uncompressed on Blu-ray)
PLUS: A collector's booklet featuring a new essay by Pasquale Iannone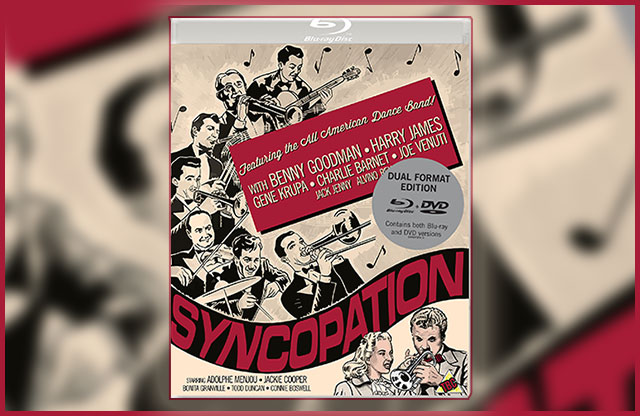 We Liked
Plenty of infectiously groovy Jazz numbers
Solos of prominent musicians of the genre
We Didn't Like
Slim narrative
Rex's character arc feels unfinished