The Details
Release Date
11th March 2019 (UK Digital HD Release)
Synopsis
A murderous shapeshifter sets out on a blood-soaked mission to make things right with the woman he loves.
Starring
Lora Burke, Jack Foley, Elitsa Bako
Shapeshifters haven't been given a lot of love as of late in horror movies. It's a mystery as to why; their abilities mean they could literally be anyone or anything. The last memorable movie which featured one was 2014's excellent It Follows, but even then they were portrayed as the antagonist. In Justin McConnell's Lifechanger, the concept of a shapeshifter always being the bad guy is turned on its head – but that doesn't mean there still won't be a high body count.
Told through an omniscient narrator named Drew, Lifechanger begins strikingly with a nude woman laying next to a corpse which appears to have had the life and soul drained out of it, leaving just a husk. Rather than being alarmed, the woman (who we come to know briefly as Emily) seems more disappointed and exasperated; as if this isn't the first time something like this has happened. She is, of course, the latest form of the narrator Drew, a shapeshifter.
Unsurprisingly, there's a few caveats to being a shapeshifter, mainly the unfortunate business of owning a quickly rotting body as soon as it becomes taken over. Not only that, but with each new human vehicle Drew drives, he gets their memories, personalities and feelings too. When he falls in love with Julia (Lora Burke, Poor Agnes) after transforming into her partner (who, remember, is now nothing but a hollow mummified shell), he sets out on a bloody but ultimately heartfelt journey to make things right with her.
There's a sombre and heartbreaking streak running through Lifechanger's frequently grotesque exterior. It's refreshing to see an alternative take on shapeshifters, who are so often seen as having nefarious motives: Denzel Washington's Fallen, anyone?
Here, Drew is a man (woman? alien? parrot? Who knows) simply on a voyage of self discovery, living vicariously in an attempt to find purpose for their own existence. The mass murder he commits is a matter of survival rather than pleasure, and at no point does writer/director McConnell ever convey it as anything other than a necessity. Drew, or whoever they happen to be at that time, visibly detests having to do what he must to continue living but after being introduced to Julia he finally feels he has a purpose. But to what end? And how could a situation like this possibly have a positive conclusion?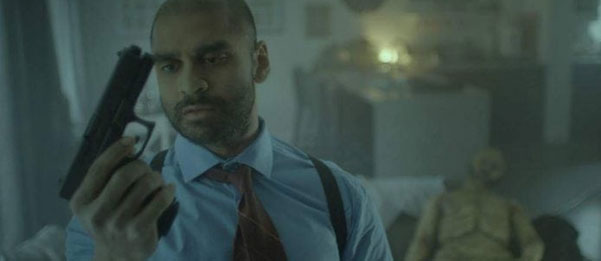 The first half of Lifechanger feels like a series of interlinking short stories as Drew hops from one person to the next. We don't get to spend much time with any of them, so it's rather difficult to generate an emotional connection with what essentially are bit players. We're reliant on Drew's gruff, middle-aged male voiceover (provided by Bill Oberst Jr., 3 From Hell) to give us an insight into the frame of mind of both himself and the person he's currently in control of. It doesn't quite work and the contrast between the voice and body is occasionally jarring, especially when he's a female.
It's not until Drew takes over the form of Julia's current boyfriend Robert that Lifechanger really gets into a groove. From here, I was engrossed in the story which, up until now, had been hit and miss. For the first time, the film slows down enough for us as well as Drew to really get in the minds and thoughts of a character, namely Robert. Lifechanger's third act is one of the strongest conclusions I've seen from an independent horror in a long while and while it doesn't provide all the answers to the questions it posed, the events which occur are sure to leave a mark.
Lifechanger would be best enjoyed if not seen as a straight genre piece. It's a warped romance seen from one perspective with elements of body horror and some exceptional practical effects provided by David Scott (best known for 2004's Dawn of the Dead). I'd say it's comparable to Benson and Moorhead's 2014 definition defying Spring or, to an extent, Cronenberg's ultimate horror love story The Fly.
Either way, Lifechanger has a soul of its own and puts Justin McConnell on the map as a director willing to see past face value to delve deeper into the human side of creatures that are anything but.
Lifechanger will be available on Digital HD from 11th March 2019 through FrightFest Presents. 
We Liked
Refreshing take on the long-absent shapeshifter
Third act is utterly engrossing
Fantastic practical and CGI effects
We Didn't Like
Takes a while to get into a groove
Moves too quickly to begin with, giving no connection to a few short-lived characters

Arrow Film's James White discusses the story behind restoring these three films of José Larraz - Vampyres, The Coming of Sin and Whirlpool.