The Details
Item Reviewed
Night Hunter
September 14, 2019
Release Date
13th September 2019
Synopsis
A police lieutenant, his entire force, and a vigilante become caught up in a dangerous scheme involving a recently arrested, troubled man who's linked to years of female abductions.
Starring
Henry Cavill, Alexandra Daddario, Ben Kingsley, Brendan Fletcher, Stanley Tucci, Eliana Jones, Nathon Fillion
Night Hunter (or Nomis as originally titled) from David Raymond is an interesting 'Straight to video' crime thriller. The stigma behind such films is attributed to their often schlocky value and overuse of cliches, and Night Hunter definitely falls foul of this. However, there is a quality film here, in places at least, with some well-written scenes (especially the opening) and the semblance of interesting characters played by some very predominant actors. Whilst the actors may be trying their hardest, the distribution company clearly didn't have the confidence for a full theatrical release. Despite this, you could do worse for an evenings entertainment, even if it's safe by definition.
Lieutenant Aaron Marshall (Henry Cavill: Mission: Impossible – Fallout, Man Of Steel) is struggling as a father when he receives a murder case of a young woman. Working alongside police profiler Rachel (Alexandra Daddario: Texas Chainsaw 3D), he tracks down the culprit to the basement of an old mansion, where dozens of women are being held captive. They soon realise that a potential accomplice is still at large as the police begin to be targeted to vicious attacks. Meanwhile, the retired judge and self-appointed vigilante Michael Cooper (Ben Kingsley: Iron Man 3, Shutter Island) joins the search with his own views on justice.
Despite having a solid opening act with the killer-on-the-loose narrative thread being resolved within 30 minutes of the run-time, Night Hunter quickly descends into eye-rolling silliness. It does retain some sense of fun, likely for all the wrong reasons of course, but I'm thankful boredom never set in. There is a Se7en copycat atmosphere throughout which again isn't necessarily a complaint, but does hold the film back from any sense of individuality.
I assume the actors saw something in the script before signing on because it's clear they're all trying their best with average material. Both Cavill and Kingsley certainly give their characters as much depth as they can with the script, but barely any time is given to really flesh them out. The result of their performances corresponds with my feelings on the film as a whole –  acceptable but forgettable. Brendan Fletcher (Freddy VS Jason, The Revenant) at least gets to chew the scenery with malevolence as the deranged culprit Simon and adds some much-needed life to proceedings, but his character arc feels slightly 'Scooby-Doo' and only adds to the campy feeling of the film.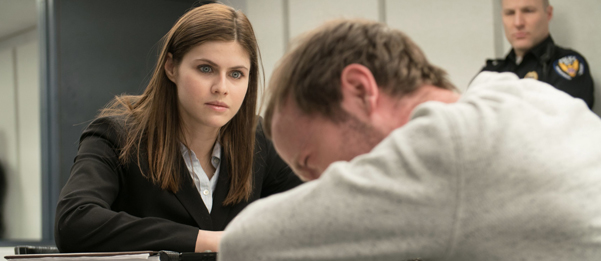 The most unforgivable aspect of Night Hunter though is it's 'original' score: there's nothing original about it. It really is the most generic, boring, stock sounding thriller music that could have been used. As if they placed temp music on the track during the editing process and simply forgot to take it out. A good score couldn't have saved the film or turned it into a masterpiece, but it does have the ability to transform a scene into something compelling, something that won't be found here.
At the end of the day Night Hunter is a simple film attending to simple tastes, and sometimes that's fine. It isn't sophisticated or smart but it never outstays it's welcome and always manages to be enjoyable, whether during one of it's few genuinely well-constructed scenes or many of its generic genre schlock moments.
Night Hunter is released in selected cinemas and on Digital HD 13th September 2019
We Liked
A couple of solid performances
Promising opening
We Didn't Like
Textbook generic crime thriller
Awful stock sounding music


Essentially a run of the mill action/adventure movie with the benefit of ready moulded characters.

Shutter Island is a taunt and intelligent thriller that, while occasionally atmospheric, is low on tension.