The Details
Release Date
28th January 2019 (UK Blu-Ray Release)
Synopsis
After the death of Superman, several new people present themselves as possible successors.
Starring
Jerry O'Connell, Rebecca Romijn, Rainn Wilson, Patrick Fabian, Rosario Dawson
Full disclosure: I've not seen 2018's The Death of Superman, the first part of DC's two-part animated telling of the 1992/1993 Superman comic arc, nor have I read the aforementioned story. This review will be based entirely on what transpires solely in Reign of the Supermen, so if you're looking here to see how true to its comic book origins the movie is, it's probably best that you keep on walkin'.
Still here? Good. That must mean one of two things – you enjoy my writing, regardless of what it's about or the batteries have died in your wireless mouse so you're stuck here until you find more AAA's. Either way, I (and RA's hit counter) appreciate it.
It's been months since the unfathomable death of Superman and the world is still shaken when four Super Heroes arrive in Metropolis all battling for Superman supremacy. There's the single-minded being known as The Eradicator, as well as a Cyborg Superman who says all the right things but there's still something a little off with him, besides the fact he looks like a skinned Terminator. A hammer-wielding hero joins the fray too, a character who I was thoroughly disappointed at not being named SupeThorMan and a younger, edgier yet still woefully outdated Superman makes it four – with Lex Luther having a particular interest in this one successfully taking the torch.
Naturally, Lois Lane continues to grieve for The Daily Planet journalist Clark Kent, who seemingly lost his life in the events of The Death of Superman. Being the intrepid reporter that she is, and also in the know about Kent's alter-ego, Lane works with The Justice League to find out what the motives are for the new Supermen arriving in the city.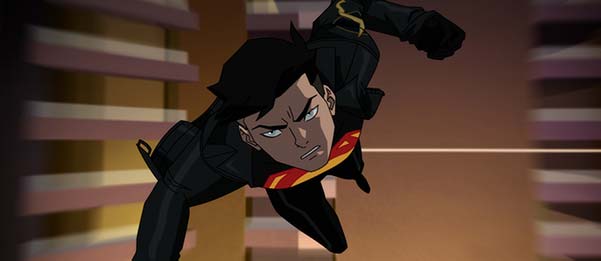 Despite not being primed with the knowledge of what happened in The Death of Superman (although the title is kind of a giveaway), I never felt confused as to what was happening in Reign of the Supermen. A brief recap on how Metropolis dealt with the fallout in the following months is helpful albeit fleeting but despite being a continuation to a prior story, Reign of the Supermen comfortably works as a standalone adventure too.
An enthusiastic and big-name voice cast which includes the likes of Nathan Fillion, Rosario Dawson and Rainn Wilson keep the dialogue lively, with Gotham's Cameron Monaghan stealing the mic work as the cocky Superboy. But here's where Reign of the Supermen hits its biggest snag: there simply isn't enough time in its brisk 87 minute existence for any of the characters to make a significant impact.
Like 30 clowns trying to get into a Mini Cooper, Reign of the Superman crams too many characters in such a small vehicle, resulting in it almost crumbling under its own weight. Nothing feels important or vital because there's not enough time spent in building the plot points up to anything substantial. If this was intended to be a non-canon entry in DC's Animated Movie Universe, like how Batman Ninja is, then it wouldn't be as much of an issue. But to comic book fans (or at least the few Superman-related forum topics I looked up in relation to iconic Superman stories), the Death of Superman arc is what they call in the industry a 'biggie'. It's a shame then that insufficient time is given to really make it feel that way.
That's not to say Reign of Superman is anything less than thoroughly entertaining. Most of the typically overblown action sequences feature wanton destruction and will no doubt delight long-time fans of DC's slick animated style and the vastly different personalities vying for the Man of Steel's job opening do all bring something unique to the role. But as hard as they try, for whatever motive they end up having, none of them measure up to the purity of the OG Kal-El.
Reign of the Supermen is out now in the UK on Blu-Ray & Digital Platforms. 
We Liked
All the voice-artists are game
Clashes between the various Supermen result in entertaining action
We Didn't Like
Too many characters crammed in a short runtime
Doesn't feel as important to canon as it should