The Details
Release Date
7th September 2018 (UK VOD Premiere)
Synopsis
Wealthy and handsome Richard takes his beautiful young mistress Jen to an isolated luxury condo in the desert, a few days ahead of his annual hunt. When his two hunting partners turn up unexpectedly, the booze starts flowing and things quickly become debauched. Events run out of control, however, and the men realise they must get rid of Jen, or jeopardise their precious careers and reputations. They leave her for dead in a desert canyon, and callously carry on with their planned hunting trip.
Starring
Matilda Lutz, Kevin Janssens, Vincent Colombe
Like a buckshot to the brain, Coralie Fargeat's chaotic debut feature Revenge has been leaving its unmistakable mark on the festival circuit. But is this rape revenge thriller a niche genre spectacle or an overcooked dud?
Shot in the Moroccan desert, Revenge follows a young beach bunny socialite named Jen (Matilda Lutz), who currently inhabits the secluded holiday home of married French millionaire Richard (Kevin Janssens). The two conspire in a secret relationship before Richards annual hunting trip with his two buddies Stan and Dmitri, who unfortunately arrive a day early. All seems to be well until Stan (Vincent Colombe) confronts Jen for sex, ending in her rape when she refuses.
After Richard finds out and tries to keep everyone calm and quiet (which doesn't work too well), Jen is mortally wounded and left for dead in the unforgiving desert sun. It's safe to say Jen doesn't give up that easily, and the three men become targets in her bloodthirsty hunt for revenge.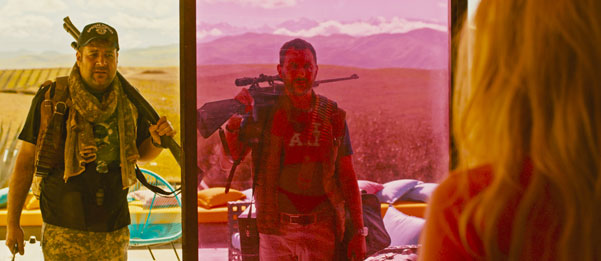 One thing that should be noted before watching Revenge is that it is a straight up genre film. It is not high art, nor is it trying to be – as some critics are suggesting. Below the surface of its simple revenge story and the theme of transformation (which of course serves as a character arc), there isn't much going on. It's not very deep. But that's absolutely fine as the film easily stands on it's own two feet as a blood pumping thriller.
It is a curious little film though: absolutely sensational at times in it's execution, but sometimes a little too crazy for it's own good. The final half is dedicated to Jen's transformation from a somewhat shallow but sweet person, into an animalistic warrior without mercy as she hunts down the three that have wronged her. These hunting scenes are a terrific display of camerawork, sound, and special effects, perfectly directed and fused together into pure cinematic excitement, exhibiting an incredible achievement for a first time director. As well as the blistering action with plenty of gross out gory moments, Fargeat also shows restraint in these scenes by deliberate lingering, ramping up the tension to incredibly high levels. On more than one occasion, I found it impossible to take my eyes off the screen due to her technique.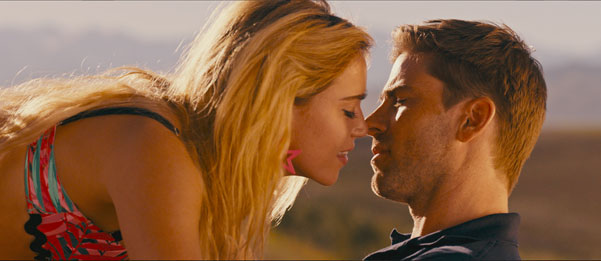 Matilda Lutz holds the film together with an immense physical performance, almost unrecognisable in later scenes if it weren't for the neon pink earrings. Her transformation into a Lara Croft style warrior woman comes naturally, and she is given time to show the characters femininity occasionally, which is a nice detail, even if not the focus.
However, some may find the sexualisation of Jen to be somewhat grating as she is seen purely as an object by not only the male characters on screen, but for the audience too. She is consistently framed in ways to be admired; even when she has altered completely into the dominant force of the film, the prolonged shots of her rear do not go away. Instead she now resembles Allison Hayes in Attack of the 50ft Woman as opposed to the Playboy model we meet at the beginning. Whether this was done ironically I cannot say but I definitely felt that it was a wholehearted homage to the sleazy exploitation shockers it is clearly inspired by and as that kind of schlock the film works brilliantly.
Occasionally though, Revenge does overstep the mark with it's over the top antics, stretching it's own believability a little too much resulting in the occasional eye roll. A couple of scenes could have been tighter or cut completely too, in order to get closer to the 90 minute sweet spot that pure genre films work so well on but the overall product is never hampered by it's shortcomings.
Revenge is a masterclass of exploitation cinema and one of the best contemporary offerings in the long-running, nasty genre. Gruesome and unashamedly entertaining, it pulls no punches and is a pure cathartic release. Just don't expect any aspect of the film to run deeper than a desert puddle or you may be disappointed.
Revenge is released on Digital HD on Friday 7th September from Vertigo Releasing.
We Liked
A blistering feature debut from Fargeat
Fantastic transformation from a remarkable Matilda Lutz
A straight up, unashamedly gruesome exploitation flick
We Didn't Like
Sometimes a little too crazy for its own good
Sexualisation of Jen continues after the transformation
A little trimming to the runtime wouldn't have gone amiss

A skillfully subdued action movie with a relatable lead character who genuinely seems hesitant to engage in violence unless necessary, Your Move is a refreshing addition to the vengeance-seeking movie canon.
As an action vehicle, it's more "abiding by the speed limit" than its title suggests.