The Details
September 30, 2018
Release Date
August 25th, 2017 (Netflix Premiere)
Synopsis
A teenage boy discovers a book which has the power to kill anyone whose name is written inside it.
Starring
Nat Wolff, Lakeith Stanfield, Margaret Qualley, Shea Whigham, Willem Dafoe
When loner high school student Light Turner (Nat Wolff; The Fault in our Stars) finds a notebook which has the power to kill anyone whose name is written inside, the school bully is obviously gonna be the first to get it. He's quickly followed by the rich gangster who literally got away with murder, specifically of Light's mother.
Now that's two pretty safe and expected victims that no one is going to cry about. And, let's be honest, I'm pretty sure that you or I could think of maybe one or two people we'd want to use a similar "Death Note" on also . But what would you do after that? Light initially struggles with the moral weight of the insane possibilities now in his hands. Does he tread the road of the righteous, ridding the world of the bad and the evil? Or does he go full Sauron, ruling over a world where he controls everything?
The latest iteration of the popular Death Note franchise treads the middle ground between these two maxims. Light, the son of a loving and respectable cop, naturally wants to do what's right. But power corrupts, as they say, and his ability to literally command life and death brings to fore questions on morality, justice, good and evil.
There are rules to this game though. First, you have to know the name of who you're writing in the book (obviously) as well as what they look like. Secondly the death has to happen within the next three days. There are numerous other terms and conditions too, all explained by the books original owner/creator, Ryuk, the death god. He's a giant, crazy looking demon with spikes growing out his back that only Light can see.
His appearance is wonderfully conceived in a mix of CGI and physical presence, brought to life by the maniacal voice of Willem Dafoe (Sam Raimi's Spider-Man, The Grand Budapest Hotel). If you're a fan of the Death Note anime or manga, some of the changes and omissions in this film may rub you up the wrong way. However, Ryuk's appearance and manner seem as if lifted directly from the source material. Suffice to say each scene he's in is a highlight.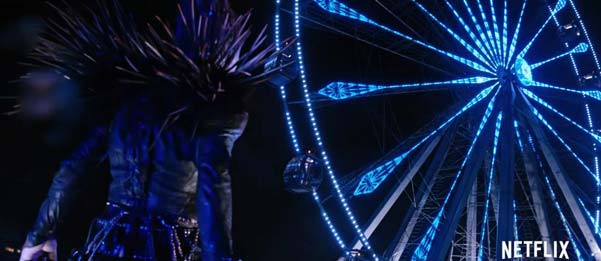 Death Note wastes no time letting us ponder if Light is the right man for the job, but it does play a mean trick on us right at the beginning. It promises things that it doesn't deliver. Like a stripper, and I mean a British stripper – not one of those Thai strippers (they'll do anything) – they'll take your cash but only tantalise you. They'll show you the goods. But they won't deliver. They won't text you a delivery slot or give you online tracking or anything of the sort; they'll merely give you a glimpse of the goods.
I'm talking about the gore factor. The first two killings show Death Note's potential. Not knowing the specifics of the book, Light scrawls the name of the school bully and specifies the death by decapitation. He watches as a chain of unlikely events leads to the violent be-heading of the poor scumbag outside in something reminiscent of a Final Destination slaying or Rube Goldberg cartoon. It's also hilariously graphic.
Second up we have the gangster. Once again tragic coincidences occur which leave him impaled in the neck on a steak bone in a local restaurant. Blood sprays everywhere, almost in homage to one of Tarantino's own homages (probably to Shogun Assassin). And then we go cold. What's happened? Well what usually happens when a dude with a bunch of power starts changing the world? He meets a girl. Naturally.
Mia Sutton (Margaret Qualley – The Nice Guys) is a classmate of Light's. She's a cheerleader but not the cheerleader type. Smart and funny, she's the amalgamation of both the girl characters in The Goonies, and she's fascinated by Light's aloofness. Wait, there's an attractive, popular, smart girl who happens to fancy the pants off the goth kid with silly hair? Hmmm. Like that kind of thing ever happened at high school. The gang-land styled institutions of high school are better delineated in Breakfast Club, along with initiation rites, codes of conduct and chapter rules. Death Note ignores all that stuff.
Movies like Wanted or Kick Ass (both Millarverse films) love to have a main character that appeals to the masses – bullied nerds or office dweebs – who inexplicably inherit powers or abilities or fame thus allowing them to elevate themselves from the hum drum of existence and most significantly pull major babes. It's such a boring over-used trick that it just makes me roll my eyes these days.
When Mia gets wind of the Death Note she's all over the young tyke. I immediately detected a rat, and true to form the inevitable betrayal occurs later in the movie. Power corrupts. Light should have watched Casino or something before entering into such a tryst.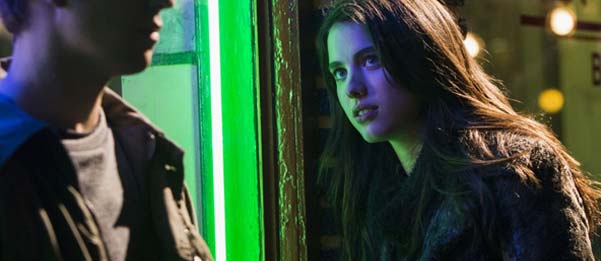 Together they decide to rid the world of evil under the pseudonym "Kira". As it's Japanese for killer they hope to allay suspicions from themselves. Corrupt military leaders, sex offenders, mobsters, late pizza deliverymen, they're all up for the chop. We're treated to a Rocky-esque training montage of them choosing their victims whilst boning, something which is a bit disturbing. I can't say I've ever felt the need to get down and dirty after delusions of murder, save only for after the very best of sessions on Call of Duty.
Morality is a huge component to Death Note. As Light's father, James (Shea Whigham; Kong: Skull Island), condemns Kira, saying that while his job may now be easier, no one gives anyone else the right to be judge, jury and executioner. Mia on the other hand is all about encouraging the dark behaviour. They're ridding the world of evil. And those who seek to stop them, be they good men or not, they too will have to die – for the greater good.
And there are people tasked with stopping the mysterious "Kira". Chief among them is the even-more mysterious L – a nameless and super intelligent Sherlock Holmes knock off. Played with delight by Lakeith Stanfield (Straight Outta Compton), he adds much needed flair to the movie. Like the various modern incarnations of Holmes, Stanfield channels the peculiar mannerisms of Downey Jr and Cumberbatch. He also always wears a mask, making him immune to the book. The question is will he find out who wields the Death Note before Light and Mia uncover his identity?
As a kid I was big into Manga Entertainment's catalogue of anime – Akira, Dominion Tank Police, Monster City, Ninja Scroll etc – well before they rose to prominence in the cultural eye, namely after the release of Pokemon. I'd drifted away from the sub-culture as the newer wave of movies were being released – Blood: The Last Vampire, Bleach, and the Ghost in the Shell sequels. Death Note was one such phenomena that I was largely oblivious to for a long time.
Death Note, like Passengers, The Truman Show, or The Matrix, is one of those really strong concepts that immediately makes you think "what would I do". Likely this is what made it such a powerhouse franchise that has now spawned various anime and live action adaptations.
Now you're always going to have an issue with condensing a 108 chapter series into a movie. Hell, even the anime ran 37 episodes. This American "re-imagining" most definitely cuts out a lot of the chaff from the Japanese original, but also some of the cooler story telling. As I alluded to before, I was up for a movie about people being creatively murdered and how the police somehow track down the culprit.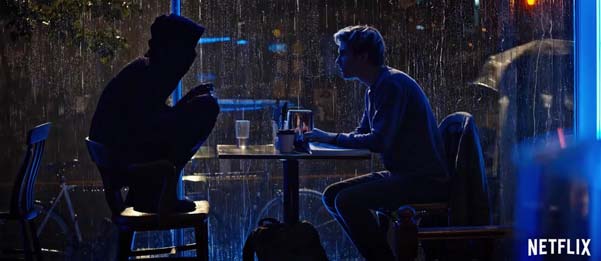 There is some of that still lingering in Adam Wingard's (You're Next) adaptation, but not enough to wash out the taste of yet another teenage angst movie ™. It just focuses on the wrong elements to make this truly memorable. Part of the morality aspect I also felt underused was the nature of the "remoteness" of the killing itself. Similar to how people are becoming desensitised to violence thanks to the media and video games, I felt it would have been nice to address Light's growing numbness to the atrocities that he's putting into action.
Equally, Ryuk is a character whose motivations we immediately question. Just why the hell has he given these powers to anyone, let alone a teenager? He appears as a shadowy puppet master, clearly privy to devilish knowledge we can't comprehend, but we never explore who he is or what he hopes to gain. Nor do we look into the previous owners (and victims) of the Death Note, something which could have added some fore-shadowing or colour to the movie.
Instead, Death Note chooses to eschew the elements which make it initially realty intriguing. It could have been used as a platform for a powerful message but unfortunately walks a middle ground that is as predictable and well-trodden as the street where you grew up, minus only the nostalgia.
Okay, I'll admit I kind of liked the ending. It unfolds like a Dan Brown climax and it's left in a perfect way. I respect the hell out of the ending. And it starts well. It just sort of dips in the middle. Plus the acting is sort of okay, certainly elevated by the likes of Stanfield and his man-servant/bodyguard Watari.
Hardcore fans will either love or hate Netflix's take on their beloved source material. For the rest of us, you'll get a fairly entertaining concept that is afraid to truly embrace the dark, adult themes that it needs to explore, and it will leave you largely unmoved by the end. But it is kind of worth seeing for Willem Dafoe though.
The lord taketh and the lord giveth. Or something.
Death Note is now available to stream on Netflix. 
We Liked
A solid concept that will make you think
An monstrous and iconic anime character is truly brought to life
A very clever ending
We Didn't Like
Over-promises and under-delivers on the gore and story
Becomes bogged down in a teenage angst-driven mire
Feels like a wasted opportunity with with a lot of potentially interesting facets ignored or under-developed