The Details
Item Reviewed
The Irishman
November 29, 2019
Release Date
8th November 2019 (Limited release)
27th November 2019 (Netflix)
Synopsis
A mob hitman recalls his possible involvement with the slaying of Jimmy Hoffa.
Starring
Robert De Niro, Al Pacino, Joe Pesci, Bobby Cannavale, Anna Paquin, Stephen Graham
It's something of a great shame that Martin Scorsese's The Irishman was purchased by streaming giant Netflix, effectively destroying its prospect of a major cinematic release this year. Scorsese isn't just a good director. He is widely known as being one of cinemas all-time greats. The important word there being cinema… His work is timeless, synonymous with the big screen experience. Mean Streets, Taxi Driver, Raging Bull, The King of Comedy, Goodfellas, Casino, Gangs of New York, The Departed, Hugo. With a resume like that it's difficult to think of another American filmmaker out there whose work is as connected to the artistry of cinema as Scorsese. Yet here we are with The Irishman, a crime epic that demands every morsel of your attention, being released into your home where all your devices and distractions lie, to be consumed however you see fit, rather than experienced.
I refused to watch The Irishman from home and was determined or deluded enough to travel to London's West End to view the film. But that's enough of my pretentious snarls and entitled cinephile views, let's just talk about the film before I sink into a deeper layer of self-deprecating misery and indulgence.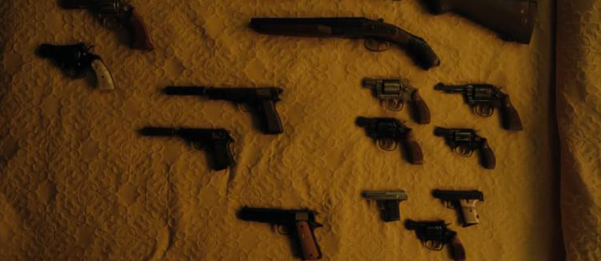 Begining in a nursing home, we are introduced to Frank Sheeran (Robert De Niro: Limitless, Taxi Driver) who begins to literally recount and narrate his life back to us from his wheelchair. The timeline is split between a particularly long drive to a wedding in 1975 with Russell Bufalino (Joe Pesci: Goodfellas, Home Alone), in which they humorously have to stop every 20 minutes to let their wives smoke, and various points in the 50s and 60s as Frank joins the underworld of the Bufalino crime family. This flashback within a flashback approach may sound taxing on the brain but isn't particularly hard to follow thanks to De Niro's brilliant narration and a slow burn pace that never glosses over things. Scorsese is very aware to let the audience sit with the characters, letting us inside their world so we can invest in them. Lots of time is taken in establishing what period of time we are in at any given moment, so it never really becomes overwhelming. Of course, the film's risky use of digital de-aging also helps immensely.
The extensive use of CGI to de-age De Niro, Pesci and Pacino was something I was certainly trepidatious about before seeing The Irishman, but overall I have to say the effect is fantastic. That's not to say it isn't jarring to witness at first because it is, and there are shots here and there that don't look quite right. But after 5 minutes it became something I totally forget about and barely noticed. Whether that's simply due to the quality of the story and writing of the film, rather than the actual effects I'm unsure. The film is thankfully never too flashy in showing off said effects either. Scorsese seems to do everything in his power to simply shoot as he normally would, which I believe is pivotal to its believability.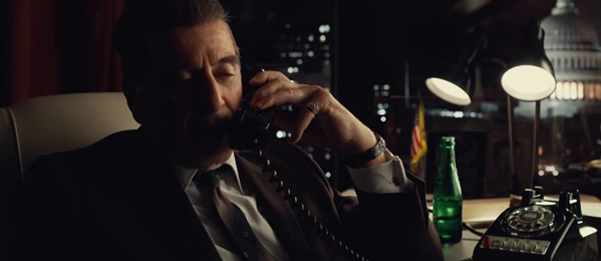 As The Irishman progresses it becomes clear that Scorsese isn't simply copying his greatest hits. It's a colder look at mob life, with greater emphasis on "historical accuracy" and politics. Not that it doesn't have a fair share of light moments, but the three central characters Frank Sheeran, Russell Bufanlino and Jimmy Hoffa (Al Pacino; Once Upon a Time In… Hollywood, The Godfather) are very different from the more exaggerated counterparts found in something like Goodfellas. Frank is emotionally neglectful to his family to the point that he barely knows his own daughters. But he is also neglectful to himself as the uncompromising cruelty of mob life slowly eats away at him. De Niro expertly develops a stammer slowly throughout the film that expresses this perfectly and one scene where he can barely string a sentence together on the phone is genuinely one of the finest pieces of acting in his entire career. The same goes for Pesci and Pacino, who both deliver incredible performances: Pesci's beautifully sinister but subdued and Pacino is suitably boisterous and scene-stealing.
With a greater emphasis on actual events and politics, however, aspects of the film can fly straight overhead if you have no prior historical knowledge. There were certainly points where I felt I hadn't met the intelligence barrier, but thankfully almost all of that content is window dressing. It doesn't affect the core story being told.
At 3 and a half hours The Irishman will surely be an endurance test for some. Whilst I was sitting in the cinema, I did wish it had an interval just to break it up, which could be one of the advantages of viewing it at home at the very least. But in terms of trimming fat, there's really not a lot to trim. Perhaps 10 minutes towards the end could have ended on the cutting room floor. Otherwise, the film keeps you masterfully engaged throughout.
However you do see it though, The Irishman is evidence of a master at work. Both impeccably acted and beautifully made, it's a film about our own fragile mortality, it's about weighing up everything you've left behind and coming to terms with it. With that, Martin Scorsese should be immensely proud of everything he's left behind in his career so far. Here's hoping we get a few more.
We Liked
De Niro, Pacino and Pesci are stunning
Rich with period detail, humour, and fascinating characters
Clearly orchestrated by a master
We Didn't Like
Could use an intermission or some trimming
Can be difficult to follow some details without prior historical knowledge

Once Upon a Time In Hollywood is a film made with exceptional craft and a deep sense of passion. It's a surprisingly mournful film one minute and a characteristically silly film the next, juggling a dozen different emotions, subjects, and themes... and almost catching them all.

In Johnny Martin's Hangman, decorated homicide detective Ray Archer (Al Pacino) partners with criminal profiler Will Ruiney (Karl Urban) to catch one of the city's notoriously vicious serial killers, who is playing a twisted version of murder inspired by the children's game Hangman. Every 24 hours, a body is hung revealing the next letter carved into […]