The Details
Item Reviewed
Train to Busan
July 31, 2018
Release Date
28th October 2016 (UK)
Synopsis
As a workaholic businessman accompanies his young daughter to see his estranged wife in a nearby city, a zombie outbreak occurs.
Starring
Gong Yoo
Ma Dong-seok
Jung Yu-mi
Dim Su-an
Everyone has their flaws and their bad habits. I bite my fingernails and when my girlfriend finds them discarded on the floor I pretend I don't know how they got there. Movie characters have their issues too; in fact, all the best characters have these little tics and defects. Train to Busan's Seok-woo's ( Yoo Gong) big problem is he works too much. He's a fund manager, or, as another character will call him later, a bloodsucker.
While at heart he's a good guy, he has no problem selling out his customers if it will advance his position or the standing of his company, Korean financial stability be damned. He's not a total asshole mind. The way he sees it, he works so hard so that his young daughter Soo-an (Su-an Kim) can have whatever she wants. But his workaholic ways have alienated his wife (now his ex-wife) and are now threatening to drive his daughter away too.
For her birthday Soo-an wants to go and see her Mother in the neighbouring city of Busan, about an hour away. Seok-woo is not keen on her going. First, he's concerned she won't come back. And second, he's just too busy to take her. She insists that she'll go alone if she has to but Seok-woo will have none of that. He's missed recitals and other critical stuff already, so her waiting a few more weeks shouldn't be a problem, right?
Well, she has him in checkmate when his big birthday present turns out to be the same gift he bought her last year. He relents and takes the morning off work to take her on the trip. Prior to leaving his now live-in Mum insists that he tries to make it work with Soo-an's mother, or at the very least make the effort to spend more time with his daughter. He argues that now is a "critical" time for his business, but will think on what she's saying.
But let's back up a bit. This isn't how Train to Busan opens. The film actually begins with a pig farmer heading into Seoul and complaining that there's yet another "outbreak" warning. Some masked dudes who scrub his truck clean insist that everything is cool, that it's just a precaution. Pig Farmer retorts that it better be as they had to slaughter his entire herd last time.
Heading off, his day doesn't get any better as he absentmindedly mows down a deer. Luckily for him his truck isn't damaged, despite the deer being spread across the road like a hasty jam sandwich. Grumbling again, he sets off once more. Moments later, after some agonising jerks and jolts, the deer comes back to life and stands up. It has the dead grey eyes of a shark but we instinctively know it's not a shark deer. It's a zombie deer.
Now I've seen plenty of zombie animals before. We had that cat in Pet Cemetery, some dogs in Resident Evil, hell even some sheep in Black Sheep. And don't even mention Poultrygeist: Night of the Chicken Dead. But I've never seen your humble deer all zombified. Don't worry though; this deer has no further bearing on this film. It doesn't even appear at the end as like a shock stinger to kill anyone. We're just setting the stage.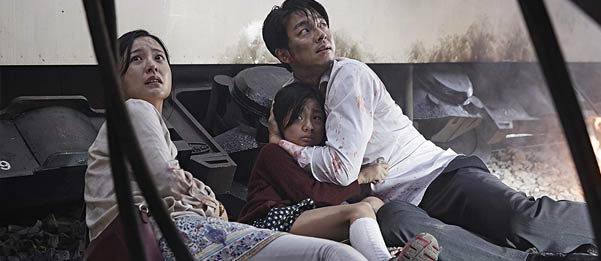 Back to Seok-woo and Soo-an. Their early morning trip to the train station is nice and calm. It's so early the sun hasn't even come up yet and the streets are empty. Their quiet reverie is spoiled as a bunch of fire engines and ambulances zoom past to a nearby emergency. Some apartment block is on fire. Something is going on, but hey, it's not happening at the station, so who cares?
We board the train to Busan with a bunch of other people; mainly commuters, a pregnant couple, some elderly sisters and a youth baseball team with their head cheerleader, Jin-Hee. These brash loud kids look like they're gonna be trouble, the kind of passengers you can't stand on an early morning trip. They're gonna be the least of your worries though: moments before departing, a mysterious and clearly injured young woman boards the train too, hiding herself in one of the bathroom stalls.
Safely on board, Seok-woo and Soo-an take their seats. He's too busy checking his phone to see that there's some commotion happening in the station, but Soo-an spies one guy stood on the platform get taken down violently.
This is the first real "uh oh" moment. Strap yourselves in – there will be more.
With a knackered Seok-woo catching some zzz's, Su-an does what any normal bored kid of her age would do; she goes exploring. She's doing that annoying things kids do where they say they need the toilet but don't. Shooed away from one cubicle by bruiser Sang-hwa (his pregnant wife, Seong-kyeong is inside), she comes across another cabin where busy-body businessman Yon-suk is demanding the train guard remove a stow-away from the toilet.
Naturally we all fear it's that girl who stumbled in at the beginning. We all know that some now-zombified corpse is gonna jump out and kick everything off. But we're thrown a curve ball. It's not the girl. Instead it's a hobo guy, crying to himself, muttering that "they're all dead".
Meanwhile the actual infected girl is in another cabin, having some kind of seizure. Some cute stewardess is her first victim when she turns, and like a spark in a tinderbox, it all goes up moments later.
Soon we're left with isolated pockets of survivors barricading themselves in different carriages away from the rampaging horde. Seok-woo, now very awake is very aware that his daughter is missing and that something is wrong. Can he save her in time? Will they be able to make it to Busan alive? Is Busan even going to be left standing by time they get there?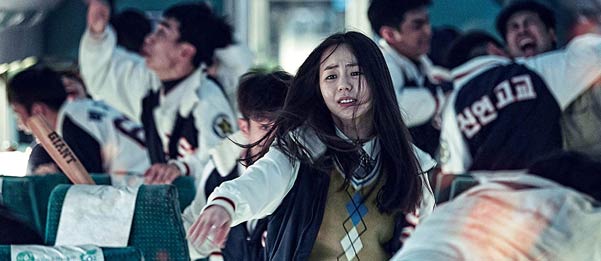 Train to Busan is a zombie anomaly; it's a zombie movie that doesn't rely on blood and guts to tell its' story. In fact, you never see anything too gratuitous. There's no head-shotting zombies with shot guns or brains getting annihilated by baseball bats or anything like that. The effects and make-up are actually pretty standard. There's no glorious gore or insane Tom Savini effects to whet your appetite.
Instead, director Yeon Sang-ho focuses on the characters. By drawing you into their world, you truly begin to become absorbed into the story and the dilemma. You're sucked in harder than a pair of jeggings two sizes too small. And once it gets going it starts moving like an actual train, from one set piece to another, from one problem they have to solve to the next.
There's a great scene where three of the survivors (including Yong-guk from the baseball team) battle through one carriage to the next. You think "Yes, they might actually do this". Then the next carriage is full of Yong-guk's friends who are all now zombies and you just die inside. How the hell are they gonna do this now? Well this film throws scenes like this at your for two hours non-stop.
Acting wise, everyone performs admirably. Being a subtitled film, it's difficult to gauge how well someone is acting due to the language barrier, but I bought into the stories and dilemmas of each character. Gong Yoo as our leading man and specifically Su-an Kim as his daughter are especially really good.
Naturally, Seok-woo and Soo-an's journey is the core story, and commands the most emotional and dramatic weight. But the minor characters all shine too. I especially loved the dynamic between Seok-woo and Sang-hwa. Their little arc together was one of the highlights of the movie, and Ma Dong-seok as Sang-hwa has a real charisma.
Even if you don't like subbed foreign films or zombie flicks, I implore you to see this. It is at once both these things and neither of them. If you're one of those low-brow types who "don't like reading" when you watch a film, I assure you that you could watch this with the sound off and it would still kick your ass. By the end, I'd bitten all my nails down to the root out of pure anxiety.
It never relents or gives you room to breathe, but equally never loses sight of the fact that this is a story about a small group of survivors and their plight. The only negative thing I can say is that it's maybe twenty minutes too long (but it doesn't hang around for any of that time), and some of the CGI is a bit obvious, but hell, that's small fry stuff.
Train to Busan proves you don't need Brad Pitt, that dude who wrote Babylon 5 or $190 million to make a great zombie apocalypse movie. Instead it focuses on what every single movie ever should focus on – the characters and their journey. You'll shout at the screen, rejoice, get all misty-eyed and be rendered speechless at various points throughout, I promise you. Some characters you'll love, others you'll hate, but regardless of your allegiances, Train to Busan will not fail to evoke some reaction in you. It's an absolute gem.
We Liked
Fantastic story-telling
Great characters and acting
Simplistic yet relentless narrative
We Didn't Like
A smidge too long
Some obvious CGI

Moving from horror to action means it chugs along with haste, but woeful effects, flat characters and a groundless narrative means I'm unlikely to book a return ticket to this particular Peninsula.