John Wayne Gacy in To Catch A Killer (1992)
Dir: Eric Till | IMDb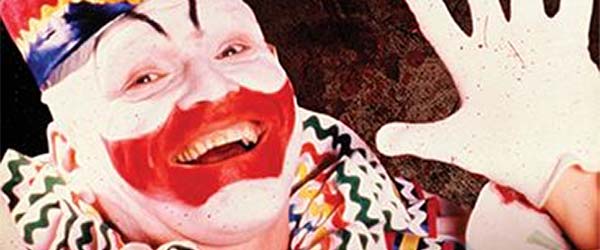 The 1992 TV Mini Series To Catch A Killer focused on the attempts to apprehend the real-life prolific serial killer John Wayne Gacy. From 1972 until 1978, Gacy murdered at least 33 teenage boys and young men. While it isn't a primarily clown-centric film, it is well documented that Gacy was a children's entertainer and would dress up as one, even naming his second persona as Pogo the Clown. The facts of the case are truly shocking and this gripping 3 hour series doesn't go into too much detail due to censorship rules, but is a worthwhile starting point for anyone unfamiliar with a crime committed by a genuine monster far scarier than any fictional creation.
---
The Killer Klowns in Killer Klowns from Outer Space (1988)
Dir: Stephen Chiodo | IMDb
Now for something much sillier. Killer Klowns from Outer Space is a bona fide cult classic due to its grotesque clown design and general preposterous nature. Its plot is exactly what you think it is from the title – a small town is invaded by aliens who look like clowns. No one in town believes the kids who have seen the killings, so it's up to them in their trusty ice cream truck to stop the attacks. It's a staple at midnight movie marathons and frequently ranks on many 'so bad it's good' lists.
---
Captain Spaulding in House of 1000 Corpses/The Devil's Rejects
Dir: Rob Zombie | IMDb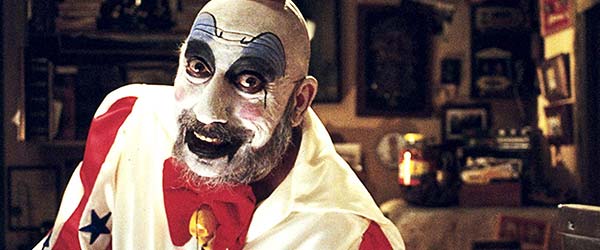 The owner of roadside attraction Captain Spaulding's Museum of Monsters & Madmen thoroughly deserves a wing of his own. Spaulding made his unforgettable entrance in Rob Zombie's 2003 exploitation horror House of 1000 Corpses, but it wasn't until the 2005 sequel The Devil's Rejects that Spaulding's expanded backstory revealed just how important, and indeed maniacal, he is to the series. Fortunately for us but not so much for his victims, we've not seen the last of Spaulding as he can be seen in the third instalment of Zombie's trifecta of films on the Firefly Family, 3 From Hell, expected to be released later this year.
---
Killjoy in Killjoy (2000)
Dir: Craig Ross | IMDb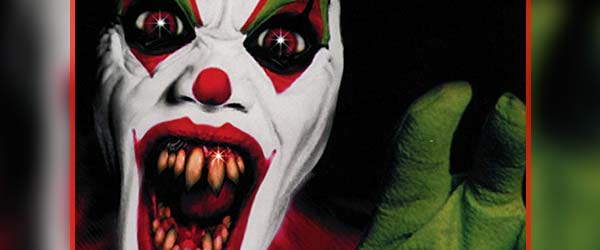 Despite there being five entries in the Killjoy series, there's a high probability that this is the very first time you're hearing about them – and for good reason. With a budget lower than the film's IMDb score (spoiler: it currently sits at 2.6/10), Killjoy and its subsequent sequels should be reserved for the most resilient and forgiving of horror fans. Still, it features a killer clown which consistently looks like the 'demon' form of Pennywise from the 1991 version of IT so it qualifies to be included on the list. Just don't say I didn't warn you about its atrocious content.
---
Tommy dos Santos in Kill Giggles (2020)
Dir: Jaysen Buterin | IMDb
In a list dedicated to killer clowns, it's only fair to turn the tables on the jolly jesters and in Jaysen Buterin's horror/thriller Kill Giggles, it's the clowns who are the victims of a serial killer. Inspired by his own suffering of coulrophobia, Buterin describes his film as a 'dream come true and my worst nightmare all at the same time'. No longer the madmen and monsters that nightmares are made of, now it's the clowns who are the victims, running for their lives from a killer who won't stop until every single one of them is dead. So while the film doesn't feature a killer clown per se, there's a whole lot of clown killing, to the delight of coulrophobiacs around the World. Kill Giggles has just finished principal photography with no official release date set. But for now, there's plenty of promo videos available over at their official site.
The big screen debut will likely be dismissed as a poor imitation of iconic clowns, but Gags will forever be known as one of the fathers of 2016's Clownpocolypse.