The Details
Release Date
5th June 2020 (Netflix Premiere)
Synopsis
A bank employee weighed down by her jobless husband's debts - and her own broken dreams - finds a secret source of seemingly unlimited cash in her home.
Starring
Saiyami Kher, Rajshri Deshpande, Amruta Subhash
Sarita and Sushant are flat out broke. Their house is falling apart, and their financial worries – along with Sushant's slobbish nature – are causing unsustainable strain on their marriage. One night, after being unable to sleep, Sarita heads to the kitchen. As it has many a-day, the pipework of the sink is gurgling. A recent plumber visit diagnosed the cause as blockage due to tea leaves and rice. On further inspection, Sarita discovers two rolls of banknotes being the cause of the clog.
Overjoyed, she opts to not tell her husband and keeps the find to herself. Using her job at the bank, she checks the legitimacy of the notes. They're real. The next night, she hears the sink again. Lo and behold, more rolls of notes float to the surface.
But then, bad news. In an attempt to weed out counterfeit notes and money linked to terrorists, Prime Minister Narenda Modi makes the move to discontinue all 500 and 1000 Rupee notes from midnight. This actually happened in 2016 and there's a whole sub genre of movies in India that deals with demonetisation.
Choked takes too much time to say very little. Its setup and premise certainly is intriguing and not having seen the trailer, its reveal of ceasing certain note circulation raised my interest levels for how it would play out. Unfortunately, it doesn't capitalise on its race-against-time potential and the narrative all but grinds to a halt until a mostly unsuccessful last gasp effort to inject some thrills.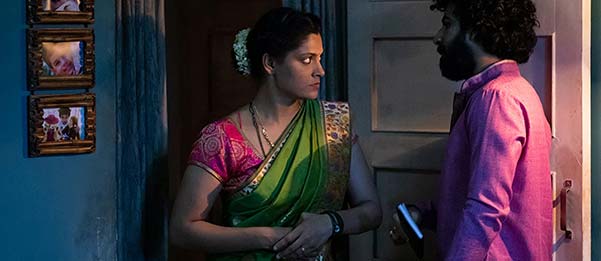 It's reassuring then that the players of Choked are the saving grace. Sarita clearly deserves your sympathy in her unenviable living situation and this is most certainly due to Saiyami Kher's pleasant presence. She's the glue that holds the crumbling (both literally and physically) household – and indeed Choked – together. It's apparent that she's burdened with countless responsibilities, both her own and of others. Namely, her slacker husband Sushant played brilliantly by Roshan Mathew.
Sushant's an inherently (and deliberately) unlikeable man who becomes increasingly nerve-grating as time wears on. His inability to own up to his actions and to continuously make excuses for his deadbeat ways give us all the more reason to root for Sarita. Roshan Mathew still somehow manages to retain a glimmer of hope for Sushan with a hidden charm and you can see why Sarita sticks around. Their rocky marriage is the real story here and Choked works much better when we're prying into their personal life than it does as a fiduciary thriller.
The punchy jazz-like drum driven score keeps scenes popping even when there's minimal action on screen. Its music which reminded me of the likes of 2015's Michael Keaton one-take drama Birdman and to a lesser extent, the 2014 Miles Teller skin-thumper Whiplash. It's undeniably one of Choked's greatest assets.
Overall then, Choked has a plot that is as thin as the notes its printed on, but some rich characters and a spirited score result in two hours well spent.
We Liked
Intriguing set up bringing real-world events into fiction
Sympathetic lead in Saiyami Kher's Sarita
Punchy drum driven score
We Didn't Like
Unrealised potential in its premise