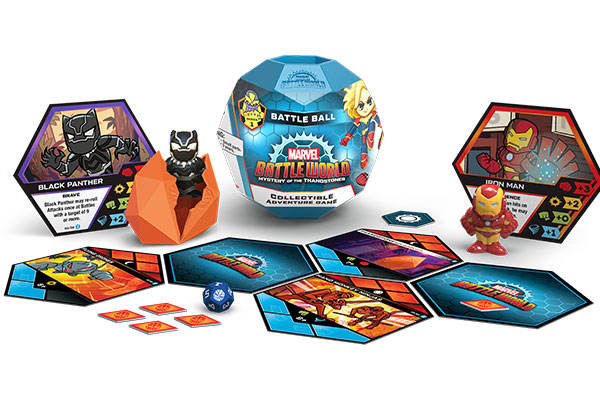 Since their introduction in 2011, Funko Pop Vinyls have been an affordable way to collect your favourite characters from popular culture. Now, partnering with Marvel, Funko make the leap from the display cabinet to the table top in Marvel: Battleworld, a micro collectible, table-top gaming system in which you pit your heroes in various battles to defeat the mighty Thanos.
Contents
The game can be played alone or with friends. To play Battleworld, you'll need one of two sets – either the BattleBall or the Mega Pack. Inside the BattleBall you'll find:
One Marvel Hero, whose identity you don't know until you open it
One Thanostone containing a trapped hero and the accompanying card
Five Battle Cards
A 12-Sided Die
One Danger Coin
Five Danger Tokens
The Mega Pack contains:
Three randomly selected Marvel Heroes and one Exclusive Negative Spider-Man
Two Thanostones and their cards
13 Battle Cards
A 12-Sided Die
13 Danger Tokens and One Danger Coin
The beauty of Marvel Battleworld is that you don't need to buy a Mega Pack to play. Everything you need is in the BattleBall, it's just that there are more heroes and cards in the Mega Pack. Obviously, this means longer game play and quicker completion of the figure collection, but the generously packed BattleBalls make for fantastic and affordable gifts to anyone in the process of strengthening their own hero hoard.
How To Play
Each player chooses their hero. For every figure in play, a Hexagonal Battle Card from the shuffled deck is played. These give a scenario or foe for the player to battle. At the top of the card are three red squares. This is the Danger Zone and will determine whether you succeed in defeating this particular enemy. For every 'miss', you must move a Danger Token forward one space. Once the Danger Token reaches the third and final square, it means you have lost this battle and the card must be placed face down with a Token on top of it.
The bottom has blue sections, which range from one to three squares. This is where the player moves forward if the attributes on their hero card are greater than the Attack Type listed on the villain card. To find this out, roll the 12-Sided Die to get a number between 1 and 10. The two remaining sides have a Thanos Face and a Star. Thanos is instant miss and you must move a Danger Token forward one space. The star is an instant hit, resulting in you being able to advance on the blue section.
To win the game, you must win Three Battles overall. Three definitive losses result in defeat, regardless of how many heroes are currently in play.
The Thanostones
Without a doubt the best part of Marvel Battleworld is the inclusion of Thanostones. Each mysterious shell houses a trapped hero who cannot be freed until a Thanostone Battle card is drawn and the round won. This adds an air of intrigue to the game and there's a layer of anticipation when a Thanostone is in play. With every BattleBall containing a Thanostone too, it's like getting double the surprise as there's already an element of the unknown with who you're going to get as a 'regular' hero.
In future games when there's no Thanostone to be opened, victory in a Thanostone battle means you can choose one Hero from your collection to join the game instead.
Overall thoughts
I played about 10 solo games of Marvel Battleworld. Intially, I found the rules rather confusing to grasp and there were some aspects that weren't clearly defined in the instruction book. But roughly three games in, everything started to click and things made sense once I'd got the ball – or in this case, die – rolling. And I've got to say, it's a pretty fun experience!
Even playing alone brings excitement. I'm far from the biggest Marvel fan, but the wide variety of battles to undertake and having so many characters at my disposal made every game unique and the outcomes differed every round. Of course, there's only an finite amounts of times this will happen, but with planned expansion packs and even more collectable figures to come, there's plenty of longevity in this venture.
Considering its recommended entry age of ages 6 and over, there's not a whole lot of strategy involved here. A lot of it does come down to the luck of the roll and cards drawn, but there's definitely stronger characters to use than others. Take Spiderman for example (pictured above). I managed to win a whole game, no losses, with just him. This is because his 'Extra Power' is Spidey Sense. So when Spider-Man and nearby Heroes are in battles that have the Tornado symbol attribute (frustratingly, the powers aren't given specific names, only images), they can re-roll to Attack. It's basically a second life. But at the same time, if there's a battle with the 'Explosion' attribute and you roll a 1, it's lights out for Spidey in that battle. I think if you really studied the strengths and weaknesses of each hero and played them in particular battles, consistently winning would be a breeze – that is, if it wasn't for the Danger Coin.
A neat touch is the Danger Zone and the accompanying Danger Coin. Underneath the red squares, there's a symbol of either a sun or a moon. Each side of the coin sports one of these symbols. Once a round is completed, the coin is flipped and any active battle that has the matching symbol, a Danger Token is advanced to the next open space. In true Thanos fashion, the coin gives you a 50/50 chance of success and it can be a real game-changer. As I said before, a lot of the outcomes are left to luck and the Danger Coin is a perfect example of this. Still, there's an extra aura of threat in that you could be on a winning streak but at the complete mercy of sheer chance.
I found it a little curious that you don't actually face off against Thanos himself at any point. As far as I'm aware, at least with the cards I have, there's no confrontation with the big bad guy, just the battles and enemies he throws in your way to make up the Battleworld. This may be rectified in future updates to the game, but for now I felt like it was missing that final Boss Battle to make a victory feel truly well-earned.
Final Verdict
Once you get the hang of how to play, Marvel Battleworld offers a fast paced and satisfying tabletop card game. The added bonus of collectable figures, which come with handy display bases for when not in use, means there's always the draw of buying more to complete the set. It's undoubtedly aimed at a younger audience, with its cartoon-like drawings and the almost caricatured designs of Marvel heroes that Funko are known for. For anyone interested in starting out with this, I'd recommend getting a Mega Pack and a Battle Ball for maximum value for money. Speaking of cartoon-like drawings, there's new short-form animated content created especially for game to explain Thanos' plan of trapping the superheroes in the Battleworld. It will be available across multiple platforms, including Disney XD, Marvel HQ, YouTube.
It's not a game I'll find myself wanting to play often, especially solo, but I imagine it would be a fantastic starting point for dads to introduce their own little superheroes into the world of Marvel, Funko and tabletop gaming.
Marvel Battleworld: Mystery of the Thanostones, a micro collectible, table top gaming system from Funko, will be available to purchase in Tesco, Smyths Toys Superstores and Asda from August 2020. 

Like being obliged to watch the support band which features a member of the headliners who you really paid to see, Captain Marvel is an adequate starter to the main course that the world is waiting for.

The Avengers latest outing will no doubt please long-time fans with its bigger than ever collection of heroes battling a worthy foe in Thanos while providing an incredibly enjoyable sci-fi ride for newcomers.

While it doesn't push any boundaries, Spider-Man: Homecoming succeeds through sheer force of good will alone. Its likable characters do drift through a pretty standard story, but the added humour and wily casting elevate it to a breezy and fun popcorn movie.