In 1986 celebrated horror author Stephen King released IT, a novel about seven children terrorised by their worst fears in the fictional town of Derry, Maine. Among these terrors was a murderous dancing clown called Pennywise which could be seen by all of the young friends. It wasn't until four years later in 1990 that the true impact and legacy of Pennywise came to light when Tim Curry played the character in the TV mini-series of the same name.
A new generation of horror fans would be inflicted with sleepless nights thanks to Pennywise in 2017, this time thanks to Bill Skarsgård in the first part of a big-budget adaptation of IT. With the release of IT: Chapter Two, we take a look at some more killer clowns that have traded the Big Top for the big screen. 
---
Art the Clown in Terrifier (2016)
Dir: Damien Leone | IMDb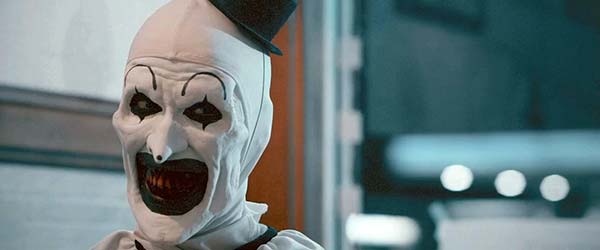 First appearing in the 2013 horror anthology movie All Hallows Eve, Art the Clown got his own film in 2016 thanks to the positive reception his debut received. There's not a whole lot of plot going on in Terrifier, just some good ol' fashioned stalk 'n slash, the kind horror in 80's was known for. But with a maniacal smile, a piercingly unflinching stare and monochrome make-up, Art is an intimidating presence to look at. It's his inhunane treatment of his victims which sets Art apart from the rest of the titles on this list though. Terrifier is as brutal and gory as horrors come, so a strong stomach is advised.
---
Stitches in Stitches (2012)
Dir: Conor McMahon | IMDb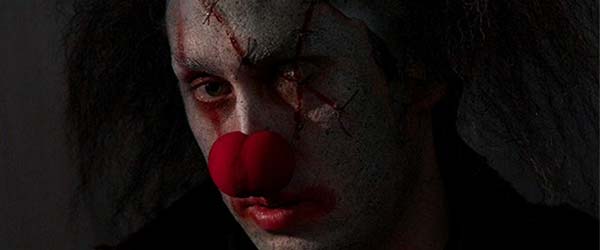 Successfully blending darker-than-midnight humour with some clever clown related kills, 2012's Stitches does for clown based horror comedy what Shaun of the Dead does for zombies. Funnyman Ross Noble plays the titular Stitches, a foul-mouthed and ill-tempered performer at children's parties. When he is killed during a particularly ungrateful child's party, he returns from the dead years later to seek revenge on those who caused his demise. It does get a little too over the top during its finale, but there's plenty of inventive deaths and genuine laughs in Stitches to leave you in, well, stitches.
---
Kent McCoy in Clown (2014)
Dir: Jon Watts | IMDb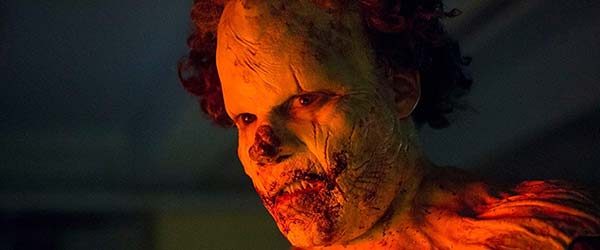 Part of the role of being a father is keeping your child happy, no matter what the cost (financially or metaphorically). In Jon Watts' Clown, Estate Agent Kent McCoy really does go the extra mile when the clown booked for his son's party bails. Finding an old clown costume in a house he's selling, he dons the outfit and saves the day. The problems begin to arise when he attempts to take off the costume, only to find it simply won't budge. What begins as a mildly humorous visual joke to his family and friends quickly descends into real terror as Kent begins to experience horrific personality, and dietary, changes. While it may drag slightly during the mid-section, Clown more than makes up for it when the final transformation is complete and killer clown Kent is unleashed upon the world – more specifically, an indoor children's play area.
---
The Joker in The Dark Knight/Batman (1966 & 1989) /Joker
Dir: Christopher Nolan/Tim Burton/Todd Philips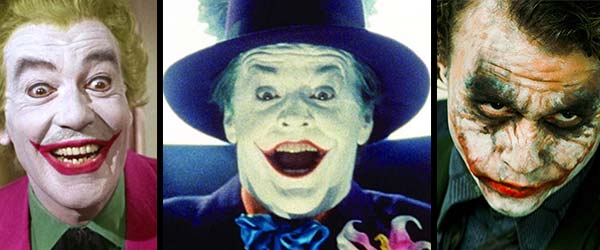 Arguably the most famous killer clown to ever grace the screen, The Joker has been portrayed a number of times in cinema. First appearing as one part of a four-strong team of villains in 1966's Batman and played by the fantastic Cesar Romero, it wasn't until Tim Burton's Gothic and gritty re-imagining of Batman in 1989 that The Joker took centre stage. Taking great pride in the destruction he was causing, Jack Nicholson's Joker is a giddily gleeful gangster who is not quickly forgotten. A further re-imagining of the character occurred in 2008 with an posthumous Oscar-Winning turn by the late great Heath Ledger in The Dark Knight, with The Joker getting a non-canon origin story in October 2019 thanks to Todd Philips and being played by method actor Joaquin Phoenix. Oh, and there was an attempt by Jared Leto to play The Joker as a gold toothed bling-wearing thug in 2016's Suicide Squad, but the less said about that the better.

The big screen debut will likely be dismissed as a poor imitation of iconic clowns, but Gags will forever be known as one of the fathers of 2016's Clownpocolypse.