The Details
September 8, 2017
Synopsis
A group of bullied kids band together when a monster, taking the appearance of a clown, begins hunting children.
I was never a huge fan of the original 1990s miniseries. Sure it had its strengths, with the most obvious being Tim Curry's unforgettable portrayal of the evil clown Pennywise, but due to a number of reasons (which I covered in my review a few years back) it probably isn't as good as you remember. Director Andy Muschetti of Mama fame had the perfect opportunity to rectify the issues and gripes that have bothered fans for 27 years. Unfortunately, he's squandered the chance, and has somehow delivered a film which is almost as long as the entirety of the TV miniseries, yet covers less ground and feels much, much emptier.
After his brother Georgie becomes the victim of a killer clown named Pennywise, Bill Denborough and his friends, collectively calling themselves The Losers Club, must face their own personal fears in an attempt to rid their hometown of an ancient evil.
Let's start with the obvious: Bill Skaarsgard as Pennywise the Dancing Clown.  The first images seemed promising enough – the updated makeup and vintage costume were startlingly different yet a refreshing change from what people had known about the character for nearly three decades. But a posed picture compared to seeing Skaarsgard in action are two very different things, and it pains me to say so but 2017s incarnation of Pennywise is a shoddy, CGI heavy monstrosity that invokes more unintentional laughs than any real moments of terror. When stationary, or when the camera doesn't linger too long on his face, the movements and actions of Pennywise come across as completely unnatural and jarring due to the sub-par and blatantly obvious special effects. In fact, his presence in the whole film feels shoehorned in and there's a huge disconnect between him and the child actors when placed in scenes together.
It's not all the fault of CGI for the failings of the character though; Skaarsgard never gives the impression of ever being menacing. The comparisons were inevitable, but Tim Curry's Pennywise worked so well for me because there was still a part of the killer which felt human. No such luck here, and right from his familiar introduction talking to Georgie in the drain, admittedly one of the films few positives, it's clear that Curry's place as the ultimate evil clown is safe for at least another 27 years.
The Losers Club don't fare much better either. At no point did I believe these seven kids were ever in any real danger, or even that they were best friends for that matter. The foundation of IT's story should lie in the strength of the Club and their friendship, an outcast group who have nothing left to lose so are able to face their fears, but it never comes across as anything other than a circle of classmates who feel like they have to hang out with each other when school's out for summer simply because there's nothing better to do and no one else to do it with. One of the biggest joys of the 1990 version was seeing the interactions of the younger characters, and I genuinely felt like they were lifelong friends. They also had distinct personalities too, and their place and purpose in the group was crystal clear. Muschetti has made every single one of them utterly interchangeable, with next to no defining qualities.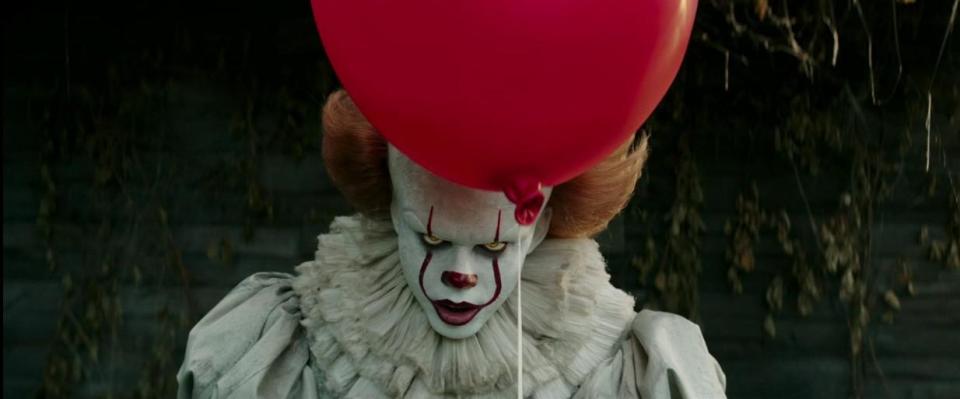 Remember the wisecracking but lovable motormouth Ritchie Tozier played by Seth Green? Now portrayed by Finn Wolfhard of Stranger Things fame and a thoroughly lazy piece of casting, he's now easily the most irritating of the group and a foul-mouthed brat who would save his own skin over anyone else in a heartbeat. He's scared of clowns now too, not The Wolfman as was originally written in the novel, which is handy considering that's what is terrorizing them all. Another sore point for me is the leader of the gang, Bill Denborough (played by Jaeden Lieberher) , never seems to be too bothered by the death of Georgie and for the most part his brother's death is little more than an afterthought which only gets raised when a well needed scare attempt is thrown in. His actions towards the end of the film just solidify my thoughts on the group hardly being anything more than casual acquaintances too, thinking about his own wants and needs before the rest of the Club.
The bare minimum of the individual characteristics that you know (if you're aware of the source material) are there for the others, but not much else – Eddie Kasbrak (Jack Dylan Grazer) is a hypochondriac with a placebo inhaler and smothering mother, Ben Hanscom (Jeremy Ray Taylor) is a misunderstood overweight poet, Stan Uris (Wyatt Oleff) is a pessimistic Jew, Beverly Marsh (Sophia Lillis) is suffering abuse at the hands of her father and Mike (Chosen Jacobs) – well Mike is the most altered character of them all. His role has been reduced massively too, going from the knowledgeable town historian to just being a thorn in racist bully Henry Bowers' (Nicholas Hamilton) side. Speaking of Bowers, now that the film takes place in the 80s he appears to be nothing more than a typical high school bully with the addition of a mullet.
To its credit, the 175 minute runtime doesn't feel as long as it is, and there's a few set pieces which almost build tension to a good level; the house on Neibolt Street is as close as IT comes to a memorable sequence. These moments are few and far between though, and Muchetti never lets his foot off the gas to allow the characters or situations to breathe, while hitting all the expected narrative pit stops along the way to its underwhelming conclusion, where CGI Pennywise overloads the screen to near visually indecipherable levels.
Writing about IT in such a negative way has been tough going – the film had been top of my most anticipated list for quite some time. Regardless of my issues with the film, I still hold a level of admiration for Muschetti and crew for even attempting to put this difficult story on screen. A return visit to Derry may be in order now I'm fully aware of what to anticipate, and maybe a lowering of expectations may cause my opinion to change.
But as of now with its reliance on well worn horror tropes, a never-menacing portrayal of Pennywise and a Losers Club who don't even feel like friends, IT is without a doubt the biggest disappointment of 2017.
We Liked
The near two and a half hour runtime breezes by
Flashes of potentially memorable moments, including the Neibolt House sequence
Opening scene is a faithful recreation of the original miniseries which will no doubt stir up feelings of nostalgia
We Didn't Like
Skaargard's Pennywise loses all mystique when he speaks. Or moves. Or does anything but be stationary, really.
The Losers Club don't appear to be the close group of friends that they need to be
Conventional approach to scares, meaning they can be correctly predicted minutes before happening

This book-ending of King's mammoth novel further proves that some stories should remain on printed pages for the reader to envisage. 

With the release of IT: Chapter Two, we take a look at some more killer clowns that have traded the Big Top for the big screen. 

IT will always be memorable for giving us Pennywise, but take off the rose-tinted specs and this TV two parter is far from the adaptation that the book deserves.