The Details
Release Date
5th November 2018 (VOD Premiere)
Synopsis
With his true love captured by the villainous Sheriff of Nottingham, the legendary Robin Hood and his crew of outlaws execute a daring rescue to save her.
Starring
Martyn Ford, Kristian Nairn, Brian Blessed
There's a scene about 30 minutes into Robin Hood: The Rebellion in which everything started to make sense. After Robin Hood and his intrepid cohorts sneak into the Sherriff of Nottingham's castle to save Lady Marian, the group heads to the practice armory to access wooden swords. As the three men struggle against one guard, take a solid five minutes to open a shaky wooden door, only to get cornered in the armory itself, it suddenly dawns on them that perhaps wooden swords aren't worth the effort.
It was then that I realized that Robin Hood: The Rebellion (or RH:TR, as I will hereby refer to it in order to preserve my sanity) works best as a Naked Gun-esque farce. The kind that portrays everyone as woefully ill-equipped for the swashbuckling adventure at hand. And on those terms, it's a pretty charming way to pass the time, provided you have a couple of friends and an industrial amount of beer at hand.
Only an idiot would go into a low-budget VOD Robin Hood film expecting something that adheres to our classical notions of "good" or "competency." But RH: TR takes a while to find its campy groove. Instead it spends its opening act hopelessly trying to ape the gravity and solemnity of Game of Thrones.
To that end, it casts Kristian Nairn, he of Hodor fame, in a blink-and-you'll-miss-it role. Nairn stumbles into the film for about 30 seconds to warn Robin Hood of imminent danger before succumbing to arrow wounds. Presumably he shot the part while on his lunch break for another, better production.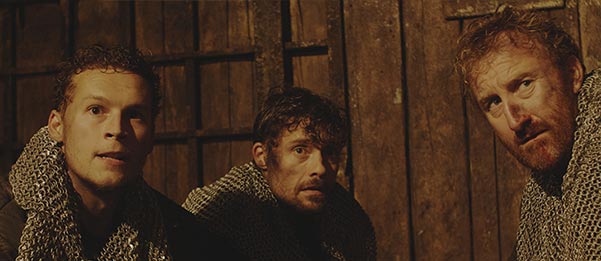 Elsewhere, the Sheriff's men hunt Robin Hood's followers, but you have to wonder why he's spending so many resources squashing a rebellion that consists of ten extras hanging around a hut in the woods. We're also introduced to the new, empowered version of Lady Marian, who shows her badass bonafides by clipping a soldier's leg with a sword before immediately getting captured.
Though Lady Marian's prompt capture is a blow to those hoping to buck gender roles, it does give the movie a much needed shot in the arm. Once Robin Hood launches his endearingly crap rescue attempt, RH: TR begins to show its goofy, crowd-pleasing heart.
Gone are the ponderous speeches about loyalty and taking a stand against the powers that be. Instead we get an enormous cannibal henchman called Brimstone and a secondary villain who spends a good ten minutes of the film stark naked, cupping his junk while he screams at his lackeys. I cannot overstate how much of an improvement this is.
Best of all, director Nicholas Winter knows how to keep his silly (mis)adventure moving. RH: TR is the very model of economy, clocking in at a brisk 85 minutes. It's never too long before you're into the next overwrought sword fight, or hammy monologue by the Sheriff of Nottingham (played here by James Oliver Wheatley, who seems inspired by Nicolas Cage's habit of shouting HALFWAY THROUGH A SENTENCE).
Yes, the sword fights seem like half-speed rehearsals that were filmed "just in case." Sure, the jagged editing occasionally has you wondering what the Christ just happened. But the important thing is the pace, which Winter never allows to drag. In the VOD arena, dodgy fight scenes and dumb characters can be excused, if not celebrated. But boring your audience? That's unforgivable. Robin Hood: The Rebellion is many things, but dull is not one of them. For the love of God though, do not forget the beer.
We Liked
Goofy tone
Zippy pace
Solid performance by Ben Freeman as Robin Hood
We Didn't Like
Leaden first act
Occasionally incomprehensible editing