The Details
Release Date
6th September 2019 (UK)
Synopsis
Twenty-seven years after their first encounter with the terrifying Pennywise, the Losers Club have grown up and moved away, until a devastating phone call brings them back.
Starring
Jessica Chastain, James McAvoy, Bill Hader
27 years on from their battle with the demonic clown Pennywise in the sewers of the unassuming town of Derry, Maine, The Losers Club have left the cursed town to become great successes in their respective lines of work and all but forgetting the traumatic events of their childhood.
Bill Denborough (James McAvoy; Split, X-Men: First Class) is now a sought after writer who consistently fluffs the endings of his works, Richie Tozier (Bill Hader; Inside Out) is selling out venues as a stand-up comedian, Beverley Marsh (Jessica Chastain; Mama, Zero Dark Thirty) is a well-known fashion designer, Ben Hanscom (Jay Ryan) is more like Ben Handsome after his dramatic weight loss and works as an architect while  hypochondriac Eddie Kaspbrak (James Ransone; Sinister, The Wire) plies his trade as a risk assessor in New York City. The methodical Stan Uris (Andy Bean) became an accountant and Mike Hanlon (Isaiah Mustafa; Horrible Bosses)… well, Mike never left Derry, instead choosing to stay in the town as the Librarian.
It's Mike's decision to remain that brings the former best friends back together, as Hanlon witnesses the bodies begin to pile up and beckons the group all to return to their hometown to make good on the Blood Oath they swore as children after almost killing Pennywise the first time around to defeat the otherworldly creature once and for all.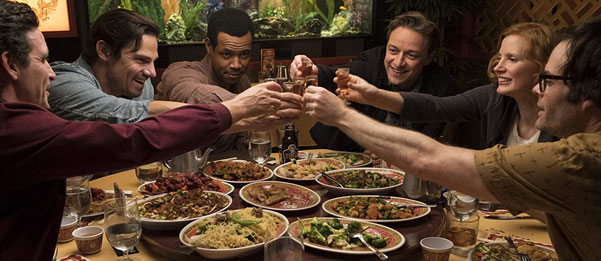 Unlike the 1990 TV mini-series of the same name which heavily featured flashbacks throughout its 3-hour runtime, these two chapters have essentially spliced the story between focusing solely on the children in Part 1 and the adults in Part 2. There's the occasional sequence of a younger, digitally (and noticeably) de-aged Losers Club in this concluding chapter, but the same amount of time for characterisation is not spent on the adults as it was in Part 1 for the children. This means the grown ups are playing characterisation catch-up with their kid counterparts, who are undoubtedly more fully fleshed out players. There's little to no attempt made in giving the adults their own identities other than their eventual jobs, so I never felt fully connected to the intended regression of their childhood selves when they returned to Derry.
The casting itself, however, is aesthetically faultless with the majority of the choices looking uncannily believable as the middle-aged versions of the young actors from the previous instalment. But as I said, Gary Dauberman's (Annabelle Comes Home, The  Nun) narrative-heavy script at the expense of character development does their talent no favours by constricting their actions. This wouldn't be too much of a criticism if we had something, anything in the way of distinctive traits for the adults to go off for their supposed regression when the gang return to Derry, to but as it stands the more than capable cast end up simply mimicking their younger selves from 2017's IT. 
Bill Skarsgård remains underutilised as Pennywise, mostly masked not by the dazzling white and blood red make-up but by hokey and thoroughly unconvincing CGI. In fact, most of the creatures present in IT: Chapter Two instantly lose their punch once the realisation of their computer trickery origin is apparent. Take Bev's confrontation with the elderly lady for example: the preceding build up is admittedly tense thanks to good old fashioned acting and out-of-focus suggestive imagery of a jittery pensioner. But as soon as the monster reveals itself it's a crushing disappointment, especially since a similar beast in David Robert Mitchell's 2014 fantastic It Follows remains incredibly effective even on repeat viewings. It's unsurprising then that one of the best scenes of It: Chapter Two involves Bill's Pennywise doing nothing more talking to a child, manipulating his way to his next meal with minimal CGI involvement.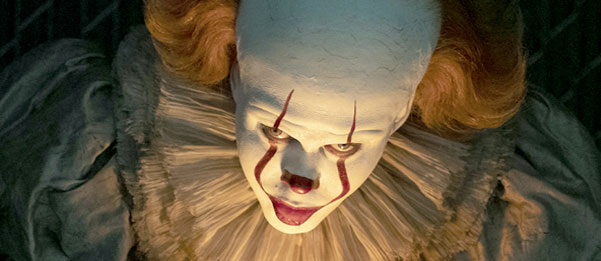 It's not all negative though, as Bill Hader steals the show as jester Richie Tozier, using his natural skills as a comedian to make the character his own. McAvoy occasionally slips into his Split personality as Bill Denborough but is clearly itching for more material to have worked with, while multiple Oscar Nominee Jessica Chastain remains criminally unchallenged as the troubled Beverley Marsh. James Ranscones Eddie Kasprak is shackled with rehashing the events of his wheezy, leper stalked pre-teen self and Jay Ryan as Ben Hanscom has little more to do than remember when he used to be terrorized by Pennywise when overweight. In one of the films biggest failings, Isaiah Mustafa's Mike Hanlon, who should most definitely be front and centre of proceedings after staying in the town for nearly three decades, pulls a disappearing act for over an hour in favour of cheap scares occuring to other characters. Despite strong performances from all involved, there's no getting over the fact that these all all high calibre actors whose potency as performers has been wasted by being loaded into a potato gun of a movie.
Because when all is said and done, IT: Chapter Two can hardly be called a cohesive film at all. Until the final act showdown (more on that in a second), it plays out like a series of episodic events that occur individually to the Losers Club, jarringly disjointed from one another except for when they passively meet at various locations – most notably, the hotel they're staying at. This location acts the same as a multiplayer game lobby would, with the rest of the characters in a limbo state while the focus is on one of the group until they return a few hours later to relay their run-in with Pennywise and his various incarnations to the others.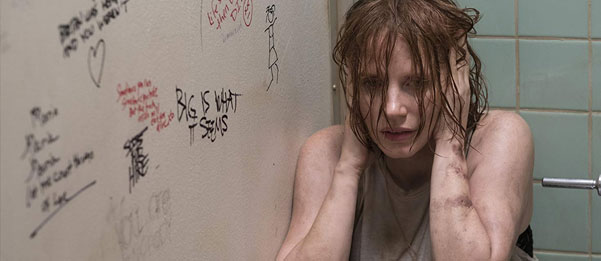 Now, about the last twenty minutes or so. Remember the 90's mini-series with the bewildering and questionable arachid finale? It's back, in big head Skarsgård form! Granted, there's a considerable (and expected) improvement in the CGI but there's no escaping the feeling that, after nearly six hours of investment over the two films, the climactic clash between Pennywises' truest shape for humans to comprehend and The Losers Club remains an eight-legged catastrophe. It's fitting that there's a character involved who is well-known for flubbing the landing of stories, because that's exactly what happens here too.
To its credit, It: Chapter Two does delve further into the Lore of IT's origins with an impressively mythic flashback of how the creature arrived in the town. What was a convoluted and bloated origin in the book has been condensed into an easily digestable tidbit of information (with nay a turtle in sight) and if the film displayed more of this refreshing originality then this would be a different review entirely. There are certainly no complaints to be pointed in the direction of the cinematography though, with some extremely intelligent and seamlessly smooth scene transitions breaking up the monotony of the building block-like stories.
Ultimately, It: Chapter Two is an altogther unsatisfactory encounter. It's no secret I wasn't full of praise for 2017's IT, but those who found it overall enjoyable will most likely find this closing chapter equally as gratifying. Personally though, this book-ending of King's mammoth novel further proves for me that some stories should remain on printed pages for the reader to envisage.
We Liked
Perfect casting
Expansion of IT's origins
We Didn't Like
Disjointed and episodic approach
An unsatisfying finale that learned nothing from its predecessor
Skarsgård's Pennywise remains unscary
So Basically...
Episodic and empty of any meaningful characterisation, IT: Chapter Two is buoyed by an enthusiastic cast and a handful of effective jolts.
You have rated this
Creator. Owner. Maestro. CEO. That last one is probably a bit too much, but basically Sean is a rarity by being both the brains AND looks behind Review Avenue. Having established the site in 2010, he still can't believe people still value his opinion, with some even genuinely asking for it without laughing.

With the release of IT: Chapter Two, we take a look at some more killer clowns that have traded the Big Top for the big screen. 
Pennywise returns to scare a new generation of Derry kids in this adaption of Stephen King's novel.

IT will always be memorable for giving us Pennywise, but take off the rose-tinted specs and this TV two parter is far from the adaptation that the book deserves.