The Details
Item Reviewed
The Party's Just Beginning
December 21, 2019
Release Date
1st December 2019 (Limited Theatrical), 11th December 2019 (VOD)
Synopsis
When her best friend takes his own life, Liusaidh has to deal with the stresses of such a situation.
Starring
Karen Gillan, Lee Pace, Paul Higgins, Matthew Beard
Outside of her angsty space alien sister role of Nebula in Marvel Studios intergalactic opera Guardians of the Galaxy, I've never paid much attention to Karen Gillan. I'd stopped watching Doctor Who long before she arrived on the scene as the titular character's companion Amy Pond in 2010 and, despite their popularity, the Jumanji remakes really don't appeal to me. But low and behold, the actress has turned writer/director with her latest film and first directed feature The Party's Just Beginning, a small, sorrowful film made in a often humorous, powerful and energetic way.
Liusaidh (Gillan) is in an emotional rut after her best friend Alister (Matthew Beard) commits suicide. She is angry, heartbroken, numb and lost in her hometown of Inverness with seemingly no future prospects. She routinely spends evenings binge drinking, stuffing her face with chips and having casual sex with strangers. These coping mechanisms spiral her well-being and relationships downwards in the present, whilst flashbacks leading up to Alister's suicide play out in the past. The film explores Liusaidh's journey as she tries to cope with her loss and continue living an ordinary life.
It really is lovely to be surprised by a film in a positive way. I'm so glad to say that The Party's Just Beginning knocked me out, especially as it's Gillan's first time writing and directing a feature. You would assume she'd been at it for the better part of a decade with how masterfully she tells a story. It's a film that really feels alive. You're never quite sure if the next scene will be a belly-acher or a heartbreaker, but it always seems to make the landing sincerely, and never once feels jarring. Whether it's a scene of alcohol infused euphoria played to be enjoyed or a tender conversation between 2 desperately depressed people, it all works together, feels natural and most importantly enriches the film.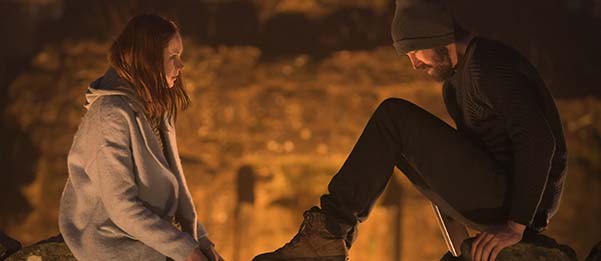 Gillan's direction is superb and certainly caught me off guard. She has a real eye for shot composition and how to build a sequence. Like some of the best directors, you get a feel of the personal attachment to the film. Being from Inverness herself, The Party's Just Beginning is clearly a passion project. That certainly helps when capturing the essence of a city on film, and Gillan does this by shooting in places only a native would have knowledge of. The cinematography of Edd Lukas is also an essential factor of the films technical achievements.
On the performance front, Gillan let's loose and plays a character in which we almost exclusively see negative traits. It's certainly a challenging role because we still have to empathise with her for the story to work, but Gillan manages this effortlessly. Whilst I'd argue that the acting isn't really the focus of this film, the supporting cast are all worthwhile. Lee Pace (The Hobbit) plays a few scenes as a melancholic but much more stable reflection of Liusaidh. But it's Matthew Beard as deceased best friend Alister that conjures the biggest emotional reaction. His role is the most earnest and is played entirely in flashback. Alister meanders though a toxic relationship with a boyfriend uncomfortable to come out as gay due to ties with the church. It leads to Alister questioning his own sexuality and whether he wants to change sex. Gillan handles these threads so well, never blatantly telling us who's right or wrong, and gives faults to herself, Alister and Alister's boyfriend Ben to accumulate into the tragic suicide.
Any minor quibbles I have with the film are barely worth mentioning and it's only the final scene for me that landed a little flat in an otherwise emotionally rich story.
I sincerely hope The Party certainly is Just Beginning for Karen Gillan, a bright new talent in British directing who debuts with a daring first film that's bold with style and flair, but also serious in subject and emotion.
We Liked
Assured and evocative direction from Gillan
Excellent script reaches the maximum potential of the story
Emotive but simple score heightens scenes
We Didn't Like
Ends on a bit of a flat note