The Details
Release Date
28th September 2018 (Limited UK Theatrical) 1st October 2018 (UK VOD Premiere)
Synopsis
A feel-good, heart-warming film set in Yorkshire in 1977 about an adolescent boy's big summer after leaving school. It's about a boy and a dog, class and ambition, first love, and above all, family.
Director
Betsan Morris Evans
Starring
Luke Newberry, Genevieve Gaunt, Ben Batt
Autumn 1977. Derek 'Dusty' Springfield (Luke Newberry) is an 18-year-old misfit, who five years earlier was plucked from his home in the industrial outskirts of Leeds to attend Public School on a scholarship. He has just returned home at the end of his studies to wait for his Oxbridge results that he's hoping will result in his permanent escape. Life at home is awkward for the brainy lad and embarrassing for his working class family who can't relate: his feckless dad, no-nonsense mum and two older brothers; one a football hopeful and the other a distinctly dodgy acquirer of flash consumer goods.
In the wait for his university exam results, Dusty befriends a lightning fast Greyhound, comically named Slapper by his older brother and the two become inseparable. When two bumbling thieves attempt to kidnap Slapper, Dusty must do all he can to protect her, whilst trying to earn the respect of his family again. Dusty can't believe his luck when his crush from afar, the out-of-his-league Chrissie (Genevieve Gaunt), agrees to help him find Slapper. All the while, his results day is looming over him, and his future lies sealed within an envelope.
Possibly my favourite aspect of Dusty & Me is its loving recreation of working class Britain in the 70's. I wasn't born into this era, so maybe I'm misinformed as I'm making this opinion based on videos and images I've seen from the time, but the sets design instantly transported me to a period when sporty Ford Capri's ruled the road and actual effort was put into the billboard advertisements erected on the side of houses. A time when most men only saw two places away from their home: work, or the inside of a  cigarette smoke filled pub. It undoubtedly gets the look of the decade right, with its vibrant oranges, deep browns and dazzling yellows but that's as far as its depiction of working class Yorkshire goes. It doesn't put the focus on the financial struggle of this particular class like similar British films The Full Monty or East is East do, but that's more than likely due to its family-friendly approach.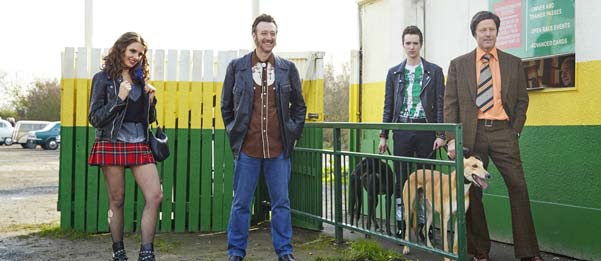 Dusty is a character I could entirely relate to, however. Growing up in a family whose priority was instant employment after secondary education, I did not share this life path. As such, I was ridiculed and derided often, with incessant efforts to deter me from attending University, mainly citing the cost. No one else in my family had gone this route, nor seemed to have any inclination to, so in a somewhat stubborn move I worked especially hard to prove them wrong and make my own way. It's a trait that Dusty shares here, played fantastically by the BAFTA nominated Luke Newberry.
Newberry conveys Dusty's introverted nature beautifully, talking to himself in his room and head more than he does in public. These solitary dialogue sequences are accompanied by imaginative overlaying visuals of who he'd like to be talking to (usually his brother or crush), or who he's talking about. Newberry speaks quietly, in both vocal volume and performance and is wonderfully convincing as the misfit wallflower.
He's ably accompanied by fellow newcomer Genevieve Gaunt as the girl-next-door crush Chrissie, who helps catch Slapper on multiple occasions and, more importantly, brings Dusty out of his shell. Their scenes together generate some genuine chemistry as their personalities simultaneously clash and compliment. And of course, there's the canine who's the glue to the whole thing.
The unfortunately named Slapper, a moniker which should definitely have been changed, is an unsurprising highlight of Dusty & Me. Of course she is; when is a dog ever a bad point about a film? Cujo doesn't count – it's not his fault he was bit by a rabid bat. Those murderous mutts from 2006's The Breed come close, but still, it's nearly always due to human interference. There's not a whole lot more to say about Slapper – she's got a face for the screen and legs for the track.
So it's disappointing then that a film about a racing greyhound drags its feet so much. The pace is plodding, with no urgency. Dusty & Me seems happy to just be out for a leisurely stroll with no intention of winning the race. If Dusty thinks he's a fish out of water in his familial home, then he's not seen just how misplaced the dog napping villains of the picture are. They don't work in the context of the film's tone at all, coming across as a slapstick comedy double act without the humour or physical gags. They're like The Wet Bandits from Home Alone, only if they sat in their van for the entirety of the film and didn't speak to each other.
Overall though, Dusty & Me gets a lot of things right. It's a gorgeous window into the past, the relationships between characters are varied enough to maintain interest in them all and even though the conclusion is as predictable as a one dogged race, this heartwarming tale is still sure to bring a smile in the only way a British film can.
Dusty & Me will be released by Goldfinch Studios in selected UK cinemas on 28th September and on digital download from 1st October 2018.
We Liked
Wonderful set design
Great character chemistry between two upcoming stars
Dog.
We Didn't Like
Meandering pace
Unnecessary and out of place villains