The Details
Item Reviewed
GRIMMFEST 2017: Habit
October 8, 2017
Synopsis
Set within the neon drenched rain swept underbelly of Manchester, where the addicted prey on the lost and the lonely.
A habit can be described as a routine behaviour done on a regular basis – but there's nothing routine or regular in Simeon Halligan's Habit, a surprisingly layered and blood-soaked look at Manchester's underbelly.
Based on the cult novel of the same name, Habit sees unemployed slacker Michael strike up an unlikely friendship with rebellious Lee. She introduces Michael to her uncle Ian, the tough but fair owner of Cloud Nine, a seedy massage parlour situated deep in the backstreets of Manchester, and before long Michael is working as a doorman there. But after witnessing the violent death of one of the clients, Michael begins to have strange, surreal dreams. As he begins to understand their meaning, a dark and primitive urge begins to consume him, and he discovers that not all is as it seems in the city of Manchester.
Habit gives an instant impression (and ultimately a chance to judge) every character, but Halligan isn't satisfied to leave it there – ample time is dedicated to fleshing out each major player before the narrative cards are dealt. It's a wise move and would have been easy to have just thrown the viewer straight into the action, but Habit is disciplined and restrained in its approach meaning your eventual investment in the characters is truly earned. Habit certainly simmers more than it bubbles, but in the process creates a solid foundation for a film which has much more emotional depth than its premise may suggest.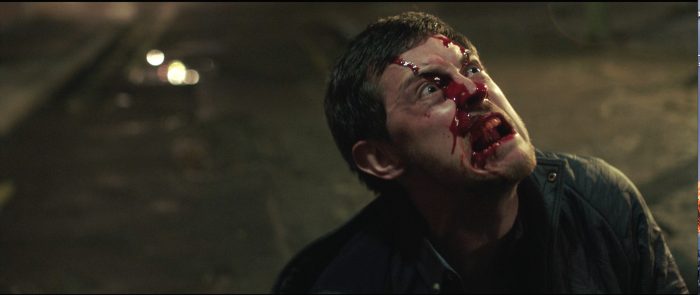 That's not to say that Habit doesn't fulfill its side of the bargain of being a macabre ride through Manchester's darker side. There's some impressive practical gore which is used sparingly enough to remain effective, with one standout sequence seeing Michael indulge excessively while being, shall we say, pre-occupied by a wealth of masseuses and dancers who definitely don't need any massage oils.
Elliot James Langridge is brilliant as the lead and channels Michael's inner turmoil magnificently. Jessica Barden impresses as Lee, his fiery and forward friend. She's a thoroughly interesting character, who appears to have been thrown in at the deep end of life, resulting in a headstrong personality. Nevertheless, she's still young and a juvenile streak remains, as well as an unmistakable aura of innocence – even given the circumstances. Comic relief does come in the form of Michael's flatmate Dee, although his character arc does seem to become neglected and unfinished by the end.
The biggest praise must go to Sally Carman as Mand, Michael's troubled sister. Sally's performance is astounding, and her character's mental health struggles are painfully portrayed without ever trivializing the subject or venturing into caricature. In fact, while Mand may only appear as a supporting role, without her the rest of the story wouldn't be anywhere near as impactful; her search for identity runs parallel with Michael's, with both having drastically different outcomes.
There are definite vibes of 80s classic The Lost Boys here (and maybe the reason why the main character is called Michael) and an exotic dance number which is Manchester's answer to Salma Hayek in From Dusk Til Dawn will turn a few heads, but Habit is a film with its own pulse. It never is anything less than original and doesn't lean on past film tropes to succeed.
If there are a few gripes to be had, it is that Ian claims that 'their kind' are everywhere: in the taxis, the saunas and the bars. It's a shame then that this isn't explored more, as it never really feels like the problem spreads further than the small area of Manchester seen in the film. The antagonist doesn't seem to pose any real threat either, and the finale is a little unsatisfying.
Nevertheless, Habit is more than just a straightforward horror – it is about the search to belong in a world where 'normal' is impossible to define, and what must be compromised in the process of finding your own happiness. With strong all-round performances and a satisfyingly meaty story to sink your teeth into, this is one Habit is you should willingly pick up.
We Liked
Multi-layered horror
Strong performances from all, especially Sally Carman
Neon-lit Manchester location is suitably grimy
We Didn't Like
Doesn't capture scope or reach of the alternative society
Weak villain
Abrupt conclusion