The Details
Release Date
29th June 2020 (UK VOD Premiere)
Synopsis
When Thor and Loki seek refuge in the home of mortals, the youngest son fails to heed a warning from the gods. As atonement for the family's sins, the gods take the two youngest children under their wing and embark on an epic adventure from Midgard to Valhalla that will see them stare down ruthless giants, barbaric gods and the dreaded wolf Fenrir.
Starring
Roland Møller, Andreas Jessen, Salóme Gunnarsdóttir
As the saying goes: you should never meet your idols. In Valhalla: Legend of Thor, two mere mortals discover why you should never meet your Gods either.
When peasant Tjalfe is tricked by Norse God Loki into breaking one of Thor's rules when the pair visit Midgard (or 'Earth' to us lowly mortals), the small boy is forced to work as Thor's servant in Valhalla as punishment. He leaves behind his mother, father and younger sister Røskva – or so he thinks. Røskva has stowed away on the cart carrying them through the Bifrost to Valhalla.
Here they learn that the The Fenrir Wolf, a creature thought to grow so big it will devour the sun and bring about the catastrophic event known as Ragnarok, has escaped. An intruding giant is thought to have broken the chain holding it. The siblings see that not all is golden in the Hall of the Gods. Far from being the confident rulers they're made out to be, there's constant quarrelling and blame slinging as to who's responsible for the Fenrir's escape. Odin then entrusts Thor, along with the two siblings, to capture the beast.
Unhappy with how their masters are treating them, the youngsters – aided by a developing but mute giant named Quark – make a daring escape from Valhalla. But the brother and sister duo find themselves butting heads when Tjalfi grows resentful of Røskva's decision to leave Thor, with him thinking they should be thankful that they're serving Gods.
Tjalfi has a change of heart about the escape and attempts to head back to his master Thor. But he's captured by the King of the Giants and becomes a pawn in their scheme to lure Røskva, who may be more than meets the eye, to them.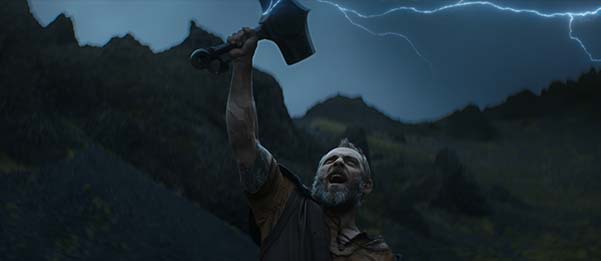 I imagine the film's title was chosen to lure people in too, because it's not really about Thor at all. He's present in a lot of scenes, sure, but he's merely a side character to Røskva's main quest. It's based on a 1986 animated feature which I've not seen, so that might explain a little more. Forget the wise-cracking lighthearted Thor you've seen recently too. This portrayal is a cynical, surly and overall unpleasant figure. In fact, the overall film is a welcome change of tone and aesthetic from the bubblegum look we've become accustomed to thanks to the Marvel Cinematic Universe and Taika Waititi's Thor: Ragnarok. Grey skies, moss-covered rock faces and damp forests reign supreme here and make for rather gloomy viewing.
I'm not too familiar with Norse Mythology and Lore so can't speak for how close it sticks to  them. I felt like there were too many narrative threads fighting to take centre stage and ultimately the script had bitten off more than it could chew. But the stories it does tell and the characters it contains are fascinating enough to hold attention and even warrant further research.
It's rather sparse on combat sequences though, instead relying on dialogue exchanges and encounters between clashing factions to generate excitement. It mostly works, especially Thor's run-in with the Giants, but a few more displays of his handy hammer work – and indeed the other God's powers – wouldn't have gone amiss.
Overall then, Valhalla: Legend of Thor has rumblings of greatness with its bold interpretation of familiar Norse names. Its occasional pedestrian pacing and absence of action means It's unlikely to storm to the top of anyone's 'Best Of' lists, but there's enough here that make it worth forking out for.
Valhalla: Legend of Thor is available from 29th June 2020 on DVD and Digital HD Platforms. 
We Liked
A welcome change in tone and look than Marvel's take
Fascinating characters
We Didn't Like
Ambition outweighs execution as it feels like too many narrative strands fighting for attention
Occasionally slow paced
Few more action set pieces would have been beneficial