The Details
Release Date
8th June 2020 (UK Blu-Ray & VOD Premiere)
Synopsis
Early 1700: Cartographer Jonathan Green (Jason Flemyng) is back to map the Russian Far East. He's forced on to China, where he confronts the Dragon Master et al. The iron masked Russian Czar escapes the Tower of London to a Russian ship.
Starring
Jason Flemyng, Arnold Schwarzenegger, Jackie Chan, Charles Dance, Anna Churina
As fantasy feuds go, Jackie Chan vs Arnold Schwarzenegger is up there with the best of them. At least, it would be with the stipulation being both of them in the prime of their careers. In 2020, as part of a Chinese/Russian co-produced picture with both men either in or approaching their 70s? Not so much.
There's at least four films happening at once in The Iron Mask. So much so that it has multiple titles around the world and no one can seem to decide what the real mystery is. There's the UK name, The Iron Mask: Mystery of the Dragon Seal. Then the USA titled it Journey To China: The Mystery of the Iron Mask. Imagine my surprise at seeing Canada, Australia, India and Russia's naming of it – Viy 2. Two! It's a sequel! Despite debuting straight-to-DVD is most countries, Viy, or Forbidden Kingdom, was the highest grossing movie in Russia in 2014. Naturally, a bigger budgeted sequel would follow and allow for higher profile names to feature.
You'll have to bear with me while I try to decipher The Iron Mask's many, many plots. After no less than eight production company logos – and being in association with five more – The Iron Mask begins with a fable about a dragon with long eyelashes. These luscious lashes went far down into the ground and came back up again as plants with healing abilities. It was known as  – Tea. Men would take care of the lashes and were known as White Wizards. Here's where it loses me a little. The Dragon made a magical Seal and gave it to his most trusted Wizards – The Master (Jackie Chan; Police Story 2), his daughter and the Princess. Some of the Wizards became greedy, however, and turned evil, eventually capturing the Dragon's cave. Slowly, the evil army became the greater power and the Dragon, now blinded by his heavy untended lashes, fell into a deep sleep. The Master and the Princess were then imprisoned on opposite sides of the world, with him being thrown in the Tower of London ruled by the formidable James Hook (Arnold Schwarzenegger; The Expendables 3, Killing Guther).
He shares a cell with two other men. One claims to know the location of hidden treasure. The other wears an Iron Mask and says he's a falsely imprisoned Russian Tsar named Richard The Great (Yuri Kolokolnikov). They receive a misdirected letter flown in by a homing pigeon from Cartographer (that's a map artist to you and I) Jonathan Green (Jason Flemyng; X-Men: First Class) writing to his lover, Miss Dudley (Anna Churina), daughter of Lord Dudley (Charles Dance; Gosford Park). He tells her of his expedition through Transylvania and Little Russia. Here's where it makes more sense that this is a sequel too, because there's a rather frightening and all-too-brief confrontation with monster named Viy who is suspended from the ceiling and has dozens of eyes. Another scene of Cossacks transforming into nightmarish creatures during a feast teased me with the film I wish I was watching.
Anyway, Jonathan reaches Moscow hoping for a reward for his mapping work. Instead, he's imprisoned too by the imposter Tsar. Here, he meets The Master's daughter, Cheng Lan (Xingtong Yao). Using the same pigeon that brought the letter, the Masked Tsar writes a response to Miss Dudley acting as Jonathan and asks for her help. Meanwhile, the grip of the evil army and Two Faced Witch (oh yeah, there's a witch as well) over the Dragon and the village next to its cave continues to grow.
The Iron Mask is a narratively incoherent bloated mess. It's overstuffed with extensive green screen backdrops, some of which are admittedly impressive (18th Century London especially), but are extremely distracting. It's touted as a family movie, but there's absolutely no way young children will be able to follow – or indeed care about – its countless swollen stories. Its cast of mixed nationalities are unconvincingly dubbed in English with varying levels of volume and production quality. As for the headline names of Schwarzenegger and Chan, The Iron Mask is unsurprisingly not their film. The names are used to reel in potential viewers and the pair are rarely seen after the first 30 minutes of its 120 runtime. Still, the time we spend with these two are entertaining enough and the short punch-up that occurs is more than I could ask for at their age.
I can't say there's focus anywhere else in The Iron Mask. The titular prop is removed and forgotten about abruptly and there's never a standout character to root for. Nevertheless, The Iron Mask very rarely lets up in its action. Sure, you haven't got a clue what's going on or why, but there are some impressively choreographed combat sequences to distract you from the nonsense.
By the time the Ancient Chinese Fantastic Four turn up and the Dragon is coaxed out of his lair, I'd long given up trying to understand any kind of reasoning and revelled in The Iron Mask's ludicrous, confusing swashbuckling ways.
The Iron Mask will be available on Digital, DVD and Blu-Ray from 8th June 2020 and can be purchased from

Amazon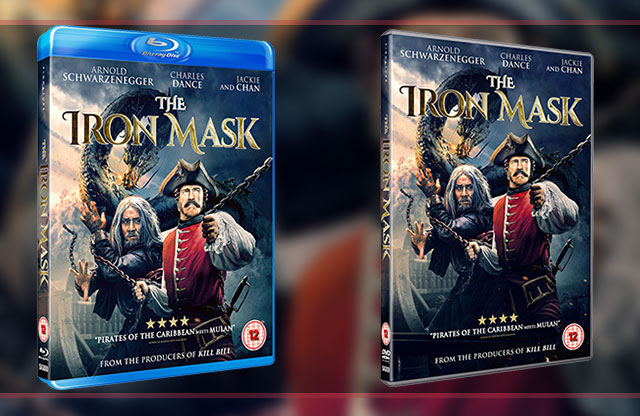 We Liked
Chan & Schwarzenegger make the most of their short screen time
Some impressive Green Screen work for 18th Century London
We Didn't Like
Bloated plot - and many of them
Truly awful additional dialogue recording
Distracting CGI