The Details
Item Reviewed
Police Story 2 (1988) Eureka Classics Blu-Ray Review
September 16, 2018
Release Date
20th August 1988 (Hong Kong Theatrical Release), 20th August 2018 (UK Blu-Ray Release)
Synopsis
Kai-Kui (Jackie Chan) faces the repercussions of his actions from the first film and is demoted to traffic cop. But as more criminal elements emerge from the Hong Kong underworld, it won't be long before he's back in the thick of it...
Starring
Jackie Chan, Maggie Cheung, Bill Tung
Runtime
121 minute (uncut version)
There's always that thorny issue of coming into a sequel blind. Somehow the writer and director has to make it accessible to new audiences without telling the same story all over again and pissing off the returning fans. Police Story 2 has a novel way of recapping the previous films – it simply replays clips of all the badass stunts from the first Police Story.
You get the back-breaking bus stunt, the crazy shanty town destruction derby, and the mall jump (including multiple-angle views) amongst others. Coupled with the iconic theme tune (which I'm 99% sure is sung by Jackie Chan – making him writer, director, actor and singer) and you get a pretty nice "last time on Police Story" HBO before-HBO-was-HBO style opener.
One thing I didn't mention in my review of the first Police Story was how much I dug the ending. Chan's Kai-Kui had cornered the evil drug lord Chu Tao in a shopping mall and they finally had enough evidence to get him put behind bars. But he's put Kai-Kui through so much that the poor dude can't help but kick his ass despite knowing it will probably cost him the conviction and his job.
I loved how this runs contrary to so many American action endings. Take 1990's Hard to Kill for example, where Seagal's Mason Storm has the perfect opportunity to nail Bill Sadler's corrupt senator Vernon Trent. This man was responsible for killing Storm's wife, destroying his reputation and putting the near-invincible cop in a 10 year coma. But old Mason Storm takes the high road and doesn't perform a fatality on the defeated Trent. There's hundreds of other examples of this. Yet like most of us I imagine, Chan's Kai-Kui says sod that and instead dishes out some well deserved punishment on the film's big bad guy.
But there are consequences to busting up a captured perp. Police Story 2 finds Kai-Kui busted down to beat cop. Reduced to patrolling the highways and managing traffic, his woes are compounded when Chu Tao is released on compassionate medical grounds (he's dying). Kai-Kui's long-suffering girlfriend May (Maggie Cheung) is pretty stoked that her man is taking on less dangerous cases. However, when Chu Tao's lawyer and top goon John Ko (Charlie Cho) starts following her, it becomes clear the old bastard is hankering after some revenge.
Not one to take it lying down, Kai-Kui breaks protocol again and kicks the crap out of Ko and his men in a restaurant. When he's calmed down Kai-Kui decides to call it quits and hand over his shield instead of taking another demotion and bring yet more shame on his beloved police force. An overjoyed May suggests they go away on holiday to spend some much needed time together.
Fresh off booking an expensive getaway to Bali (they must pay the police a lot better over there), Kai-Kui encounters an old cop buddy who says there has been a bomb threat at the shopping mall they're in. The poor dude doesn't know what to do so Kai-Kui takes charge and evacuates the building. When Superintendent Li (Lam Kwok-Hung) and "Uncle" Bill (Bill Tung) arrive on the scene, they pretty much tell Kai-Kui that there better be a bomb otherwise it really will be his ass this time.
Our hero is proven right for a change as the entire place explodes. Later that day the board of directors who owned the building get a mysterious phone call saying that unless they pay $10 million, another piece of property is gonna go bang. Naturally they call the cops and naturally they go to Kai-Kui for help.
Dragging him off the plane just as he's about to start his holiday, Bill and the Superintendent keep him talking about potentially re-joining the force to find the bombers. Kai-Kui realizes, far too late, that his plane has left, literally leaving him holding both his and May's passports. Boy is she gonna be pissed.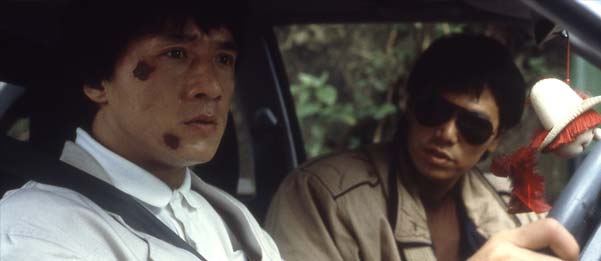 Back in uniform, Kai-Kui is put in charge of a flashy and young investigative unit whose sole mission is to crack the case no matter the cost. But like before can Kai-Kui juggle his new responsibilities with his relationship? And don't forget, Chu Tu is still in the background too…
As I said in my review for the first film, Police Story quickly establishes itself as a heavyweight action spectacle. And with the inclusion of a greatest hits at the opening of Police Story 2, I think we can be forgiven for expecting the same the second time around.
Inexplicably that's not the case. Somehow the decision was to tone down the set pieces, the comedy, and the action. Instead we're given a much more serious, character driven movie. It almost becomes something of a cop thriller.
I'd be lying if I said it all works.
The story is just too mucky. Whereas Chan wrote the Police Story by deciding on what set pieces he was going to do first and then weaving a story around it, the sequel feels much more traditionally penned. There are a lot of elements in play at once and while it never becomes confusing, the tension and pacing suffer greatly for it.
Yes, there are some callbacks to the first film. And when there is action it ramps up mightily. But there are only a few moments where you gasp and contort in your seat, feeling the pain of some poor stunt dude from thirty years ago.
It seems like Chan tried to throw a lot of ideas at this one, specifically the special investigation squad. This is a team of young actors who all look hip and sexy and seemingly ready to play a large part in the movie. But they never really do. Neither does John Ko or indeed the bombers. May drifts in an out of scenes too. No wonder she's thinking of leaving him. You almost got the sense that this was a film born out of cut or rejected scenes from the first movie. Sadly, it isn't.
Where Police Story 2 does improve on is the martial arts. Specifically the bombers themselves know how to kick ass. So instead of Chan fending off loads of useless goons, he's instead up to his eyeballs in handy fighters. The final scene in an old firework factory is intense and dangerous looking. Where the film lacked much action and destruction in the preceding 90 minutes, it redeems itself here, or at least tries to.
Now one of his trademarks, the outtake reel played over the credits gives a great insight into the differences between both films. The injuries and big stunts on show for Police Story 2 are on a different level to the first. They're not huge affairs. Instead it's "minor" crazy stuff like jumping through plate glass windows, throwing fireworks at people or tumbling down loads of stairs. Cuts, bruises and burns seem more par for the course than broken spines. It's still insane the risk that Chan and his team performed, but it can't match Police Story for pure variety in that sense.
Musically we've not changed too much. We've still got the insanely catchy theme tune, and that great guitar riff whenever the baddies unexpectedly turn up. The dialogue is a bit unusual in that despite being in its native Cantonese, it still appears dubbed at points. We also get some English bits like "Yes Sir" which seem out of place.
In terms of restoration, I will admit that Eureka's Police Story is superior again. Here on a 4K TV the image isn't as crisp. Instead it appears softer, almost like a day-time TV movie. This I am sure is by no fault of the good people at Eureka, and more likely to be the quality of the stock footage.
To make up for it we're treated to a buffet of special features (as usual), including the original Hong Kong release, the dubbed UK VHS release, outtakes, interviews and a 40 minute Jackie Chan documentary. The original Police Story once again trumps the sequel in sheer variety of included extras. I'm sure Eureka used everything they had on hand, but it's not as expansive as the first film.
Look, I've made a big deal that Police Story 2 not being as good as we'd hoped. But get real. You can only name a few sequels that live up to the original movie. Those are exceptions, not the rule. And that's to say Police Story 2 is not a bad movie. Far from it.
It's entertaining, funny and action packed. It was still decades ahead of Western rivals in terms of choreography and the only way you've be disappointed is that it isn't the first movie. Were it born under a different name, we'd likely be much more impressed.
Police Story 2 may not hit all the right notes, destroy all the things or cripple as many of the stunt men. But it's still a film worthy of restoration and preservation and respect. It's still more than worthy of a watch.
Jackie Chan's Police Story 

and Police Story 2 are now available to buy for the first time in the UK on Blu-Ray through Eureka Releasing and the box set is available to order from Amazon: https://amzn.to/2sje8JT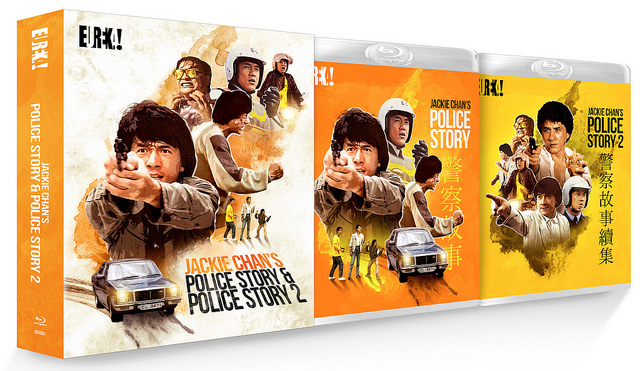 We Liked
Bone-breaking stunt work and action.
Chan's charming self-deprecating humour.
Fantastic final showdown scene.
We Didn't Like
Not as bone-breaking as the first film.
Not as funny as the first film.
The story is not as clear-cut and easy to follow as the first film.