The Details
Item Reviewed
The Thousand Eyes of Dr Mabuse
May 3, 2020
Release Date
1962 (Original UK release) 11th May 2020 (Eureka Blu Ray release)
Synopsis
In 1960s Germany, criminal mastermind Dr. Mabuse uses hypnotized victims and the surveillance equipment of a Nazi-era hotel to steal nuclear technology from a visiting American industrialist.
Starring
Dawn Addams, Peter Van Eyck, Gert Frobe
I feel like I'm doing a disservice to The Thousand Eyes of Dr. Mabuse, which is being released for the first time in the UK on Blu-Ray as a part of Eureka's vast and diverse Masters of Cinema label. Mostly because I've never been a fan of 60's Espionage films. Outside of James Bond (which doesn't really qualify), the elusive sub-genre has never tickled my fancy despite having many loving supporters. Films like The Ipcress File or Funeral in Berlin always bored me instead of intriguing, and unfortunately the same has to be said for this German effort of Dr. Mabuse, which happens to be the last film of legendary filmmaker Fritz Lang (M, Metropolis).
The Thousand Eyes of Dr. Mabuse begins with the startling assassination of a reporter on his way to work. Inspector Kras (Gert Frobe; Goldfinger, Chitty Chitty Bang Bang) along with his blind fortuneteller informant Cornelius (Wolfgang Preiss; A Bridge Too Far, The Train), who has a vision of the crime before it occurred begin to investigate the case. Meanwhile, a rich American industrialist called Henry Travers (Peter Van Eyck; The Longest Day, The Wages of Fear) checks into the Luxor Hotel, which once belonged to the Nazis during World War 2 as a secret surveillance building. He becomes involved with a mysterious suicidal woman Marion (Dawn Addams; The Hour of 13, Plymouth Adventure) who is being threatened by her abusive club-footed husband. These seemingly unconnected characters eventually merge and collide during what appears to be the re-emergence of the long-dead Dr. Mabuse.
Thousand Eyes is not the first Dr. Mabuse film. Fritz Lang had directed two Mabuse features prior to this, one in 1922, and one in 1933. They certainly wouldn't be the last films to feature the evil mastermind either. After the success of Thousand Eyes, it spawned a series of Mabuse films in a similar way to the Spaghetti-Western character of Django. These films play fast and loose with continuity, so, on the whole, it's not essential to watch them in any particular order. However, diving blind into the 3rd film as I did probably does make the head-spinning plot harder to swallow.
As much as I tried to invest myself in the tangled web of secret cameras, betrayals, and spies, the longer the film rolled on, the more I felt it pass me by. Its slow pace and campy elements left me cold and rather bored, much like other 60's spy films. I never cared for the characters or their problems, which made all the secretive shenanigans feel extremely flat. It's a great shame as Eureka has done a wonderful job with the film's new High Definition presentation. Photography and production design are perhaps the film's best qualities, and this new Blu-Ray release shows them off beautifully.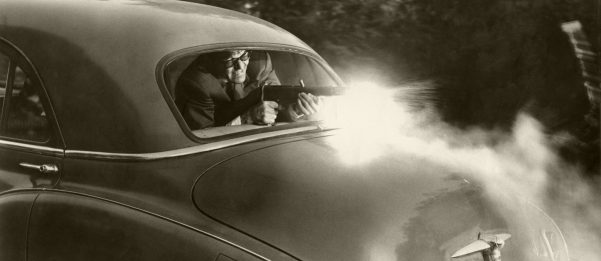 Even for someone as uninvested as me, Thousand Eyes does save itself somewhat with an exciting finale of well-organised payoffs and intelligent action scenes. I just wish I cared about the plot and characters for it to really hit home. However, if you are a fan of Dr. Mabuse or 60's spy films in general, I would certainly recommend this new release for your collection. It certainly has never looked or sounded better for home viewing.
As for me, I'll stick to the big, dumb delights of 007.
The Thousand Eyes of Dr. Masbuse is released on 11th May 2020 and is available to order from

Eureka

and

Amazon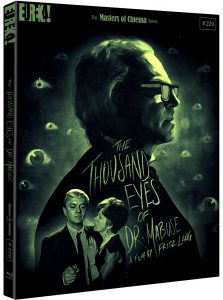 BLU-RAY SPECIAL FEATURES
LIMITED EDITION O-CARD SLIPCASE [First Print Run of 2000 copies only]
1080p presentation on Blu-ray
Original German soundtrack
Optional English audio track, approved by Fritz Lang
Optional English subtitles
Feature-length audio commentary by film-scholar and Lang expert David Kalat
2002 interview with Wolfgang Preiss
Alternate ending
Reversible sleeve featuring newly commissioned and original poster artwork
PLUS: a collector s booklet featuring a new essay by Philip Kemp; vintage reprints of writing by Lang; an essay by David Cairns; notes by Lotte Eisner on Lang s final, unrealised projects
We Liked
Well shot with interesting production design
Exciting finale and payoffs
We Didn't Like
Slow, plodding narrative that fails to engage
Cold characters lacking personality or charisma