The Details
Release Date
26th May 1978 (UK Theatrical), 15th July 2019 (UK Blu-Ray Release)
Synopsis
A woman whose husband is fighting in Vietnam falls in love with another man who suffered a paralyzing combat injury there.
Starring
Jane Fonda, Jon Voight, Bruce Dern
1978 saw the release of two powerful dramas about the Vietnam War: Michael Cimino's The Deer Hunter and Hal Ashby's Coming Home. The latter has arguably lived in the shadow of the more well-known The Deer Hunter but thanks to Eureka Entertainment, Coming Home is now available for the first time on Blu-Ray in the UK as part of their Masters of Cinema series.
When Marine Captain Bob Hyde (Bruce Dern; The Hateful Eight, Nebraska) leaves for Vietnam, his wife Sally (Jane Fonda; Barbarella, Klute) volunteers at a local hospital. There she meets Luke (Jon Voight; Midnight Cowboy, Deliverance), a former sergeant whose war injury left him a paraplegic. Embittered with rage and filled with frustration, Luke finds hope and confidence through his growing intimacy with Sally. The relationship transforms Sally's feelings about life, love and the horrors of war. And when Sally's wounded husband returns home, all three must grapple with the full impact of a brutal, distant war.
Both of the aforementioned films fought a fierce battle at the 51st Annual Academy Awards ceremony in 1979, with The Deer Hunter coming out on top in the Best Picture and Director categories. Coming Home did not go away empty handed though, nabbing the gongs in the Best Actor for Voight, Actress for Fonda and Original Screenplay for Waldo Salt, Robert C. Jones, and Nancy Dowd. It's also one of only twelve films in history to be on two lists of rare Oscar accomplishments; nominations for the 'Big Five' Oscars and nominations in all the acting categories. So it's baffling then that it seems so criminally under seen while The Deer Hunter, an incredible film itself no less, usually gets first mention as the definitive Vietnam drama. I imagine this is due to it winning the Best Picture Oscar and containing far more visceral and battle heavy imagery compared to Coming Home's delicate, dialogue driven approach.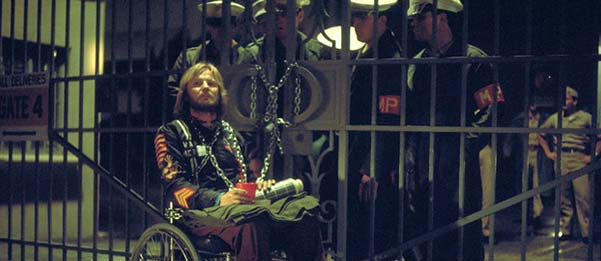 Much like a previous Eureka release Yanks, Coming Home features absolutely no scenes of battle. The conflict is told through the characters, their expressions and their responses. The opening scene wastes little time in setting an anti-war stance, with real-life veterans shooting pool and openly venting their opinions on the situation. It's an astonishingly intimate insight that is usually reserved for documentaries, but it works remarkably here.
The stark contrast between the two soldiers personalities is painfully prevalent, at least for the first hour or so. Voight's Luke is a disillusioned and wildly unpredictable cynic due to his experiences while deployed whereas Dern's patriotic and grossly uninformed and untainted Captain Bob begins as a dutiful and dedicated member of the Marines. Sure enough, the war takes its toll and the once polar opposite people become increasingly similar through the common denominator of the Vietnam war.
In the middle of it all is Fonda's Sally, a woman who feels like her entire identity rests on the fact she's married to a Marine Captain. When her husband is shipped off, she initially feels terrified of being alone but her volunteer work at the hospital gives her a sense of purpose. It's understandably overwhelming at first but as she grows closer to the patients, Luke especially, she becomes a valuable asset to their recovery.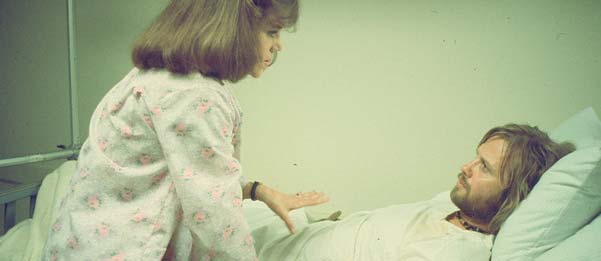 As I mentioned, Coming Home won a plethora of awards, mainly in the acting categories. Whether they are runaway winners who outshone the other nominees is of course subjective (De Niro was nominated for Best Actor in The Deer Hunter against Voight) but there's no denying that Voight's passionate speech in the closing moments of the film is an unrestrained, unforgettable and scathing commentary on the military and the false expectations delivered to young men by Army recruiters.
In a somewhat unpopular opinion, I found Fonda as Sally unspectacular and certainly not worthy as being called the best performance of that year. It's by no means a bad turn from Fonda, who gained real-life notoriety during a 1972 visit to Hanoi after a photograph emerged of her sitting on an Anti-Aircraft gun meant to target American planes, but I never fully believed that she was torn between the two men, making it difficult to sympathise with her plight. The initiation of the relationship between Luke and Sally is also rather flimsy and I didn't completely understand how she fell in love with Luke so quickly. Over the course of the runtime, I did warm to their infidelity thanks to the performances but the foundations in which it was built could have been stronger to make the affair more believable.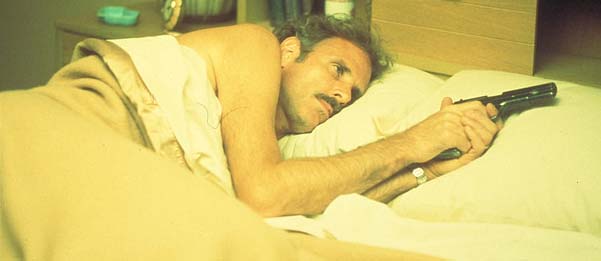 Bruce Dern is superb as Captain Bob, chiefly in the scenes following his return home. A man who was once full of excitement and elation at the prospect of promotion and fighting for his country reappears a shell of his former self. The showdown between the fateful love triangle is agonisingly tense and signals a significant and menacing shift in tone for what was largely a bittersweet drama. Still, during this new approach, director Hal Ashby doesn't resort to cheap villainy techniques such as ominous music for when a visibly unstable Bob walks through the door with a rifle. He lets the actors do their thing and Coming Home is all the better for it.
Speaking of the soundtrack, it's filled with songs and artists intrinsically linked to the Vietnam war and that entire era. The Rolling Stones, The Beatles, Bob Dylan and Jimi Hendrix can all be heard in what is one of the best track lists of the 70's, but it's the haunting and perfect use of Tim Buckley's Once I Was that sets Coming Home apart.
It cements the film as one of the most moving and affecting portrayals of post-combat life for soldiers as the film intercuts between all three characters and how the conflict, and indeed each other, has altered the course of their lives.
BLU-RAY SPECIAL FEATURES
1080p transfer of the film on Blu-Ray

Optional English subtitles for the deaf and hard-of-hearing

Brand new and exclusive audio commentary by author Scott Harrison

Feature-length commentary with actors Jon Voight, Bruce Dern, and cinematographer Haskell Wexler

Coming Back Home [25 mins] – archival featurette

Man Out of Time [15 mins] – archival featurette

PLUS: a collector's booklet featuring new writing on the film by author Scott Harrison and critic Glenn Kenny

Once Upon a Time In Hollywood is a film made with exceptional craft and a deep sense of passion. It's a surprisingly mournful film one minute and a characteristically silly film the next, juggling a dozen different emotions, subjects, and themes... and almost catching them all.

A political scandal that dodged the camera's lens for almost 50 years finally comes under new scrutiny with a new engaging political drama from John Curran (The Painted Veil). Starring Jason Clarke (Mudbound) as a dead-ringer for Senator Ted Kennedy alongside the talents of Kate Mara (House of Cards) and Bruce Dern (The Hateful Eight), […]