The Details
Item Reviewed
Once Upon a Time In... Hollywood
August 20, 2019
Release Date
14th August 2019
Synopsis
A faded television actor and his stunt double strive to achieve fame and success in the film industry during the final years of Hollywood's Golden Age in 1969 Los Angeles.
Director
Quentin Tarantino
Starring
Leonardo DiCaprio, Brad Pitt, Margot Robbie, Al Pacino, Kurt Russell, Margaret Qualley. Timothy Olyphant, Bruce Dern, Dakota Fanning, Mike Moh, Luke Perry
There's always an air of excitement every time Quentin Tarantino releases a new film. His accessibility to the masses whilst also appealing to die-hard film connoisseurs is a rare thing and results in some of the most memorable movies being made today. But with such a stellar past record comes an extraordinary amount of expectation, making anticipation for his 9th film Once Upon a Time In Hollywood almost stratospheric. This self-titled modern fairytale sees Tarantino tackle true events for the first time (Inglorious Bastards plot being entirely fictional), dealing with the infamous Tate murders in August 1969. The question remains whether it can meet or even exceed such lofty anticipation.
Despite much talk over the role of the Manson family in the film, Once Upon a Time In Hollywood is not about Charles Manson or his cult. Their screentime (and Mansons especially) is minimal and only serve as a catalyst timebomb in the story. The real core of the film is the friendship between struggling actor Rick Dalton (Leonardo Dicaprio: Inception, Shutter Island) and his stunt double Cliff Booth (Brad Pitt: World War Z, Fight Club). Rick is a troubled B-actor that is most famous for appearing in a successful TV western called Bounty Law. Dreaming of bigger things, he gives up his starring role in this TV show to pursue a film career: one that never materialises. Severely depressed and clearly suffering severe mental health problems, Rick now spends his time appearing as a guest star on other peoples shows, usually as the villain, as Cliff drives him around town and does odd jobs. Cliff, who has is own problematic past with law enforcement, is more sound of mind and acts as Ricks rock. He is easy-going and encouraging but gets himself tangled up with Manson's followers at Spahn ranch due to picking up a hitchhiker. Meanwhile, Sharon Tate (Margot Robbie: Suicide Squad, Peter Rabbit), who lives next door to Rick is experiencing increasing success and leading a happy life.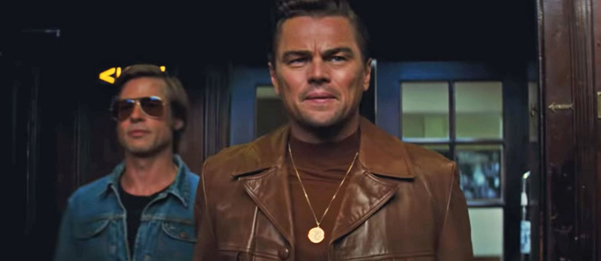 Once Upon a Time In Hollywood is a departure for the director, and may not be quite what audiences expect. The film still manages to be quintessentially Tarantino but is purposefully more inward-looking, and less interested in the bells and whistles that have been seen in much of his previous work. With exception to the excellent Jackie Brown, this is certainly Tarantino's most mature and thoughtful work, even with its bombastic finale. The film doesn't adhere to a conventional plot. Instead, we follow Rick, Cliff, and Sharon over two days as they live their lives; Rick dealing with an imposing mental breakdown on set when he can't remember his lines, Cliff floating through Los Angeles before finding himself in confrontation at Spahn Ranch, and Sharon spending an afternoon seeing one of her own movies. There is a lot of downtime here, perhaps too much, as we "hang out" with these characters. Anyone looking for a more focused plot, or something with a driving force will surely be disappointed in Hollywood's relaxed approach. After these two leisurely days, the film zips forward six months to August 1969, when the Manson murders took place.
The world-building in Once Upon a Time In Hollywood is second to none. Everything from the period costumes, music choices and Tarantinos obsession to do everything for real and without CGI compile to something really special. Los Angeles has never felt more of a character thanks to the incredible amount of detail poured into every department involved in making this movie. Robert Richardson's cinematography glows, perfectly capturing the time and evoking films from the period. It's equally complimented by the films radio soundtrack. With so much of the film taking place inside cars, the radio feels like the films spirit. Not just because of the selected tracks, but because they're allowed to be played in full along with adverts and DJ chatter. There is a great pleasure in simply breathing in this world with Rick, Cliff, and Sharon. Mundane acts that sound boring on paper like fixing a TV aerial or feeding a pet dog are elevated by Tarantinos attention to detail and intense passion. It's spellbinding at times how lost I became in this world.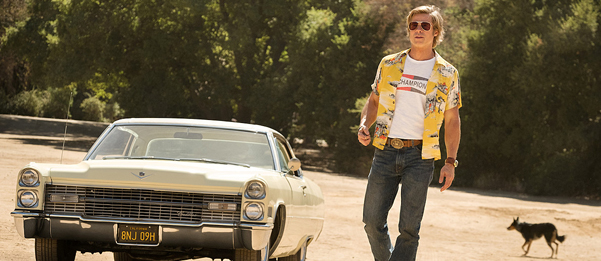 The only downside to the obsessive nature of Once Upon a Time In Hollywood is that it occasionally tips over into self-indulgence. It certainly deserves a lengthy runtime for the film to work on the level that it does. However, there are scenes that could have been trimmed to rein in moments that feel over permissive. This has been a problem in other recent Tarantino films like Django Unchained and The Hateful Eight, which whilst great, could have done with one more editing pass. The film's climax could be a problem for some and will likely divide opinion whether its exploitative or emotional.
Acting-wise Hollywood is another showstopper. DiCaprio is sensational as the fragile and bipolar Rick Dalton. His near-breakdown and eventual rise during one of his guest star roles is beyond impressive. Humourous, tragic and purely electric with energy. The Inception level of acting within acting is baffling, but DiCaprio sells it superbly. Pitt commands a much more physical role as opposed to Dicaprio's emotional journey, expertly controlling his body language to show rather than tell us about Cliff. Margot Robbie has a much smaller but important role, being represented as everything good that youth has to offer. She is a shining light of positive change the 1960s brought, whilst the Manson family are everything evil. The supporting cast is a star-studded line up one could only dream up. Al Pachino as movie producer Marvin Schwarz, Margaret Qualley as Manson devotee Pussycat and Timothy Olyphant as TV western actor James Stacy all gift the film with short but inspired performances to say the least.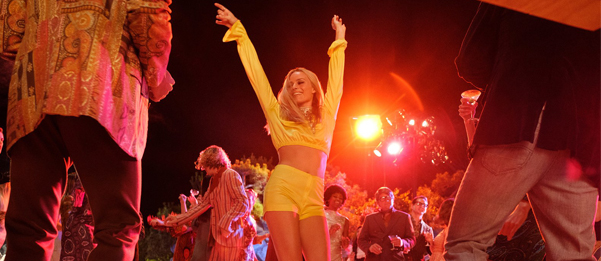 In an ideal situation, I wish I could have seen Once Upon a Time In Hollywood for a second time before writing this review. There is so much to take in, so many moments to stew in the mind that it just begs for multiple viewings. But in the passing days whilst letting the film settle in my head, my desire to see it again has only increased. The more I think about it, the more I think I love it, which would possibly bump its score to a 9. It could be one of Tarantino's best films, but I'm not 100% sure yet. Time will tell. What's certain though is this. Once Upon a Time In Hollywood is a film made with exceptional craft and a deep sense of passion. It's a surprisingly mournful film one minute and a characteristically silly film the next, juggling a dozen different emotions, subjects, and themes… and almost catching them all.
We Liked
Tarantino's most mature work after Jackie Brown
Intoxicating world-building & attention to detail
Superb soundtrack
We Didn't Like
Slightly too long and self-indulgent at times

The Irishman is evidence of a master at work. Both impeccably acted and beautifully made, it's a film about our own fragile mortality, It's about weighing up everything you've left behind and coming to terms with it. With that, Martin Scorsese should be immensely proud of everything he's left behind in his career so far. Here's hoping we get a few more.

In Johnny Martin's Hangman, decorated homicide detective Ray Archer (Al Pacino) partners with criminal profiler Will Ruiney (Karl Urban) to catch one of the city's notoriously vicious serial killers, who is playing a twisted version of murder inspired by the children's game Hangman. Every 24 hours, a body is hung revealing the next letter carved into […]