The Details
Release Date
17th December 2020 (Vimeo Premiere)
Synopsis
Alex is struggling in a venue bathroom as she finds herself ill at a metal concert.
Starring
Catherine Saindon, Hana Kashaf
Bursting into a bathroom stall during a heavy metal concert, Alex struggles to keep anything down. Well, almost anything.
Clocking in at a little over 5 minutes, First Bite exceeds your daily recommended intake of blood, retching extreme music fans and shots of unflushed toilet bowls. It's bathed in a glow of blue and over the crackle of film grain for the ultimate old-school Grindhouse aesthetic.
It's in the sound mix where First Bite really shines. The grim splashes of Alex's vomiting are turned up to 11, as are the squelches from her mystery injury. This is backed by the pummelling sounds of Canadian metal band Femur, whose thunderous sound still penetrates the walls the bathroom. Horror and heavy metal have always locked horns and First Bite continues this successful match made in Hell.
Much like all the horror greats, the short is an exercise in what we don't see. It's an enticing tease of what's 'out there'. We never see the musicians or the performance. We don't precisely know what caused Alex's body to react so violently. Its closing moments undoubtedly have the feel of a prologue and leaves many unanswered questions. It's relatively slim on dialogue, although a few pivotal lines towards the end of the short may hold the key.
There are only two players here: Alex the afflicted played by Catherine Saindon, and her concerned friend Olivia (Hana Kashaf) knocking on from the other side of the door. Their performances are fine, but it's not the most taxing of project for either of them. Still, they largely succeed in achieving the intended emotions for their incredibly brief parts. Oh, and there's an off-camera three word yell which perfectly sums up the closing shot.
Overall, First Bite is a tantalising taste of what's to come from a director who has nailed the starter section of his career. I impatiently await the main course.
First Bite is scheduled for release on Vimeo from 17th December 2020.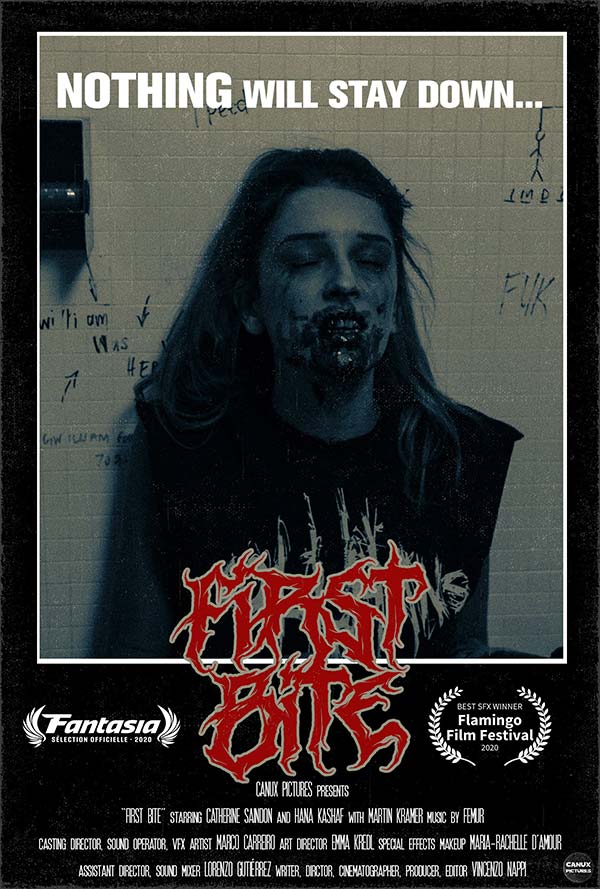 So Basically...
First Bite is a minimalist and tantalising taste of what's to come from a director who has nailed the starter section of his career.
You have rated this
Creator. Owner. Maestro. CEO. That last one is probably a bit too much, but basically Sean is a rarity by being both the brains AND looks behind Review Avenue. Having established the site in 2010, he still can't believe people still value his opinion, with some even genuinely asking for it without laughing.
Literal shocks, bone rattling Rock and an illuminating turn from a rising star with a headlining future makes Hollow Body a thunderous directorial debut.
With some killer tracks and dud creative decisions, American Satan ebbs and flows like the careers of countless rock bands who cruised the Sunset Strip in the 80s.