The Details
Release Date
24th September 2018 (UK VOD Release)
Synopsis
The lead singer of a struggling rock band is resurrected after being killed by lightning. Upon her return, she is able to give electrifying performances - but her second coming comes at the ultimate cost.
Starring
David Arquette, Luke Wilson, Allie Gonino
In Alex Keledjian's supernatural shock rocker Hollow Body, a star isn't just born – they're zapped down from the sky after a freak lightning strike.
A chance encounter at a party with Rachel (Allie Gonino), a talented singer and gifted guitarist Scott (Ryan Donowho) results in the formation of a promising new rock band for struggling veteran musician Jimmy (David Arquette). The trouble begins on their very first tour date when Rachel is hit with stage fright and unable to perform. An argument between the band ensues, eventually resulting in Rachel leaving the venue with her mother. Seconds after driving away, the car they are travelling in is struck by lightning, killing Rachel and her mum instantly.
Rachel, however, is only deceased momentarily and is jolted back to consciousness sporting some pretty gnarly lightning fork-like burns on her veins. Almost immediately following her actual death encounter and at the bands next gig, Rachel's confidence is through the roof as she seductively swaggers around the stage and belts out a bona-fide slice of old fashioned rock 'n roll. Her band mates seem perplexed by this newfound courage to perform but think nothing of it as they reap the rewards of fan appreciation.
But there's a dark secret behind Rachel's latest persona and as bodies begin to suspiciously pile up whenever she is in the vicinity, Jimmy and Scott must question how far they are willing to go to pay the price of fame.
Arquette is perfectly cast as the washed up one hit wonder Jimmy who is desperately trying to live vicariously through the younger versions of himself. He constantly reminds the band that he knows best because he's lived through it all already, yet he's got nothing to show for it other than a Gold-plated record and a strong disdain for the song that made him famous for 5 minutes.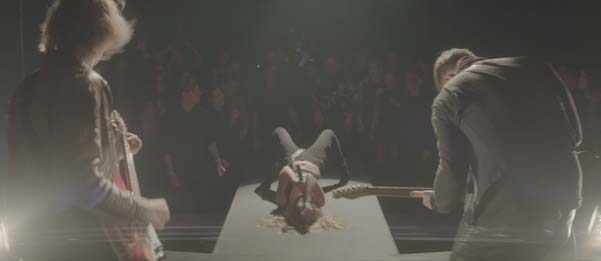 Ryan Donowho's Scott is the character with the most layers as he tries to juggle a 'normal' life – a loving wife, a newborn child – with the hedonistic lifestyle of being in a band. Donowho channels the struggle brilliantly as he jumps between following his head, heart or crotch.
But it's Allie Gonino who steals the show in an electrifying performance as Rachel. It's easy to see why men fall at her feet; she's enticing, manipulating and exactly the kind of girl your mother warned you about.
Luke Wilson pops in for a few minutes for a glorified cameo as a record producer, but is sleazy enough to leave a mark. Oh, and there's a drummer in the band too, Zach (Erik Stocklin). In what I'd like to believe is an entirely deliberate move to keep in line with the running joke of disregarding of real drummers, this member is relegated to the background of the picture.
There's a few original songs in Hollow Body and each one of them is legitimately fantastic. Their thumping southern rock sound is infectiously groovy and the show they put on just after Rachel's invigorating transformation is as lively and provocative as they come. Think Salma Hayek in From Dusk Till Dawn dancing and singing to the likes of Mötley Crüe or Guns N' Roses.
Disappointingly though, the supernatural element to the film didn't strike the intended chords with me and felt like it kept retreading the same points without a satisfying explanation or conclusion. It's certainly a unique take on the sacrifices needed to obtain celebrity status, but for me it was one song too many in an almost flawless set list.
Still, it doesn't detract from just how enjoyable Hollow Body is. If you get on board with the eclectic mix-tape of genres on offer, there's a high chance you'll completely succumb to its charms. With magnetic performances from all and tunes worthy of being cranked up to 11, Alex Keledjian has caught lightning in a bottle and I'll undoubtedly be cheering at the barrier waiting for his next gig.
Hollow Body will be available on VOD platforms including Amazon, Google, Microsoft, Sony from Monday 24th September 2018.
We Liked
Fantastic, original songs dripping in a southern rock sound
Electrifying performance from Allie Gonino and perfect casting of David Arquette
We Didn't Like
Supernatural aspect fizzles out
So Basically...
Literal shocks, bone rattling Rock and an illuminating turn from a rising star with a headlining future makes Hollow Body a thunderous directorial debut.
You have rated this
Creator. Owner. Maestro. CEO. That last one is probably a bit too much, but basically Sean is a rarity by being both the brains AND looks behind Review Avenue. Having established the site in 2010, he still can't believe people still value his opinion, with some even genuinely asking for it without laughing.
An excruciating and shallow experience to sit through, Spree is about as bad as they come. It's a sustained period of unrestrained misery.