The Details
Release Date
3rd May 2019 (UK)
Synopsis
Tolkien explores the formative years of the orphaned author J.R.R. Tolkien as he finds friendship, love and artistic inspiration among a group of fellow outcasts at school.
Starring
Lily Collins, Nicholas Hoult, Genevieve O'Reilly
Tolkien chronicles the story of J.R.R. Tolkien (Nicholas Hoult), the esteemed author behind The Lord of The Rings novels. The film explores more specifically his experiences through school, relationships formed with both his friends and his eventual wife Edith Tolkien (Lily Collins) and the turmoil he was thrown into during a Britain faced with war.
Tolkien almost follows an act structure similar to Christopher Nolan's epic Dunkirk, as it revolves around three main aspects of Tolkien's life, constantly mixing between these three. The first (and longest) of these are Tolkien's earlier years including his years both with his brother and his friends through school including Geoffrey Smith (Anthony Boyle) and Christopher Wiseman (Tom Glynn-Carney). From the start, these figures are established to be the individuals who directly affect John and his interests very much and for this purpose they serve finely, but the film doesn't ever dare to go an extra mile of establishing an individual identity for each and never gives them their own moments to shine. All that these characters feel like are the background extras to Tolkien's stage play rather than more fleshed supporting players.
The next third revolves around John and Edith's developing relationship and eventual marriage. At times, it feels like considering the message at the end of the film was the importance of 'love' within his eventual books, this theme is given nowhere near enough credit, with Tolkien and Edith's relationship ultimately not being given enough time to fully flourish. Their onscreen chemistry is just fine, with there being more mystery centring around Edith than anything else. Ultimately in the grander scheme of Tolkien's life, apart from finding a wife for himself, this narrative plot line ultimately barely serves much to contribute to the world building of 'The Lord of The Rings', considering how integral love was within not just relationships but family and friends, with Edith instead unfortunately rubbing off as the lady that happened to be there within his life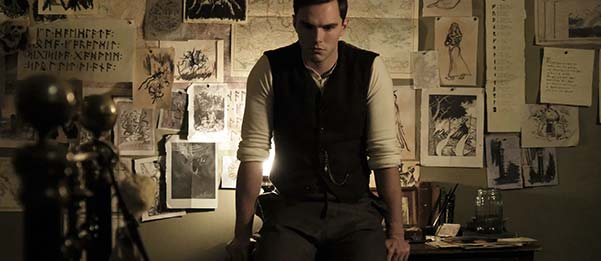 Then the final third of this film revolves around Tolkien's time during World War One. The imagery of seeing the familiar iconography of dragons, knights on horses and more which we are used to help to craft an art of masterful delinquency to question the reality of exactly what Tolkien experiences during these war scenes, with the cinematography within these scenes being beautiful. They however don't go beyond this, with these scenes ultimately feel like simply Tolkien tripping out due to wounds than anything more substantial.
The problem with all three of these acts however is that they are interwoven at the most peculiar at times, making in particular the war scenes exciting but confusing and scenes between John and Edith coming across as rushed with gaps clearly missing. Director Dome Karukoski takes preference in flashing forward as fast as possible throughout Tolkien's most important moments. Instead of becoming a nuanced portrayal, Tolkien instead manifests into a jumbled rush with us sliding through these story lines in a manner that doesn't allow us to fully come on board with Tolkien's story.
Also, how exactly these films relate to the development of how 'The Lord of the Rings' came to be is not clearly defined at times, which I'm sure is, in all fairness, the bigger selling point to the paying viewer then the biography of John Tolkien. A lot of this is down to mythology that the friendship group studies and learns, with John seeing this as his 'fellowship'. This cross between what is in the real world and what occurs in Tolkien's imagined world are nothing more than just what is seen to be hallucinations during the war and terms coined for the things around him.
Tolkien attempts to present a well crafted balance of being able to relate his life experiences to one of the world's most beloved fantasy worlds. But the constant shifts between arguably Tolkien's most important arcs are constantly skipped across at various points, leading what we are given instead a very flat and shallow outlook that gives us more insight into just what happened around him then who he was and what actually inspired him and his work, which is what we want to see. The inspiration behind Mordor felt more like non-contextualized beautiful imagery on screen and coins termed in the weirdest fashion. Ultimately, too much is just skipped out for us to really fully understand why 'The Lord of The Rings' was such a masterpiece, with 'Tolkien' unfortunately not giving us enough insight into this backstory.
This review is an edited version, the original of which can be found on Tom's website

, Tom's Film Reviews. 

Rocketman only succeeds at being a more entertaining and creative film than last years Bohemian Rhapsody, thanks to its musical aspects that offer something more impressionistic than the norm. But without those few excentric flourishes, the film is your standard copy and paste job in Hollywoods latest music biopic trend.

A "run of the mill" biopic this is not. This is a measured, intelligent picture that balances heartfelt character drama with awe-inspiring spaceflight. Equally as excellent as Chazelle's previous masterpieces he has proven his ability to paint on a broad canvas.