The Details
June 12, 2019
Release Date
22nd May 2019
Synopsis
A musical fantasy about the fantastical human story of Elton John's breakthrough years.
Starring
Taron Egerton, Jamie Bell, Richard Madden, Bryce Dallas Howard
Calling 2018s Bohemian Rhapsody a hit is an understatement. The $52 million picture ended up with a box office of $903 million, over double of the entirety of A Star Is Born's earnings. It's currently the highest grossing biopic of all time despite the film itself being a rather shallow, but easily accessible so-called tribute to Freddie Mercury. Now only 7 months later we have Rocketman, which follows the formative years of pop superstar Elton John, in the typically familiar formula. Directed by Dexter Fletcher (who finished up principal photography on Rhapsody after Bryan Singers firing), Rocketman attempts to strike out on its own by being a fully fledged musical. As it's marketing states, this is a "Musical Fantasy" that's not overly concerned with the facts or being realistic. It instead attempts to capture who Elton was, or more specifically, who he was trying to be in those early years by telling a story of the importance of one's own identity. On the surface, this sounds like a much fresher and more interesting take on the music biopic than usual, however, Rocketman is never brave enough to fully realise it's ambition, keeping one foot firmly planted in the worn out, tired conventions of its commercial genre.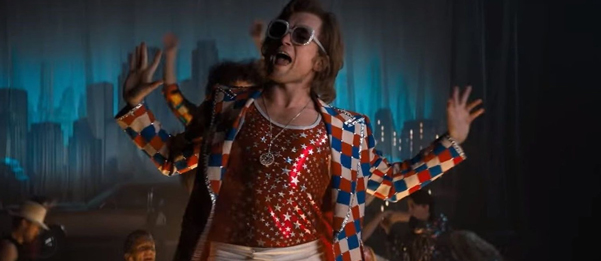 Despite this, I am glad Fletcher took some risks with Rocketman. Transforming Elton's story into a musical makes for a much more entertaining celebration of his music. There are sequences littered throughout that are a joy to watch, like the rendition of Saturday Nights Alright (For Fighting) that transforms Elton from a timid boy into an eager young musician, or the later scene where the song Rocketman literally hurtles Elton into the sky before crashing through his private jet, straight into the next scene with his hair still smoking. These "Musical Fantasy" elements give the film some much-needed energy and excitement, but they are also the strongest in conveying Elton's passion or strife. They are certainly much more authentic mood setters than the many stagnant dialogue scenes that simply move the plot along in all the ways you've already seen from Walk the Line, Ray, and Bohemian Rhapsody. Perhaps learning again from the criticisms of Rhapsody, Fletcher doesn't shy away from the sex and drugs found in this "sex, drugs and rock'n'roll" story. In the films opening scene, we see Elton nonchalantly confess that he's a coke and sex addict, and before the credits roll expect to see a "musical fantasy" element involving a debauched orgy of a few dozen people. Rocketman has the edge that Rhapsody lacked in terms of content, but it was always the filmmaking that was in dire need of a shakeup. Fletcher and co can only manage a soft quiver, unfortunately.
Taron Egerton (Kingsman, Eddie the Eagle) gives a terrific performance playing Elton John, capturing his spirit and mannerisms expertly whilst most impressively delivering all of the films vocals himself. Most of Egerton's focus is placed on making Elton an introverted extrovert: someone that is inherently shy and has to perform or fake it to "become" who he wants to be. Egerton does this superbly and with a great amount of subtlety when needed. He seems completely in tune with the message and meaning of the film, which is a great gift for a lead actor to give. Jamie Bell (Man On A Ledge, Billy Elliot) also does good work as Elton's longtime writing partner Bernie Taupin. Bell and Egerton share genuine chemistry and the film's dialogue flows most naturally through them. It's just a shame their relationship isn't front & center and we lose track of Bell midway through. A deeper relationship at the foundation of the narrative could have helped in avoiding the tendency that music biopics have to hold up their subject as the most incredible person to ever exist. Something that Rocketman unfortunately does.
Whilst the lead actors do some tremendous work, the same can't be said for some of the support. Richard Madden (Game of Thrones, Bodyguard) feels miscast as Elton's manager and lover John Reid. Madden is much too handsome and charming to play what is a rather one-note character which boils down to him being "a bit of an arse". Bryce Dallas Howard (Jurassic World, A Dog's Way Home) is also rather absurdly cast as Elton's mother, who is a very English, very working class housewife. Howard tries her best with the accent but it can't help but feel phony coming from her glossy Hollywood lips. I guess Haley Atwell and Felicity Jones were unavailable.
Rocketman only succeeds at being a more entertaining and creative film than last years Bohemian Rhapsody, thanks to its musical aspects that offer something more impressionistic than the norm. But without those few excentric flourishes, the film is your standard copy and paste job in Hollywoods latest music biopic trend. We can only pray for Bowie.
We Liked
Wonderful musical sequences
Egerton is sublime
Doesn't censor Elton's life
We Didn't Like
Still your typical biopic
Some odd casting choices

Get the latest details on The Lord of the Rings author's biopic Tolkien including the trailer, release date and cast information.

A "run of the mill" biopic this is not. This is a measured, intelligent picture that balances heartfelt character drama with awe-inspiring spaceflight. Equally as excellent as Chazelle's previous masterpieces he has proven his ability to paint on a broad canvas.