The Details
Release Date
24th October 2018 (UK)
Synopsis
A chronicle of the years leading up to Queen's legendary appearance at Wembley's Live Aid concert in 1985.
Starring
Rami Malek, Joseph Mazzello, Lucy Boynton
By the time British rock band Queen performed at Wembley Stadium's Live Aid charity event in 1985, they were certified legends. With 11 studio albums, six of which eventually becoming Platinum selling releases (over a million copies) and none being any less than Gold (500,000 sales), they had a plethora of content to play.
But the nature of the day-long music celebration, simultaneously happening in London and at Philadelphia's JFK Stadium, meant that every act invited only had a 20 minute set regardless of their place in music history. Piano virtuoso with a 25 year catalogue of hits under his glittery belt, Elton John? 20 minutes. Mod pioneers and notoriously rebellious rule breakers, The Who? 20 Minutes. A long-awaited reunion between surviving members of Led Zeppelin, with Phil Collins on drums (who, somehow, managed to play at both the UK and US events)? 20 minutes; although the less said about their out of tune effort, the better.
Queen, on the other hand, made the most of the opportunity. Cheekily requesting a 6PM tea-time slot knowing that's likely to be when most of the public will be watching at home, the quartet delivered what is widely regarded as one of the greatest ever live shows, with Freddie having the 72,000 in attendance securely under his spell. Selecting the most crowd-interactive cuts from their albums (and in most cases streamlining their compositions for maximum effect), the Live Aid gig could easily be Queen's finest hour (or, more specifically, 20 minutes).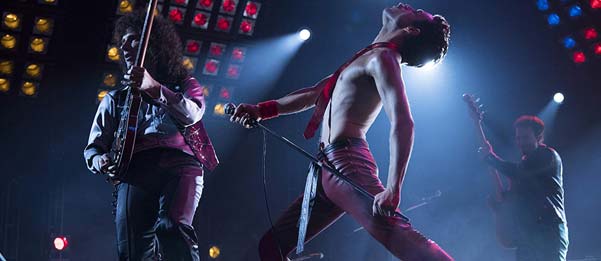 In some ways then, Bohemian Rhapsody mirrors this showcase of songs that it features. Chronicling Queen from its inception in 1970 right up until their show-stealing Live Aid performance, scriptwriter Anthony McCarten is given the unenviable task of condensing 15 years of turbulent highs and lows into 135 minutes. Unfortunately, McCarten opts for safe, radio friendly material rather than any delivering answers to any real Killer Queen questions.
Of course, I wasn't expecting this to be a huge, in-depth expose of Freddie Mercury (Rami Malek; Mr Robot, The Master) and co. But there's an undeniable sense of sterilisation here, with no probing about who the band were or what made them tick. For a band who broke the mould, their film disappointingly fits in the one that has shaped countless biographies.
Like a passing racing car, Bohemian Rhapsody speeds past milestone moments of the musical side of things too. Entertaining insights into the songwriting process are short-lived and compromised in favour of lengthy sequences detailing Freddie's on/off relationship with Mary Austin (Lucy Boynton; Sing Street, Murder on the Orient Express) or his toxic connection with his personal manager Paul Prenter (Allen Leech; The Imitation Game). We only get fleeting glimpses in unremarkable montages of the electrifying on-stage performances Freddie was known for as they travel the World, but what we do see is exquisitely recreated in the costume, set design and garish disco lighting of the 70s and 80s.
I would have liked to have seen some more of the inspirations behind their music, but instead we're told the lyrics and music struck the musicians like lightning bolts while mid-argument or as Freddie is sat at a piano. In the next scene, they're fully fleshed out songs being performed to thousands. It's a huge shame that this side of the band isn't a more comprehensive focal point, especially since the rest of the film doesn't particularly provide an extensive examination of any other part of their existence.
Fortunately, the songs and their sound remain timeless. Hearing them in a cinematic setting, turned up loud with every instrument getting a speaker of their own is glorious. The thunderous simplicity of We Will Rock You will do exactly that and the bass line of Another One Bites The Dust fed through Surround Sound will certainly slap a smile on your face. There may be a many shortcomings with Bohemian Rhapsody's story, but I can assure you that you'll have a pressing desire to rediscover Queen's archive once the credits roll.
There's no issues with the lead casting either. Rami Malek is mesmerising as Mercury, uncannily channelling his mannerisms and on-stage allure. It's thanks to Malek too that the surface-scraping script has more legs than it otherwise would have, with Malek's performance becoming more and more withdrawn when offstage and heading further away from the band towards Paul to give Freddie the tender human nature that should have been written in the first place.
Unsurprisingly then, the rest of the band aren't profiled much. They all look the part, but their characteristics are largely indistinguishable from a typical, run-of-the-mill outfit of misfits. Flamboyantly curly haired guitarist Brian May (Gwilym Lee; The Tourist) is the closest thing to the voice of reason as he tries to keep Freddie in check and a running joke about the silent and forgettable nature of bassist John Deacon (played by Joseph Mazzello – better known as young Tim from Spielberg's Jurassic Park) is amusing. But with the real-life Deacon severing most of the ties with the band since Freddie's death, it does seem a little mean-spirited. Ben Hardy's (X-Men: Apocalypse) Roger Taylor is portrayed as a sarcastically dry drummer and Allen Leech impresses as the poisonous personal manager Paul Prenter.
Lucy Boynton is fantastic as the love of Freddie's life Mary, but like Mercury himself I felt the film kept going back to the shielded embrace of this subplot whenever things seemed like they were taking an adventurous turn. In a role which turns the tables on the hilarious Wayne's World back seat sing-along scene, Mike Myers (Austin Powers) is almost unrecognisable in a supporting role as Ray Foster, the record producer who passed on Queen after hearing Bohemian Rhapsody.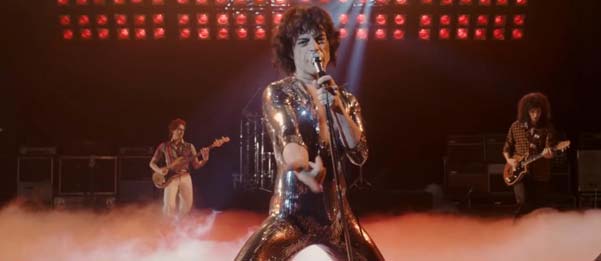 There's a distinct feeling of not wanting to upset anyone though. May, Taylor and Deacon are painted as party-shunning, in bed by midnight saints compared to Freddie and his debauchery which, again, is toned down to obtain a baffling 12A rating. These 'wild get togethers' are comprised of a few drinks as well as some flirtatious looks towards men. Not only that, but the trio's accountability to any band fall-outs are never called into question. It's always put forward that the biggest disputes all stemmed from Freddie's actions, whether it be his hedonistic lifestyle or decision to go solo. A little more honesty about the group would have hugely benefited the overall picture and the eventual redemption story arc would have had more of an impact.
Certain facts have also been twisted to fit the narrative (the film claims Freddie revealed his AIDS diagnosis prior to Live Aid in 1985, when really Mercury's partner Jim Hutton revealed he actually got the news in 1987), but by this point it's clear that Bohemian Rhapsody isn't concerned with telling the truth.
In a near 20 minute finale, the film culminates in an identical recreation of that momentous Live Aid show. A purpose-built stage was erected in an airfield near London and the signage for Live Aid was reprinted for authenticity. Like the frustratingly small scattering of set recreations that came before it, the attention to detail here is faultless. From the crowded press pen at the front to the number of old-design logo Pepsi cups and pints of lager that sit atop Freddie's piano, the physical aspects of this production make this one of the few times where the film can be deemed flawless. The non-physical, CGI sea of people in the audience is noticeably jarring at times but Malek's command of the spotlight is what matters here.
More importantly than how it looks though, the sequence is overwhelmingly successful in firmly placing the essential ingredients of the band at centre stage – the enduring appeal of Queen's music and the irrefutable magnetism of Freddie Mercury.
We Liked
Malek is mesmerising as Mercury
20 minute Live Aid recreation is sublime
We Didn't Like
Far too safe in its lack of exploration
Not a lot of time given to the process of how the songs came about