The Details
Item Reviewed
A Star Is Born
October 5, 2018
Release Date
5th October 2018 (UK)
Synopsis
A musician helps a young singer and actress find fame, even as age and alcoholism send his own career into a downward spiral.
Starring
Bradley Cooper, Lady Gaga, Sam Elliott, Dave Chappelle
First taking to the screen in 1937 before a more Rock-centric reprise in 1976, the latest rendition of A Star is Born stars Bradley Cooper and Lady Gaga, both with something to prove: that Cooper can direct and that Gaga can act. Such new territory can produce electrifyingly refreshing cinema, or be the equivalent of last weeks milk. But with the talent involved, fingers crossed for the former – right?
Broadly following in the footsteps of the three previous incarnations (the story was also put on stage in 1954 with Judy Garland in the lead role) of A Star is Born, it surprisingly feels like the right time to retell this tale of love and ambition. Mature rock-star Jackson Maine (Bradley Cooper; Guardians of the Galaxy, Limitless) nurtures and is eventually eclipsed by a talented young songwriter called Ally (Lady Gaga; Sin City: A Dame to Kill For, Machete Kills). They fall in love, but the pitfalls to success begin to put a strain on their relationship. If you've seen any of the previous versions you'll know how the majority of the story plays out, with exception to a few minor differences, but that's not to say that this Bradley Cooper passion project isn't worth your attention.
Here, Cooper's contemporary take on the story fits our current climate very well. It never feels like a nostalgic retread, even when it's desperately trying to summon that elusive ol' Hollywood melodramatic whimsy. It's sincere and assured, and handled with care: an impressive debut for any director to be sure.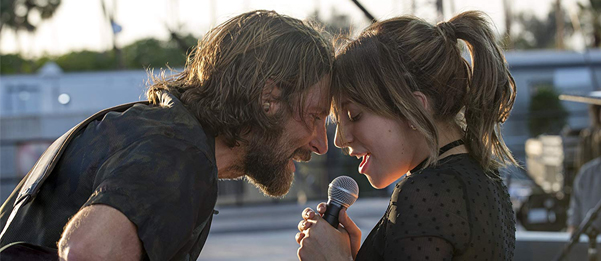 Gaga is the real takeaway from the film, as she positively knocks this acting lark out of the park. Her character Ally easily outshines everyone in terms of depth, and whilst this is due to a script more focused on her character's journey than Coopers, Gaga expresses some impressively subtle details that cannot be ignored. Particularly early on in the film when the chemistry between Gaga and Cooper is at its height, her ability as an actress is clear as day to see.
But many of these character elements and layers drop out of the equation as the film progresses; Gaga's Ally seems to lose her spontaneous edge and Cooper's alcoholic decline feels watered down. It's quite bizarre but I found the two of them increasingly less interesting the longer the film ran. The depth promised during the first act is let down by a routine romantic drama in the third, but is thankfully still kept afloat due to the performances (supporting star Sam Elliot always helps), and some excellent, authentic concert scenes.
The aforementioned concert scenes are the film's highlights with exception to the initial meet of Ally and Jackson in a drag bar. They are shot exclusively from the stage, providing actor intimacy not seen since 2012s Les Miserables, but also hold an impressive scale as we stare out with the actors at the thousands of fans.
Something more lacklustre is the sketchy way A Star is Born deals with compromise or "selling out". As Ally's fame increases she begins a solo career away from Jackson, but her art is consistently bound by rules from her new manager, something the free spirit of Gaga's character finds very frustrating. Yet this is never addressed in any definitive way, despite being set up as a major theme. Gaga and Cooper have a quick 2-minute argument on the subject, leading nowhere before the film moves on and forgets the issue ever existed. It's one of the major reasons that I felt ever distant towards the end of the film, it slowly turning more cold and corporate as its characters got lost somewhere in the music industry.
A final criticism is directed towards the chiefly solid script, but one that starts unnecessarily dropping F-Bombs to the point of distraction. This isn't Tommy DeVito from Goodfellas, but both Gaga and Cooper suddenly decide to start swearing like him to an absurd degree and is something that I found rather baffling and certainly felt very unnatural.
A Star is Born is a solid debut from director Bradley Cooper, and an even more impressive showcase of how talented Lady Gaga is as an actress. It's also a well made, loving reinvention of a classic story with lots of heart, but starts to feel generic due to a slow erosion of its once brilliant characters.
We Liked
Gaga and Cooper shine together
Successful modern update to a classic story
Energetic concert scenes.
We Didn't Like
Leads become less interesting as the film wraps up
Themes are lost and forgotten
Script suffers occasionally from a plethora of F-Bombs.