The Details
Release Date
1st January 2019
Synopsis
In early 18th century England, a frail Queen Anne occupies the throne and her close friend, Lady Sarah, governs the country in her stead. When a new servant, Abigail, arrives, her charm endears her to Sarah.
Starring
Olivia Colman, Emma Stone, Rachel Weisz, Nicholas Hoult
I feel sorry for the marketing team tasked with promoting Yorgos Lanthimos' The Favourite. I can picture it now: Lanthimos bringing the final cut of his fifth feature to the cutting room, a mischievous and almost sadistic smile on his face, as he hands it to the unwitting souls entrusted with the impossible job of trying to sell his genre-transcending vision to the general public.
On the surface, and indeed what the trailers would have you believe, is The Favourite is a straightforward whimsical period dramedy about two warring staffers of Queen Anne who both vie for the Monarch's attention. While this premise description isn't entirely untrue, the film is far cruder than its promotional material would suggest.
Set in the early 18th Century, it follows a frail Queen Anne and her close friend Lady Sarah (Rachel Weisz), who is more in charge of England than Anne. Not only that, Sarah tends to Anne's health needs and calms her when she frequently throws tantrums. That's until servant Abigail oversteps her boundaries one night after hearing Anne cry out in pain during a particularly bad spell of gout. Initially punishing Abigail for this disregard of the rules, Sarah eventually warms to her when it becomes apparent that her remedy helped the Queen, even promoting her to her personal assistant.
But the pleasantries don't last. Before long, Anne's torch she holds for Abigail becomes brighter than the one she has for Sarah, sparking a vicious game of tit-for-tat all in the hope of being the Queen's favourite.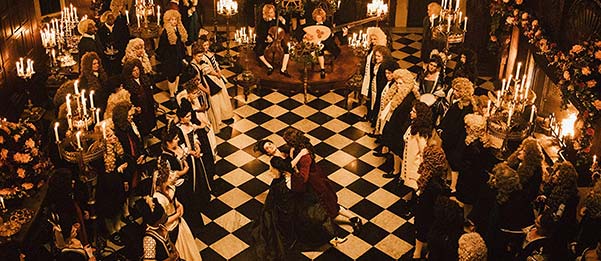 If you're familiar with Yorgos Lanthimos' prior offerings, you'll already know that The Favourite is a defiantly unconventional affair. 2015's The Lobster is as creepy and monster-filled as romances get and in 2017's psychological thriller The Killing of a Sacred Deer, every character delivers their lines as cold as corpses, forcing you to imprint what emotion you think is being conveyed in the scene. While The Favourite is arguably Lanthimos' most accessible title to date, it still gives convention the middle finger while still wearing fancy dresses, silly wigs and a whole load of makeup.
This is mostly due to not being boxed in with what audiences expect from a period piece. The lavish locations and exquisite costumes may look the same, but don't be fooled. Tony McNamara and Deborah Davis' script is an expletive-laden, no holds barred, razor sharp delight. Tired of giving out the same old insults? Do you feel like they've lost their flair and impact? You're certain to expand your catalogue of verbal abuse after watching The Favourite. I'm not saying you should strap in for a Danny Dyer-esque battering, but there's enough savage slander here to confirm you're a long way from Downton.
There's not a weak link among the female-driven cast. Olivia Colman is wonderful as the unstable Queen Anne who's mood can flip at the tip of a hat. First suggested as being a petulant child-like character, a deeper rooted sadness emerges that goes a long way in explaining why she's the way she is. There's an infinite mourning in Colman's eyes in almost every scene, even in the fleeting few moments in which she appears to be content.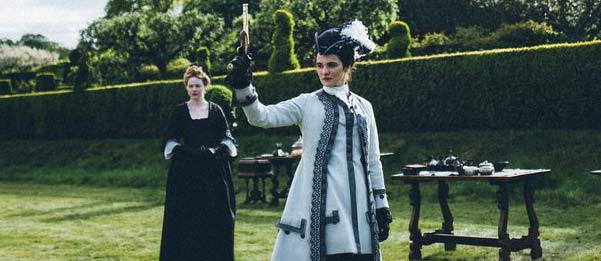 Colman may be listed as the Queen in The Favourite, but there's no doubt she plays second fiddle to the supporting duo of Stone and Weisz. The pairs fiery chemistry and rivalry is exquisite, with Weisz's headstrong and logical approach to winning over Anne's appreciation squaring off against Stone's callous and dastardly plan to play the Monarch as a puppet. It's one of Stone's finest career performances as she displays a mean streak the likes of which we've not seen before from her but hopefully will rear its ugly head again in future projects. If I were to *ahem* play favourites though, it's Weisz who steals the show as Lady Marlborough, the Queen's most trusted confidante. She's entirely convincing as Anne's best friend who clearly gives orders above her station but is visibly doing it for the good of the country, rather than for her own interests or gain.
As for the few males in The Favourite, it's the versatile Nicholas Hoult who extracts every ounce of potential from his character Harley, a conniving Member of Parliament. Almost every line he utters is delivered with the dryness of an overcooked prize-winning duck and each cutting remark squarely lands on the funny bone.
It's an eccentrically filmed picture too. Lanthimos has toyed with wide angle lenses before, especially in The Killing of a Sacred Deer, but here with his Director of Photography Robbie Ryan he employs them more frequently than ever to capture the opulent sets – with the notable distortion of being shot through a fish eye lens. Not only that, the camera swings in nauseating quick pans in a move that would appear amateurish in the hands of another director.
Simply put, by not being restricted to what people have come to expect from a particular genre, Lanthimos has unsurprisingly created one of the most memorable films of the year.
We Liked
Career best performances all round
Turns costume drama expectations on its head
Insults and verbal take downs wrapped in razor wire
We Didn't Like
Third act doesn't reach the levels reached in the set up