The Details
Release Date
14th December 2018 (Netflix Premiere)
Synopsis
A story that chronicles a year in the life of a middle-class family's maid in Mexico City in the early 1970s.
Starring
Yalitza Aparicio, Marina de Tavira, Diego Cortina Autrey
Critical darling is an understatement. You can feel a little redundant when writing a review for a film like Alfonso Cuarón's Roma, a film that already has a sizable heap of awards, three Golden Globe nominations and a 96% score on review aggregate site Rotten Tomatoes, but since it's finally available to the masses on Netflix, on we must go.
Set in the early 1970s and titled to refer to the district of Mexico City where most of the film takes place, Roma follows Cleo (Yalitza Aparicio) and the middle-class family she lives with as a servant, cleaner and carer. It's a tumultuous period in Mexican history, but family life, along with all its dramas, plods on in the midst.
There's not much more I can add to describe Roma's story. For the first half of the film, not an awful lot actually happens narratively: if ever there was one, Roma is a slow-burner. For the opening hour we simply see a girl and a family live out their lives; we get to know them, as well as their friends and lovers. It's enthralling to watch, and a great deal of credit must be given to Cuarón's unmistakable style of film-making.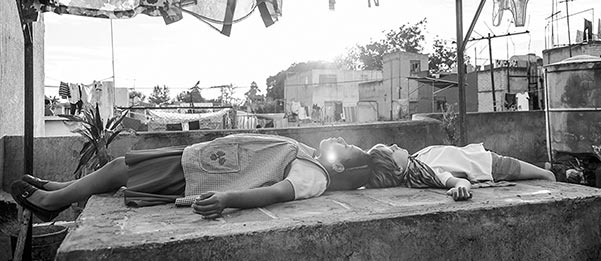 Long takes, prominent in his two best-known films Children of Men and Gravity, are crucial to Roma's success. These lingering gazes allow the scene to envelop the audience, drawing us into the family's home, Cleo's home, and the mundane actions on-screen are suddenly warm, intimate, and compelling all before the emotional flashes of the second half, where the same long takes are uncomfortable and painful, just as they are for the characters.
This style also allows us to drink in a beautifully realised 1970s Mexico City as a loud, bustling and living setting. In a film shot entirely in black and white, it really is an incredible feat to create such a colourful location. The cast are all fantastically genuine in their roles, even the children, but the real plaudits must go to Marina de Tavira as the mother Sofia and, of course, Yalitza Aparicio as young Cleo, a working-class girl cast into a middle-class life. Aparicio's performance, her film debut no less, is tragically vulnerable in moments, resilient in others, and full of pain and love.
Roma's plot swells ever so gradually, but by the end you are left with a real imprint. The almost universal themes of family and motherhood can be found in most films, but rarely will you find such a story told as effectively as this and in such a stunning, candid way.
We Liked
Cuarón's stunning camera work
Yalitza Aparicio's powerful debut performance
Slow-burning family heartache