The Details
Release Date
22nd November 2018 (Netflix Premiere)
Synopsis
The story of sister and brother, Kate and Teddy Pierce, whose Christmas Eve plan to catch Santa Claus on camera turns into an unexpected journey that most kids could only dream about.
Starring
Kurt Russell, Darby Camp, Judah Lewis
A quick disclaimer: I'm not a Christmas fanatic. I like it a bunch, but that normally kicks in around the 20th December – absolutely not a month beforehand – and rarely, rarely, do I enjoy the sickly-sweet gooiness of a typical Christmas film. Nevertheless, no-one wants to hear another bah-humbug review and, frankly, we need a lot less cynicism in the world, so I have tried my best to keep a festive hat on throughout. Ho ho ho.
The Christmas Chronicles is, quite clearly, a Christmas film. From there you know what to expect, because all true Christmas films are essentially the same. Don't try to argue with me. But you may wonder, on a particularly quiet mid-December eve, just how much Christmas can be crammed into a Christmas film; a Christmas film like the Christmas Chronicles? Tonnes of Christmas. Absolutely tonnes, mate.
Teddy Pierce (Judah Lewis) and his younger sister Kate (Darby Camp) were always Christmas fanatics, spurred on by their angelic, firefighter father. But now, after their father's death, teenage Teddy has lost all his Christmas spirit, and a burgeoning life of crime sees him drift further from his true-believer sister.
However, when Kate persuades him to stay up with her on Christmas Eve in a bid to catch Santa Claus on camera, he soon discovers the big man (Kurt Russell) is very real. After sneaking onto his sleigh, the pair startle him into a terrible accident; losing the reindeer, his bottomless sack of presents, and magic hat over the city of Chicago. Without these Santa can't finish his deliveries across America, and with dawn approaching, time is running out. Teddy and Kate must undo their trouble, help Santa to find his tools and save Christmas spirit, but, in a city full of unbelievers, it won't be easy.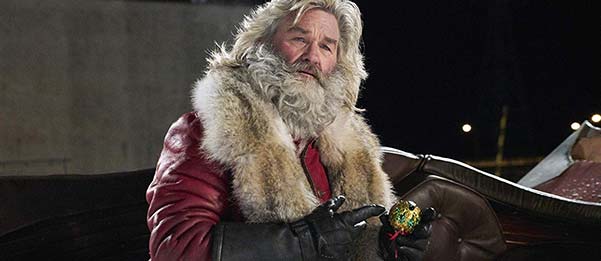 Matt Lieberman's script is Christmas Movie 101, with feel-good themes of believing in yourself and the importance of family, we've all seen it before. It's as syrupy, soppy, and often cliché as you'd expect, and this may put you off before you even press play, but somehow the sum of The Christmas Chronicles' parts elevate it to an enjoyable experience, for families at the very least.
Diverse adventure and excitement alongside keen emotional punches keep the story moving and away from the label of 'holiday schlock'. There's also plenty of mature themes to counter-balance the saccharine sweetness: loss of innocence and the death of a loved one to name a few, but each is tackled in a way that'll still be accessible to young children. The trio also deal with criminal gangs and the city's police force while Santa's car chase in a red Dodge Charger is a real highlight. It's the contrast between these real-world elements and the Christmas guff that creates the most laughs.
Director Clay Kaytis, having worked in the animation department of Disney phenomenon Frozen, knows winter whimsy and this film is stuffed with it. Picture-perfect snowfall, young families around the tree, the whole film sparkles in red, green, and gold. It might feel like too much at times but, being fair, it's perfectly in line with the plot. The score is much the same, with ever-present sleigh bells and choirs.
Kurt Russell (Guardians of the Galaxy 2, The Hateful Eight) is the star factor as Santa, and for many will be The Christmas Chronicle's biggest appeal. He does not disappoint. Russell brings all the warmth and familiarity you'd expect but is loads of fun to watch on-screen and has a very subtle edge, a wink in his performance, which is good to see as an older viewer.
Santa's reindeer are beautifully animated and expressive, but his elves on the other hand will divide opinion; they're goofy little CG creations, like Gremlins in appearance but with half of the charm. No doubt, however, that young children will love their babbling Elvish.
So despite some of the cast saying otherwise, this Christmas movie is clearly for the kids. That being said, there's enough here for parents and older siblings to get on with and enjoy, so it's a thorough recommendation for families. As for me, I really struggle to dislike The Christmas Chronicles, despite it having plenty of stuff that usually has me cringing away. Maybe because this film is a very sincere attempt to capture the feeling we had as a child at Christmas, and in that regard at least, it doesn't do half bad.
We Liked
Kurt Russell
A sincere joy for the holidays
We Didn't Like
Christmas-by-numbers plot
The CG elves