The Details
Release Date
5th October 2018 (UK Netflix Premiere)
Synopsis
Siblings Jackson and Angela run a profitable ghostbusting racket; swindling the bereaved with fake detection equipment and Angela's paranormal 'visions'. Hired to investigate a haunted old foster home, the team uncover its terrifying past: young girls brutally slaughtered, mouths stitched shut; silenced by a sadistic killer.
Starring
Florence Pugh, Ben Lloyd-Hughes, Scott Chambers
"None of the dead come back, but some stay", reads the opening quote of Netflix's latest horror, Malevolent.  But with such a lifeless effort, we can't imagine that many, living or dead, will want to stick around until the end – let alone come back.
Malevolent introduces us to Angela (Florence Pugh) and Jackson (Ben Lloyd-Hughes), siblings who, along with their team, scam the bereaved with faked supernatural communication and Angela's 'gift' of ghostly vision. What begins as a disingenuous detail in their schemes soon becomes reality as Angela starts to witness disturbing apparitions that are all too real.
When the mysterious Mrs Green (Celia Imrie) calls with a big money offer and invites the team to her dilapidated foster home, the site of bloody murder, they soon find out that comeuppance is only just around the corner.
It's a reasonable albeit tired premise but potentially a blank canvas for the filmmakers to create something terrifying, disturbing, or at the very least entertaining. Unfortunately, this isn't the case.
Screenwriters Eva Konstantopoulos, who wrote the novel Hush on which the film is based, and Ben Ketai, whose involvement with 2016's The Forest will undoubtedly trigger alarm bells in the mind of many a horror fan, do very little to build on their premise. The side characters are uninteresting and as the siblings begin to explore the foster home in the second act, the pacing and plot direction spin themselves into a frustrating, incoherent mess.
The ending saves you from this as after the infuriating and confused bumbling around horror-house interiors, you're served up predictable character arc conclusions and pitiful attempts to twist the audience's expectations: it's clearer and more focused than the sagging middle, but somehow just as disappointing.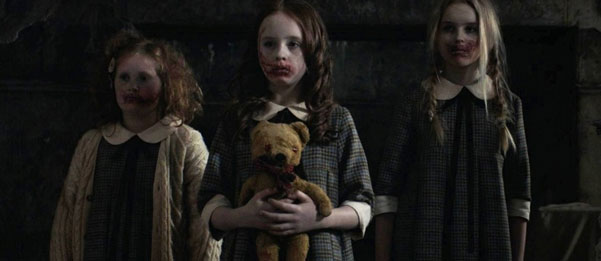 Actors Florence Pugh (Lady Macbeth and Amazon Studios' King Lear) and Ben Lloyd-Hughes (the Divergent series and Skins) are steady in their lead roles. Lloyd-Hughes has bright moments as Jackson, a right 'orrible bastard, getting into debt with the wrong people and relishing his role as the team's showman, but as a pair you can't help but think they could've brought more energy to their characters. Both certainly struggle to convey the familial chemistry you'd expect from a brother and sister.
Malevolent's biggest disappointment, however, is in the scares or lack thereof. Things are fairly bright in the opening half an hour, as Angela's gift starts to reveal itself and we're shown a few creeping glimpses into the paranormal. Exactly what you'd want for the beginning of a horror film, but, yet again, things fall apart once we get to the foster home.
As you'd expect, the majority of the scares from this point are from little ghostly children, the victims of brutal murder, running in and out of frame, giggling and screaming. It's one of the driest of horror's many drained wells but even so, Malevolent excels in making these scenes as yawn-inducing as possible. Just when we're expecting the temperature to be raised, we're treated to exhausted horror tropes and a meagre helping of tepid, unimaginative jump-scares.
In amongst the beige there are some interesting ideas; a spinning camera dangling from a broken ceiling beam, a 50s vocal tune that uneasily creeps up in tempo, and a nice use of shadow in the cinematography. But these brief flashes of imagination are too few and far between to keep the film afloat.
This is the main problem with Malevolent – it takes itself far too seriously. Even with a script as worn out as this it had the potential to be something very entertaining, if only the director had given himself a bit more room to breathe and to be creative; maybe even wacky. But sadly no, we're stuck with our stuffy, humourless, pedestrian Malevolent.
You can do much better this Halloween.
We Liked
Occasionally interesting camera work and use of shadow
We Didn't Like
Limp and infrequent scares
A dull, aimless plot
A general lack of originality.