The Details
Release Date
3rd October 2018 (UK)
Synopsis
When Eddie Brock acquires the powers of a symbiote, he will have to release his alter-ego "Venom" to save his life.
Starring
Tom Hardy, Michelle Williams, Woody Harrelson
Everyone loves nostalgia. You know what they say, 'looking back is the new way forward'. Okay, maybe no one's ever said that, but the likes of 80s loving TV shows Stranger Things, The Goldbergs and 2017s IT remake as well as Jonah Hill's mid-90s set drama Mid 90s prove that everyone would rather have their entertainment set in times which their rose-tinted grey matter is remembering as being better.
Now it's Sony's turn to turn back the clock with Venom, a film which will, albeit unintentionally, transport you right back to the superhero movies of the late 2000s. A time when Michael Chiklis dressed as a giant, blue pants wearing boulder and a diagonally fringed Toby Maguire gleefully danced down the street, pointing at girls as he went by. You know, the actual better times.
When investigative reporter Eddie Brock (Tom Hardy; Mad Max: Fury Road, Inception) begins looking into the shady business of Carlton Drake's (Riz Ahmed; Rogue One: A Star Wars Story, Four Lions) research at the Life Foundation, he finds himself being the host of an alien symbiote, ultimately developing an alter ego – the violent and super powered Venom.
The idea of a stand-alone movie for the character began way back in 1997, with The Dark Knight writer David S. Goyer having penned a script and, amazingly, action star Dolph Lundgren considered as a lead. Nothing materialised from this and the rights moved over to Sony, who eventually debuted Venom in 2007s Spider-Man 3 as one of the bloated film's trio of villains.
Initially rumoured to be an R-rated take on Spider-Man's nemesis, a few weeks before release it was revealed that the film would receive a more lenient PG-13 rating. Due to the lack of appearance from the friendly neighbourhood web-slinger, audiences were wary of the film's existence in the first place and this news was the final nail in the coffin for many.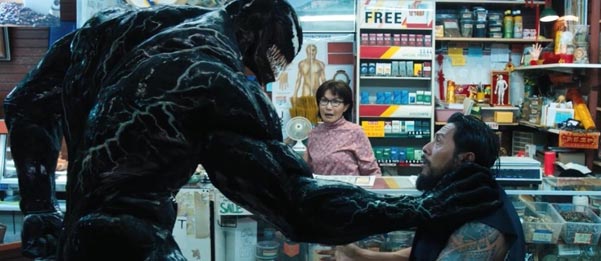 Sony didn't appear to help matters when their review embargo lifted at 6am on the day of release – never a good sign for a big budget blockbuster. Despite many having made their minds up before watching, Venom clings to life without Spider-Man's inclusion, pushes the PG-13 rating with some graphic violence to the point of being a 15 rating in the UK and is far from the unmitigated disaster it's being painted out to be by critics and social media users.
Before delving into the details, I'll get it straight to it – I enjoyed Venom immensely. It's undeniably messy, narratively outdated, awfully scripted in places and tonally schizophrenic. But it also never takes itself too seriously and features a wonderfully erratic turn from its lead Tom Hardy.
It's hard to shake the feeling that Venom would have been better received if it was released at the turn of the decade though. Unfortunately for Spider-Man's nemesis, the Marvel Cinematic Universe was planting its seeds for complete domination of our peasantry World before halving its population with the click of its fingers, while Sony was trying to water an already drowning franchise with its Amazing Spider-Man entries.
To put it in perspective, in the four short years between 2014s The Amazing Spider-Man 2 and Venom, Marvel Studios had released a staggering 11 films, all of which helped develop and mould the genre into a completely different behemoth than it was when Jamie Foxx fell into a vat of electric eels. But to compare Sony's awkwardly titled 'Universe of Marvel Characters' to Marvel's do-no-wrong 'Cinematic Universe' is like comparing George Clooney's Batman with Christian Bale's; they both essentially offer the same thing, just drastically different interpretations.
It's the best way to look at Venom. Sony clearly haven't made any advancements in their superhero movie making department whatsoever, and in a way it's refreshing to be at least offered a stale plate of alien goo as opposed to being force-fed Marvel's gourmet buffet. I don't have to worry about the intricacies of meticulously threaded narrative, investment in a plethora of richly developed characters that has been built up over ten years or needed to have read issue #7 of the Ant-Man and The Wasp comic where they fight Cockroach Craig before teaming with him to defeat The Exterminator. No, sometimes I just want to see a human arm turn into an oversized hammer that bludgeons bad guys.
Venom offers this kind of throwaway escapist fluff – eventually. The lengthy and admittedly dull introduction is held together by Hardy, who's laughably unconvincing as an investigative reporter as he awkwardly holds a notepad and showing no conviction in his attempt to be a hard hitting journalist. I have absolutely no idea what Hardy was going for with this character. I've never known anyone with the mannerisms that Hardy gives Brock but it is such a bewildering turn from the Oscar nominated actor, that it becomes difficult to look away from.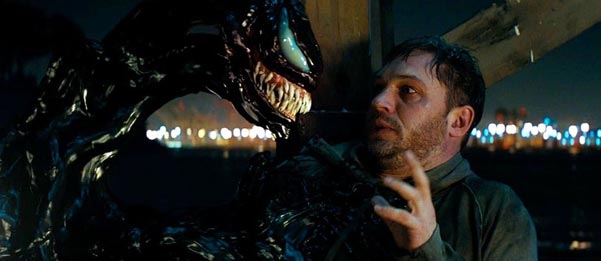 When the symbiote does take over though, signalled by a mostly inaudible saliva dripping rasp in Brock's head, Venom becomes a bizarre buddy comedy as Eddie and his alter ego bicker about who's controlling who. The script here is noticeably bad as exchanges include the following uninspired lines, delivered with as much enthusiasm as a Satellite Navigation voice:
Brock: I'm going to die.
Venom: You are not going to die.
It's just one of the many instances where the writing feels incredibly lazy. I know logic isn't exactly at the forefront of a movie that actively threatens to turn a man into a "rolling turd in the wind", but there are some aspects to Venom that are stupefying beyond belief. Take, for example, the sequence where Brock is first exposed to the symbiote. He's brought into the top secret Life Foundation lab with the help of a disgruntled employee by the fool-proof method of ducking down in the back seat of her car. There are countless palm scanners to get into every area, but no security camera or motion sensor in sight, just a mildly inquisitive security guard.
And I feel we've been misled with the whole 'anti-hero' angle that the trailers are pushing. Venom (or Brock, for that matter) never comes across as antagonistic or any real threat to the planet, more of a nuisance to Brock's self pity party he's throwing due to the rubbish few months he's had.
The real bad guy here, Riz Ahmed's Carlton Drake, is your typical crazed scientist who somehow keeps managing to find funding for his wacky schemes. Ahmed give the tired role much more credibility than it deserves, playing it quietly as the boss who's not angry, just eternally disappointed. It's no secret he becomes a host too, inheriting the persona of the multi-weaponized Riot, but the final battle is an incoherent mess of CGI that is virtually impossible to follow. Still, his scattering of scenes as Riot are indeed exactly that.
Venom is one of the best super hero movies of 2007, and that's perfectly okay as long as you go in knowing that. And besides, it's only a few more months before Marvel churn out another release which you've already decided is one of the best films of next year.
So let this symbiote take over for two hours so it can show you how much dumb fun superhero movies used to be, secretly enjoy the heck out of it, then reject the parasite and continue being depressed about the end of Infinity War.
We Liked
Wonderfully/awfully erratic Tom Hardy performance
Riz Ahmed gives his tired role more credit than it's worth
A welcome throwback to late 2000s superhero films
We Didn't Like
Safe direction with no real edge
Mess of a CGI finale
Poor script