The Details
Release Date
9th November 2018 (UK)
Synopsis
A grumpy Grinch plots to ruin Christmas for the village of Whoville.
Director
Yarrow Cheney, Scott Mosier
Starring
Benedict Cumberbatch, Rashida Jones, Angela Lansbury
Remakes by their very nature are largely unneeded unless they have something drastically new to say or a refreshing take on how to say it. John Carpenter's The Thing, Brian De Palma's Scarface and Duwayne Dunham's Homeward Bound are prime examples of a second time round which matches or bests the original.
Yarrow Cheney and Scott Mosier's The Grinch, however, is not.
First published in 1957, Dr Seuss' How The Grinch Stole Christmas was adapted into a 26 minute animated feature in 1966. The story featured a grouchy green character who despised Christmas and wanted to remove the joy from it for the inhabitants of the fictional town of Whoville. Voiced by Boris Karloff, better known as the definitive Frankenstein's Monster, the special became a staple for many over Christmas.
In December 2000, a live action version starring Jim Carrey was released. This Grinch incarnation was far more bitter and mean-spirited, but it gave more motive as to why he felt this way. A seemingly forgotten fact about the Ron Howard-directed Grinch too is that it picked up an Oscar for Best Makeup as well as being the highest grossing film of the year 2000.
Returning to the source materials' animated origins, the team behind Despicable Me, Minions and The Secret Life of Pets take another, completely necessary, stab at bringing the Grinch to the big screen.
It's Christmas time in Whoville, a town which appears to only plan for this time of year. Shops burst open with decorations at the turn of a handle, colourful lights hang from every tree, pole and roof, while choreographed carollers excitedly grab their opportunity to sing in everyone's face. The Grinch (Benedict Cumberbatch; Doctor Strange, Star Trek Into Darkness), high up in his cave above the festivities, once again wants no part of it.
Unfortunately for him, Whoville's Mayor wants this years Christmas to be three times bigger than previous years. That means thrice the celebrations, triple the size of food portions and, to the utter dismay of Mr. Grinch, a Christmas tree that climbs three times taller with lights that shine three times brighter than ever before.
In a dastardly scheme to rid the town of its joy, The Grinch, along with his loyal dog Max and new addition of a fat reindeer named Fred, devises a plan to impersonate Santa Clause and steal the gifts from the homes of Whovians. By doing so, he believes the townspeople will lose their Christmas cheer and feel as miserable as he does.
Meanwhile, young Cyndi-Lou (Cameron Seely; The Greatest Showman) is hatching a plan of her own. This year, she doesn't want gifts; she wants to capture Santa Clause and ask him to help her overburdened mother. Their paths inevitably cross, lessons are learned, et cetera. You know the drill by now.
Even at a slim 90 minutes, The Grinch feels like its thin plot is stretched to the limits. Chuck Jones' 1966 version doesn't even clock in at half an hour and is all the better for it. Howard's version runs for an hour and three quarters, but it's anchored by the always watchable and impossibly elastic Carrey as well as an engaging plot. 2018's Grinch drags like a weighed down sleigh with very few comical moments to relieve the tedium of watching a familiar story play out exactly as we expect it to.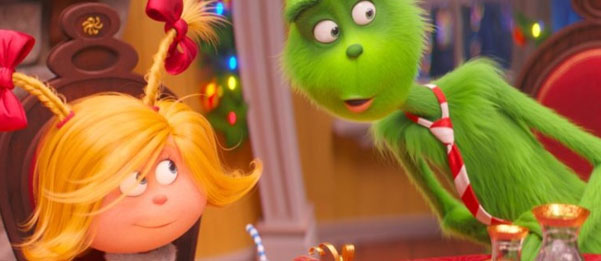 Benedict Cumberbatch takes the vocal reigns here and doesn't do much with it. It's a shame, considering his previous voice-over work includes the impressively menacing Smaug the Dragon from The Hobbit trilogy. Of course, the characters are vastly different and if he did a similar job here as he did in Peter Jackson's fantasy epics, children would never sleep again. But this Grinch seems particularly feeble and, crucially, not all that grouchy. On a positive note, the patented Seuss style rhyme narration by Illumination favourite Pharrell Williams, who provided the irritatingly catchy earworm Happy for Despicable Me 2, works surprisingly well.
There's a definite sense that Illumination is targeting a much younger audience than Howard's version. Slapstick humour similar to that of Warner Brother's cartoon characters Roadrunner and Coyote overrides the unseasonable meanness, with most of the cantankerous antics (reaching for a jar just out of reach of a tiny lady, knocking over a child's snowman) having already been displayed in the trailers. The introduction of new character Fred the fat reindeer brought a few laughs from the under 10's in the screening, but there's little in the way of the innuendo humour found in the 2000 version which allowed the adults to laugh at jokes that kids wouldn't get.
The two plot lines run parallel to each other and weirdly feel like they're strictly kept apart. Interactions between Grinch and Cyndi-Lou, who is essentially the same as Despicable Me's wide-eyed and innocent Agnes, are kept at a minimum so when they do meet in the final act and Grinch learns the error of his ways through her actions it's a jarring and undeserved realisation. It all happens too quickly and easily.
Another change that makes the plot all the more redundant is the fact that the townspeople actually look favourably upon the Grinch. They have no qualms with him, with some even classing him as their best friend. A childhood event, which isn't entirely the fault of the Whovians, is credited as being the catalyst for his ill-temper but what it really boils down to is his own stubbornness. I'm definitely looking too far into things here, especially with it being a kids film, but at least we had a solid and believable explanation for Carrey's crabby complainer.
Children will no doubt lap up the bright colours on show and its message of seeing past the material nature of the holiday is an important one, but Illumination's Grinch is a dull and needless adaptation of a story that already has a perfect version in existence.
We Liked
Colourful animation
Pharrell Williams' narration
We Didn't Like
Even at 90 mins, feels too stretched
Grinch's motives seem weak
Doesn't add anything to justify being made in the first place