The Details
Release Date
26th September 2018 (London Film Festival Premiere), 9th November 2018 (UK Theatrical)
Synopsis
A boy witnesses his parents' marriage falling apart after his mother finds another man.
Starring
Jake Gyllenhaal, Carey Mulligan, Bill Camp, Ed Oxenbould
Paul Dano's directorial debut Wildlife follows the downfall of a marriage between Joe (Jake Gyllenhaal; Nightcrawler, End of Watch) and Jeanette (Carey Mulligan; Never Let Me Go) during the 1950's. We see this mainly through they eyes of their teenage son, Joe (Ed Oxenbould; The Visit, Better Watch Out), who is caught in the middle and watch how he handles everything. The film is visually beautiful and slowly begins to unravel into something you are helpless to stop. Gyllenhaal knocks it out of the park once again but it's Mulligan and Oxenbould who shine bright in a film that smartly never becomes as bleak as it's subject matter.
Wildllife doesn't rush itself and takes the audience on a slow burning journey, despite featuring a startling revelation toward the start. We witness the drawn out consequences and effects of said revelation over a long period of time, perhaps a tad too much, but this still allows the emotional connection to really hit home. The literal wildfire that looms over the entire town can't be ignored and what begins as a tame fire soon manifests into something louder and deadlier, correlating the deterioration of Jerry and Jeanette's relationship.
Slowly but surely, we see everything begin to unravel and, like the wildfire, the warning signs were there from the start – there's just no way to contain it.  While the film would have benefited from some additional trimming in the editing suite, the majority of the film really does tell its story the way it wants and the final product comes out as a really moving and effective piece of cinema.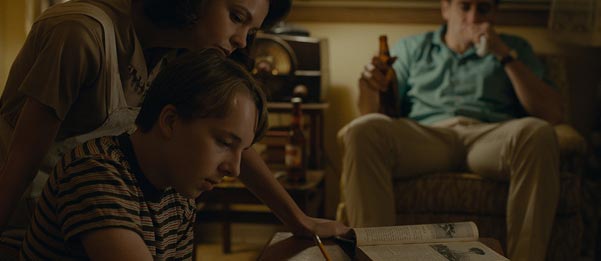 Each character's arc is magnificent as, apart from Joe, everyone is at some fault for their downfall. Jerry never takes the blame and always lets his pride make his decisions for him, hurting his family in the process. Gyllenhaal takes this idea and lets loose with his character's built up anger with loud and deafening outbursts. You see how he and he alone gets himself into his predicament. Mulligan's Jeanette on the other hand finally feels free as the relationship worsens, reverting to a more youthful, free spirited version of herself. She's reclaiming her happiness, but it soon spirals out of control and before she even realises, she begins to neglect her son.
Mulligan's emotional range is one show throughout, but it's most evident when she realises she is bordering dangerously close on the point of no return. Joe is the focal point and despite being a teenager is the most level headed member of his family. He begins to support the house financially during all the drama and is forced to grow up far too soon. Despite all the hard comings, Joe always keeps his head above water and Oxenbould shows us a young man constantly on the edge but somehow holding it all together.
The framing of shots are spectacular, really putting the emphasis on the aesthetic presence. It is set up so it manages to fit the entire scene into the shot, whether it's as simple as the dinner table or as wide as an entire house. We're able to witness whole conversations as if we are across the street from it. There's a beauty in the mundane and it effortlessly drags us into the scene. Sometimes we don't even track character's movement, instead we're left feeling isolated before they re-enter the image.
Key moments are also hidden from our view, and instead of feeling like a distant observer, we watch reactions to these moments. While the sound is toned down and hushed, we know exactly what's happening off screen thanks to how others are reacting. It's superbly done throughout and thankfully not overused. The film's biggest success is how beautiful it looks and proves you don't have to make a sci-fi epic to have wonderful cinematography.
While the plot does drag its feet at time, a mesmerising performance from Ed Oxenbould, career best work from Carey Mulligan and some of the best cinematography you're likely to see at the entire festival make Paul Dano's debut a strong and confident piece of work.
We Liked
Breathtaking cinematography
Career best work from Mulligan and Oxenbould
Strong and confident directorial debut from Dano
We Didn't Like
Drags a little in the third act