The Details
Release Date
11th September 2020 (UK)
Synopsis
A young Jewish boy somewhere in Eastern Europe seeks refuge during World War II where he encounters many different characters.
Starring
Petr Kotlár, Udo Kier, Stellan Skarsgård, Harvey Keitel, Barry Pepper
Film festivals are typically one of the first places non-commercial projects, that is, those not made for mass multiplex consumption, get their first screening. From here, audience reaction and critics first responses can generate buzz months before it reaches us common folk. Standing ovations are commonplace. Sometimes to the point of ludicrous lengths. According to Quartz, Guillermo del Toro's adult fairy-tale Pan's Labyrinth received a leg-aching 22 minute applause when the credits hit at the prestigious Cannes Film Festival in 2006.
On the flip side, a film can gain momentum from being the victim of 'walk-outs': furious and disgusted patrons leaving screenings early due to the nature of content on screen – which is exactly how I first heard about The Painted Bird.
When it was shown at the 2019 Venice Film Festival, The Painted Bird prompted patrons to flee in revulsion at a number of key scenes. I can understand why. Personally I'd stick around, tough nut that I am and also because I recall a time in 2011 when I actively sought out the most vile offerings of cinema (of which I found a clear winner). There's no question about it: The Painted Bird is not for those of a fragile disposition. It is a tapestry of misery, woven with the worst of intentions.
Sent to live with a foster mother named Marta to avoid persecution for being Jewish in Nazi Germany, a young nameless boy finds himself wandering the countryside after a tragic incident. Here, he'll meet an array of characters, all of which will inflict their own brands of rage, intolerance, abuse and the worst humanity has to offer upon him.
Young lead Petr Kotlár barely has any lines but speaks through his subtle expressions. Pain, anguish, fear, resentment. He's a child who never found his voice to even lose it. But the actions of others no doubt leave a lasting impression. Like an unwashed bath mat, he absorbs the punishment every time he's stepped on, beat down and kicked around. It's an phenomenally affecting performance by Kotlár who went through years of shooting for the role so we could see the physical changes to The Boy as he grows. Think of it as the most appalling retelling of Richard Linklater's growing-up, essentially filmed in real time drama Boyhood. Considering its mammoth length, the film as a whole is slim on scripted dialogue. There are lengthy scenes of silence as we just watch (most of the time in absolute horror) as the atrocities unfold. Which is fine. The horrific events on display say more than mere words ever could.
Ten minutes shy of three hours in length, The Painted Bird is a feat of endurance in every sense. It's told in segments named after the figures The Boy meets. Highlights – if you can call them that – include a paranoid Miller played by Udo Kier (Blade, Downsizing) whose suspicions of his wife and a young worker reach a drastic conclusion, a well-intentioned but ailing priest (Harvey Keitel; Reservoir Dogs, Isle of Dogs. Films that are in no way related. Do not get them mixed up on family movie night), who unwittingly hands The Boy over to Garbo (Julian Sands; the Warlock from 1989's underseen horror gem Warlock and the narrator of documentary feature film hybrid Borley Rectory), a farmer with malicious motives and finally, but not limited to, his encounter with Labina whose name holds a clue as to what sadistic acts occur between them.
Other interactions with Hollywood stars in minor roles include a sympathetic soldier (Stellan Skarsgård; Good Will Hunting, Thor 1 & 2) and an advice-giving sniper Mitka (Barry Pepper; Saving Private Ryan's Private Jackson). Telling the story in this way is a veiled blessing for those who will struggle through it. Each departure from one gruelling engagement to the next, which usually is somehow worse than the one that came before it, allows for a window of breathing room or the perfect moment to pause. The trouble with that is, you may find yourself unwilling to press play again in fear of what's to come.
Shot on stark monochrome 35mm film, The Painted Bird is brutality at its most beautiful. While you may wince and despair at the events on screen, you'll equally be in awe at the mesmerising frame composition. Almost every frame is a work of art, an image you're glad you laid eyes upon but wish to never see again.
Also included on the Blu-Ray is a feature length documentary called 11 Colours of The Bird, a 125 minute Behind-The-Scenes look at the making of The Painted Bird. It's worth a watch as an alternative palette cleanser, a reminder and confirmation that the film, far too realistic at times to shake off, is just that. The film is based on the 1965 novel of the same name by Jerzy Kosiński which for a period of time was thought to be autobiographical, but in later years was revealed to be purely fictional. Still, the abuse never strays too far from the realms of believability, especially with the abhorrent experiences that have been recounted from survivors of World Wars.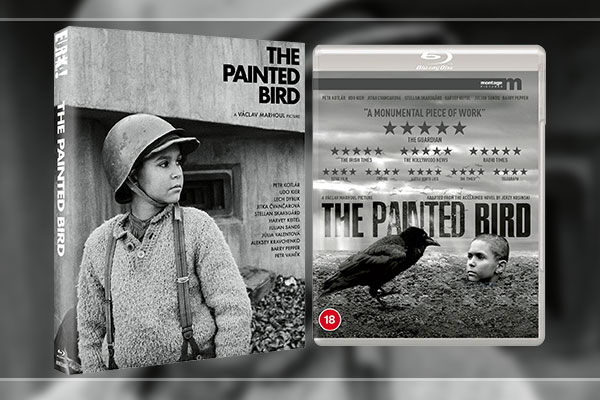 We Liked
Picture perfect black and white photography by Vladimír Smutný
Astounding lead performance by young Petr Kotlár