The Details
Release Date
16th November 2018 (UK)
Synopsis
A masked serial killer turns a horror-themed amusement park into his own personal playground, terrorizing a group of friends while the rest of the patrons believe that it is all part of the show.
Starring
Bex Taylor-Klaus, Reign Edwards, Tony Todd
A horror themed festival comes to town much to the delight of a group of horror loving friends. Unfortunately, a masked serial killer uses this as his own personal playground to terrorise said group whilst everyone else around just sees it as part of the show. It's a clever concept, adding an extra layer to the isolation of being stalked with literally hundreds of people around not understanding it's real. Hell Fest takes inspiration from a host of 80's horror films and plays like a feature you'd expect to see at a trashy drive in all-nighter, and that's why it succeeds – albeit as a one off.
Despite a premise screaming otherwise, the core group of friends are all surprisingly well acted and written as believable victims rather than foolish cliches. While there are still stereotypical roles that are filled, they never fall victim to annoying traits or mind boggling decisions. All the interactions feel natural, whether it's the group teasing Natalie (Amy Forsyth) and Gavin (Roby Attal) for their obvious attraction to one another or the peer pressuring of characters to keep on going around the festival, it really does add to the believability that we are watching a group of friends, not a huddle of horror tropes. None of the protagonists will be remembered once the credits roll, but what they achieve while the nightmare plays out is effortlessly holding your attention and investing in the stereotypes rather than counting down the minutes for each one to die.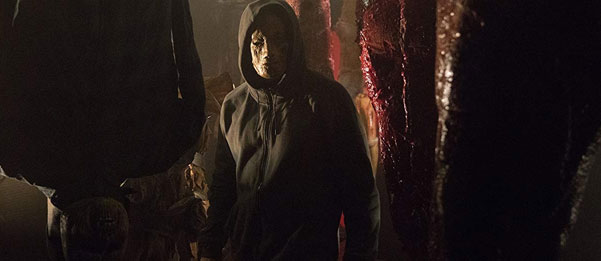 Hell Fest clearly takes inspiration from John Carpenter's classic Halloween when it comes to its killer. A simple, emotionless mask that hides his identity while he follows our protagonists at a slow, stalkerish pace really give off the Michael Myers vibes (there's even a scene in a toilet cubical similar to 2018's Halloween). He is given a number of opportunities to scare us in different and sometimes extremely effective way which stop him from ever becoming repetitive or predictable. A slasher villain is pivotal to the entire premise and like our protagonists, 'The Other' won't break his way into pop culture lore, for the 90 minutes he plagues our screens he's an effective and creepy killer.
We're used to seeing victims being stalked whilst home alone or in a secluded area, so seeing it happen at a bustling festival with hundreds of people around helps Hell Fest stand out above other standard slashers. The fear we're used to seeing is heightened significantly when those around don't realise that it's not a game. Being attacked alone is frightening, but being attacked while help is all around but not being given is terrifying. As we progress further, it also makes us unsure of what is actually a threat and what is just part of the show. It's a simple but highly effective way to make a simple slasher plot stand out.
Hell Fest presents us with it's premise and doesn't try to be anything else. With so many horrors afraid to just be something simple anymore, it's a nice change of pace to see a film clearly basking in paying homage to a decade that gave us so many classics. There's moments where you want to cheer alongside it's silliness and others where you wince at the violence. It does a commendable job at balancing the two tones and delivers an enjoyable throwback horror. The quality of the film remains at a steady pace, never dipping into mediocrity but just missing out of anything truly superb.
We Liked
Makes full use of it's premise
Effective and creepy killer
Acting much better than generic slashers are used to
We Didn't Like
Lacks depth during the build up to the third act