The Details
Release Date
16th November 2018 (UK)
Synopsis
The second installment of the "Fantastic Beasts" series set in J.K. Rowling's Wizarding World featuring the adventures of magizoologist Newt Scamander.
Starring
Eddie Redmayne, Katherine Waterston, Dan Fogler
The latest return to Harry Potter's spin off series Fantastic Beasts sees Newt Scamander (Eddie Redmayne; The Theory of Everything) being thrusted into the upcoming battle within the wizarding world after Grindelwald (Johnny Depp; Alice in Wonderland, Pirates of the Caribbean) escapes custody and threatens to unleash havoc. Familiar faces from the first instalment return as well as familiar characters with different faces, like Albus Dumbledore (Jude Law; Side Effects, Contagion). What follows is hard to explain, but to summarise – it's the first genuinely bad film in J.K Rowling's Wizarding World.
There's no doubt Rowling is a talented writer. She crafted one of the most fascinating fictional Worlds in existence and gave millions a story to invest much of their lives into. What The Crimes of Grindelwald proves however, is that she definitely shouldn't be left alone with a film script. Fantastic Beasts and Where to Find Them had narrative cracks, but just about held together, whereas this time around it all falls apart very quickly. With this being planned as a five film franchise, there's clearly a lot of ideas she wants to embrace. Instead of seeds subtly being planted or stories evolving over time, we jump between a handful of narratives, all of which leave a lot more to be desired.
Making matters worse is the rushed nature in how some of these narrative threads are tied up. Want a good answer to why Jacob Kowalski (Dan Fogler) is back or how Credence (a seriously mopey Ezra Miller; Suicide Squad) got out of seemingly dying in the previous instalment? Don't expect one. It would perhaps be unfair to say that the plot is a mess, rather the execution of the story is. There's a fascinating idea hidden within, but unfortunately just too much forced information is unloaded on the audience that keep the story at a frustrating standstill for long periods. Alongside this is too many characters, most with next to no development, making these scenes even more tedious. It's obvious she has a huge plan for the franchise, but two films in and it's clear the films will benefit hugely from a fresh voice or, at the very least, a script supervisor.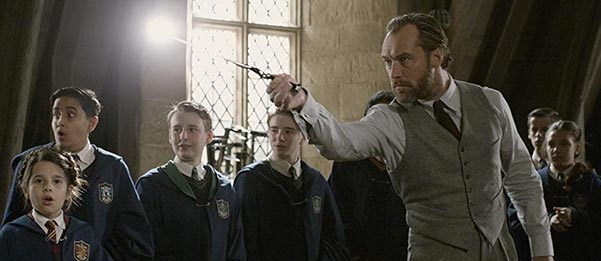 There's an excessive use of fan service which undermines the overall narrative too. Fans of the series will no doubt get a smile out of these moments but, like The Predator, these scenes keep the film from ever standing on its own two feet. Instead, it desperately clings onto the past even when it's unnecessary (eagle-eyed Potterheads have already discovered a huge plot hole created by one such instance of self-referencing). There's ways to honour the past by still being your own thing and sadly The Crimes of Grindelwald relies too heavy on waving at the audience saying "LOOK OVER HERE AT THIS REFERENCE!".
J.K Rowling's Wizarding World is full of wonderful characters and Newt Scamander is one of its finest. Seen as quirky by some, his shy nature makes him easy to care for. He may be on the Asperger spectrum (something Redmayne himself confirms he believes) but this trait isn't what defines him. It's his heroic nature despite not wanting to ever be the centre of attention. He's not the "chosen one" or someone who trained to be a hero, he just wants to do the right thing. He's a much more interesting and complex lead than Harry Potter ever was. Redmayne portrays Newt down to every footstep he takes with perfection. This is what makes the disappointing film series he's leading even worse, he deserves a franchise as good as his predecessor.
All the attention beforehand was on the arrival of Dumbledore and Grindelwald, but there's only one person who threatens to steal the spotlight from Newt; Leta Lestrange (Zoë Kravitz; Mad Max: Fury Road, X-Men: First Class). Set up with a single picture in the previous instalment, Kravitz adds a extra layer of mystery to her character. Our knowledge of the Lestrange family (to a mildly invested fan anyway) is only that of the wonderfully evil Bellatrix so presenting us with an ancestor of hers who is seemingly good-hearted is a wonderful parallel. Kravitz plays the part superbly and never allows us to ever be fully convinced about her true intentions. Her past with Newt is one of the few plot lines that's worth mentioning as it gives us something new in the Wizarding World's 10th film. Special praise should go to Thea Lamb and Joshua Shea who portray Newt and Leta's young friendship at Hogwarts, really adding an enjoyable and emotional weight towards their characters. Obviously there's not enough of it due to the abundance of plot, but it's still a ray of light when it's on.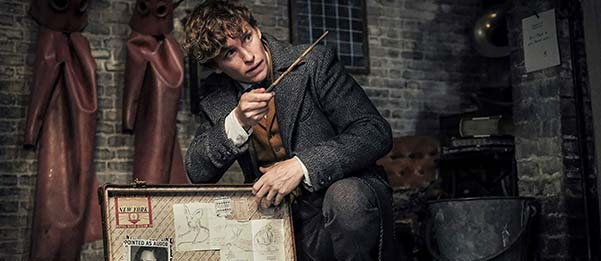 For all the controversy Johnny Depp's casting caused, it's extremely frustrating that he turns Grindelwald, the supposed big bad of the entire Fantastic Beasts franchise, into such a limp and underwhelming villain. He looks the part and his calm composure gives off evil treachery vibes at times, but this is an actor who is capable of turning characters into pop culture classics. Instead of anything remotely memorable, we get a villain with forgettable motives delivering dull and lifeless monologues that should feel a lot more powerful. It also leaves you with the sense that Colin Farrell should've just been allowed to stay on as Grindelwald, He wouldn't have saved the film, but he definitely would've made the main antagonist much more memorable. Then again, many actors without any controversy attached to them would have too.
Considering how many issues surrounded every marketing decision in the build up, the failure of the final product is more of a disappointment compared to the anger they caused. The controversy around things like Nagini's casting will be forgotten about due to the fact she only has about 5 lines. Instead the core issues lie on the most amateurish screenplay to grace a blockbuster film all year. It's made worse by the fact that the creator who crafted one of the most complex worlds is responsible for it. Fantastic Beasts is due a major reshuffle, hopefully in time to turn the remainder of the franchise into something of redeemable quality. For now however, The Crimes of Grindelwald is the first major misstep within J.K Rowing's Wizarding World. Fans may find something more within, but this has given one of cinema's most iconic franchises its first messy and poorly executed failure.
We Liked
Newt & Leta
Top notch production and costume design
We Didn't Like
The messy and incoherent script
Poorly executed action set pieces
An underwhelming villain in Depp's Grindelwald
Too. Many. Characters.

The opening weekend of Alice made an incredible $210million, becoming the biggest opening for a non sequel/prequel/spin off, and also the biggest opening for a 3D movie EVER, surpassing even the movie that spent 10 years developing the technology to perfection. Ahh the irony.