The Details
Release Date
14th October 2019 (UK Blu-Ray Release), October 1993 (Original Italian Theatrical Release)
Synopsis
Dennis Skinner rents an apartment in a couple's house, Kerry and Geoff. At night he roams the streets with a goodie-bag filled with knives looking for victims to skin, constantly followed by the hobbling, wobbling junkie Heidi who was mutilated by him and is now looking for revenge.
Starring
Ted Raimi, Traci Lords, Ricki Lake, David Warshofsky
In Ivan Nagy's schlocky serial killer flick Skinner, now available in the UK on Blu-Ray through 101 Films, an unassuming loner named Dennis Skinner (Spiderman Sam's younger brother, Ted Raimi; The Midnight Meat Train) has a particular penchant for inflicting the action of his surname on unfortunate victims. Using a variety of elaborate knives and with surgical precision, Skinner has perfected the gruesome art of skinning. But unbeknownst to him, one of his earlier works, drug addict Heidi (Traci Lords; Blade), survived his attack and is hell-bent on making him pay for the damage he caused her. 
There's no shortage of characters in horror movies who give the outward appearance of a relatively 'normal' person but in reality are complete psychopaths; Norman Bates in Psycho, Henry Morrison in The Stepfather and Patrick Bateman in American Psycho to name a few. Dennis Skinner is undoubtedly an overlooked candidate for this category and the success of the character is largely down to Ted Raimi's wonderfully erratic performance. He's completely believable as a dorky, low confidence loner when renting a spare room from unhappily married couple Kerry and Geoff and in a blink of an eye switches up to a maniacal murderer when prowling the streets for girls to skin. Traci Lords impresses as the brave survivor who is on the warpath to bring Skinner to justice, but she's not nearly used enough, while Ricki Lake is more likely to shed tree bark than flesh in an extremely wooden turn as Kerry. 
The film really comes into its own during the skinning scenes and features some of the most gruesome scenes of the early 90's as Skinner calmly explains the origins of his extreme fetish while peeling off the face of a prostitute. The lighting of these scenes deserves credit too as the green, purple and blue colour palette gives the sequences a carnival or fun house feel. 
Skinner's horror influences are glaringly obvious, with the aforementioned Psycho and Tobe Hooper's seminal Texas Chainsaw Massacre being hugely influential in shaping its existence. Aside from these though, Paul Hart-Wilden's script struggles to balance its three narrative strands of Skinner's crimes, his living situation with Geoff and love interest Kerry while giving enough exposure to Heidi's quest to stop the killer. Its inability to juggle this trio of stories seriously hinders the films pace and any time it feels like it's gaining momentum, a scene change grinds it to a halt.
Skinner is far from an essential entry in the genre, but enthusiastic performances from its two leads and some memorably gnarly gore make for a worthy unearthing from the vaults of obscurity. 
Skinner is now available to purchase through 101 Films in their online store.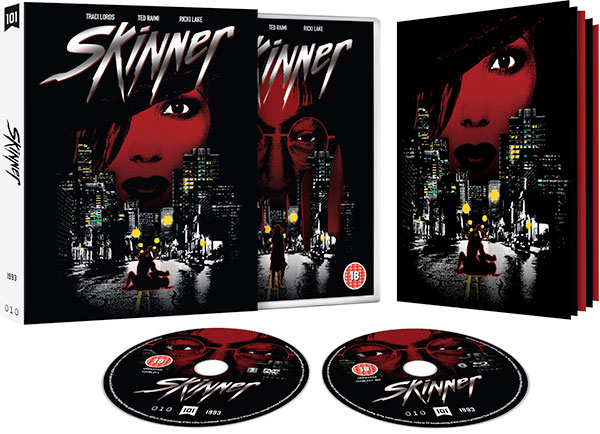 Brand new extras

Limited edition booklet includes 'Finding 

Skinner

' – Screenwriter Paul Hart-Wilden on the long and multi-faceted search for the 'lost' 

Skinner

 master
Additional extras

A Touch of Scandal – Interview with Director Ivan Nagy

Under His Skin – Interview with Star Ted Raimi

Bargain Bin VHS For A Buck – Interview with Screenwriter Paul Hart-Wilden

Cutting 

Skinner

 – Interview with Editor Jeremy Kasten

Flaying sequence out-takes and extended takes

Trailer
We Liked
Ted Raimi's turn as Skinner
Impressive gore and effects
We Didn't Like
Struggles to balance its plots and subplots
Occasionally sluggish pace
Characterisation is only skin deep