The Details
Release Date
3rd July 2019 (UK)
Synopsis
A couple travels to Sweden to visit a rural hometown's fabled mid-summer festival. What begins as an idyllic retreat quickly devolves into an increasingly violent and bizarre competition at the hands of a pagan cult.
Starring
Florence Pugh, Jack Reynor, Vilhelm Blomgren
Feeling suffocated in his relationship with his overly attached girlfriend Dani (Florence Pugh; Fighting With My Family, Outlaw King),  Christian (Jack Reynor; Free Fire) is looking for a way to send her on a one-way trip to Dumpsville before they venture to a once-in-a-lifetime Pagan festival on the ancestral commune in Sweden of another one of their friends, Pelle (Vilhelm Blomgren). After a few beers and with the 'help' of his Dani-disliking friends Josh (William Jackson Harper; The Good Place) and Mark (Will Poulter; The Little Stranger, We're The Millers) Christian summons the courage to end the union. But as fate would have it, a devastating family tragedy for Dani throws a spanner in the works and he stays with her a while longer to comfort her through grieving.
The following summer while at a party, the group are discussing their upcoming trip – an outing which had until now been kept secret from Dani. Feeling obliged to ask her now she's in the know, Christian invites Dani along without consulting the rest of the group. Being aware of the hardships she's endured over the past few months, Mark and Josh hide their chagrin and feign enthusiasm for the addition of an unwanted invitee. Pelle, however, seems genuinely happy that Dani is now along for the ride.
And that's really all I'm going to divulge about the plot. Anything further would spoil the unmitigated eccentricities of Midsommar. What I found peculiar though is that, on reflection, there isn't really anything particularly scary about any of the events which occur for the first hour and a half or so, but Ari Aster's masterful direction gives even the most innocent of actions a distinct air of menace.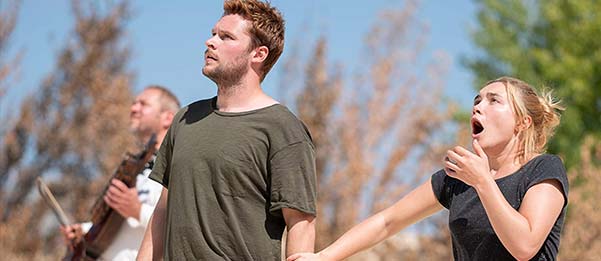 The first instance of something really being amiss, and indeed a strong reason why Midsommar gained a rare 18 age certification rating in the UK, is still given a believably justified explanation by the believers. It's the lack of knowledge, and possibly close-mindedness of the characters, which skews the ritual from a somewhat normal way of life for the commune to a horrifically gory practice for the uninitiated.
Of course, it doesn't stay this way and by the time the third act comes around, it's clear there's something gravely amiss in the eternally sun-kissed fields of Sweden. It's disappointing then that when Midsommar's finale takes the stage, it's one we've seen many times before with a greatest hits set-list that features few surprises. Still, it's a two-and-a-half hour showcase of psychedelia that, despite its grotesque imagery and outlandish ceremonies, is unlikely to leave you feeling like you had a bad trip.
Like his feature length debut Hereditary, Midsommar's roots are firmly planted in tragedy. Whereas Hereditary shone a light on a broken family after a catastrophic loss, with Midsommar Aster delves into toxic and co-dependent relationships. Sure, there's are scenes in both which paint death as being the ultimate woe, but Aster argues there are times in life where we feel like part of us has died while conscious. In various interviews, he's expressed his desire for Midsommar to be the go-to 'breakup movie' and for good reason. Look past its warm aesthetics and beneath you'll find nothing but inevitable misery.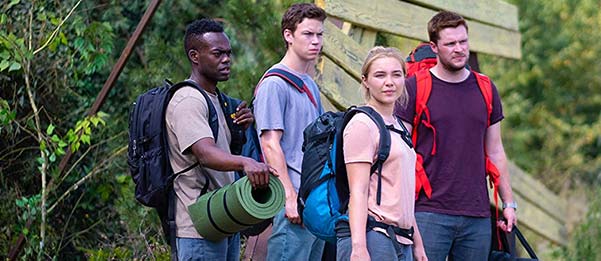 Straight off the back of portraying WWE wrestler Paige in Fighting With My Family, Florence Pugh now grapples with her emotions as the anxiety ridden Dani. With a severely dressed down look in drab pastel coloured t shirts, baggy jogging bottoms and nary so much as a grin on her face, Pugh's portrayal of a girl in the stranglehold of depression is agonising and wonderful. It may not be as breathtakingly devastating as veteran Toni Collette's work in Hereditary, but Pugh continues to put herself on the map as one of the most talented actresses working today. Jack Reynor gives a great turn as the disconnected and emotionally vacant Christian, William Jackson Harper impresses as the fascinated student fixated on doing his thesis on the community, Vilhelm Blomgren is the smoothest of operators as Pelle, the native who gives nothing away as to what's really going on while Will Poulter's Mark acts essentially as the comic relief being the culturally ignorant buffoon. Speaking of comedy, there's a surprisingly high level of comedy in Midsommar. Whether these moments are intentional or merely out of the sheer absurdity of some sequences depends on your own sense of humour, but Midsommar's dark humour means you're more likely to be cackling with laughter rather than cowering in the corner.
A word of advice though – don't ever recommend Midsommar as part of Family Movie Night. It provided me with one of the most hilariously awkward cinema experience ever with friends, so I can't imagine how the final 20 minutes would go down if watched with loved ones.
We Liked
Pugh's pained performance
Menacing tone even during seemingly innocent scenes
Methodical pacing which rises to a deranged crescendo
We Didn't Like
Logic behind it all ends up being too familiar