The Details
Item Reviewed
The Farewell
October 2, 2019
Release Date
20 September 2019
Synopsis
A Chinese family discovers their grandmother has only a short while left to live and decide to keep her in the dark, scheduling a wedding to gather before she dies.
Starring
Awkwafina, Shuzhen Zhao, Diana Lin, Tzi Ma, Han Chen, Aoi Mizuhara
Authentic family dynamics are a difficult thing to achieve in film. The small nuances and complicated intricacies that come with those closest to us is a bold challenge to undertake in under 2 hours, the last real success story of this perhaps being Lady Bird. Until now at least thanks to Lulu Wang's touching comedy-drama The Farewell, which manages to capture such a fully formed and believable family during a sensitive and emotional time.
With a breakout dramatic performance from American rapper Awkwafina (Ocean's Eight, Crazy Rich Asians), The Farewell centres on a Chinese family, who upon learning their grandmother is seriously ill with terminal cancer, decide to hide the truth from her and schedule a get-together around a wedding. The intent is to shield the grandmother, called Nai Nai (meaning 'paternal grandmother' in Mandarin), from living out her remaining days in misery and is something more understood and accepted in eastern culture. Billi (Awkwafina) is very close to her grandmother and despite being brought up predominately in America, they have regular telephone calls. But when she learns of her grandmother's sickness and the family's plan to cover it up, Billi finds it especially difficult to hold back her emotion when she joins the reunion.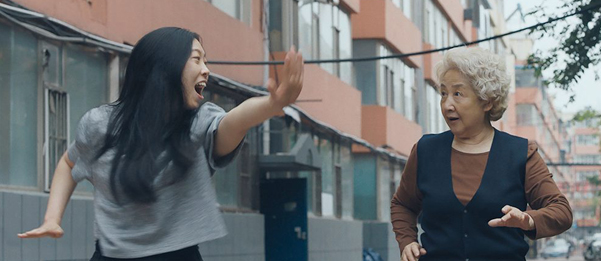 The film is very considered in terms of its culture clash, meditating and exploring the differences between traditions and family maturely head-on whilst always making sure the story doesn't get bogged down in its own melancholic subject. There are many light moments and humorous vignettes that give the ensemble cast presence. From the clueless couple-to-be about to get married to the guilt-stricken sons of Nai Nai, every member of the family feels fleshed out and legitimate. They all have their moments of humanity.
Whilst Awkwafina showcases her talent as a dramatic actress, the beating heart of the film is ironically Nai Nail (played by 75-year-old newcomer Zhao Shuzhen). Shuzhen is truly superb and charismatic as the grandmother and The Farewell does something very interesting with her character. Despite Nai Nai being ignorant of her illness, she is the most knowing character in the film. Everybody else suffers from some form of pain, anxiety or emotional baggage that's holding them back somewhat, and they all look to Nai Nai for guidance. She is at ease with herself and the world around her in a way that none of her family is yet. It begs the question of whether the family ever needed to hide the truth from her at all, and it's in fact themselves that they are hiding and lying to. Thankfully The Farewell never answers said question in favour of an audience interpretation.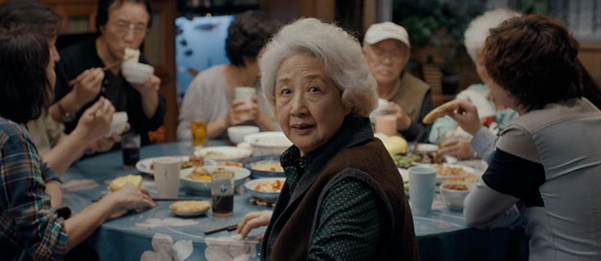 Brief mention must also be given to the film's beautiful score by Alex Weston, which imbues classical strings with the sole sorrowful voice of Mykal Kilgore. Its use in the film is limited and short, but really packs an impact and won't be easily forgotten.
My only real criticism of The Farewell is not something I can necessarily talk about openly without spoiling the film. It's also something hard to sell as a criticism, for the film is based on director Lulu Wang's own grandmother, The story follows the real events as might be expected. However, I feel that the true events are at odds with the point of the film, and what was intended as a heartwarming message at the credits instead left me confused and deflated, making me question the real point of the last 100 minutes. To me, it sadly rendered the film somewhat fruitless whilst also contradicting the name of the film. It sounds incredibly harsh but up until that point it was shaping up to be one of my favourite films this year.
Of course, despite my negative thoughts on the ending, The Farewell is still an excellent film that blends drama and comedy seamlessly and depicts one of the best family dynamics in recent memory. It's a film about family and can be enjoyed universally no matter where you're from. It's a sincere piece of work that's relatable even from western eyes.
We Liked
Awkwafina's impressive dramatic performance
Melancholic score
Intriguing premise
We Didn't Like
Real-life events it's based on undermine the story