The Melbourne International Film Festival (or MIFF) is one of the biggest and best festivals in the southern hemisphere. This year the two-and-a-half-week event ran from the 1st to the 8th of August and showcased movies from across the globe, from North America to Tibet, from Japan to Belgium.
Being positioned just a few months after the world's biggest film festival Cannes also means that this Australian event is one of the first to screen lots of the favourites from the south of France. In this recap, we'll take a look at two of these such movies, Cannes Jury Prize Winner Les Misérables and Ghost Tropic, along with the Joanna Hogg-helmed The Souvenir and American indie Sword of Trust.
Les Misérables (2019)
Dir: Ladj Ly | IMDb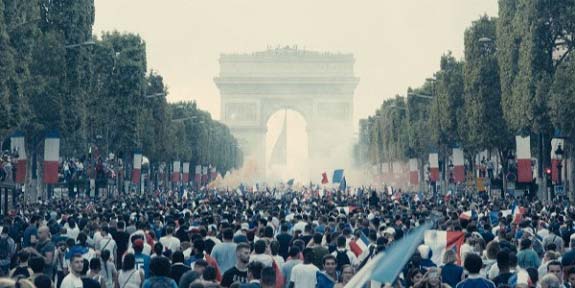 Don't worry: this is not another adaptation of the classic Victor Hugo novel. There's no singing Russell Crowe in sight. Instead it is a story set in the modern day in the same neighbourhood in which Hugo wrote his novel. It is a neighbourhood that is suffering greatly with poverty and crime. An Anti-Crime police unit cruises around the area, acting less as protectors and more like sheriffs and antagonisers. This is the unit that Damien Bonnard's protagonist Ruiz has been transferred to. A routine first day on the job soon transforms into something much more dangerous and complicated when the police and the local community clash and a drone hovers ominously overhead filming the action.
Stories about the issue of police brutality are not in short supply, but Ladj Ly's movie does just about manage to stand out amongst the rest, mainly due to Ly's creative imagination and an explosive finale. The use of drones has been overdone in recent years, but Ly finds an inventive way to incorporate this into the film.
The film also opens with footage shot during France's football World Cup win in 2018, another clever move from the director. It allows the audience to compare and contrast the fleeting national joy of Paris with the crushing poverty still rife in the city. It also allows the film to open with the stunning image of an army of French marching on the Arc de Triomphe, not only iconic imagery but painfully appropriate for the film to follow.
Although it is adapted from a short of the same name, it never feels like a movie that has been stretched out of shape to make it into a feature. Ly clearly knew the areas to develop from the short and has crafted a competent debut feature.
Les Misérables isn't a complete success though. It is true that it never lags but for long swaths it never really compels either. It builds slowly but surely to the finale, but never truly grasps the audience's attention fully until those explosive final scenes.
There are some question marks over the casting too. Bonnard has proven himself a wonderful actor in the past but as Ruiz he is good but rarely great. For large portions of the film he expresses very little, and it's difficult to really get any reading on the character. His is clearly the character we are supposed to connect with as an audience as his moral compass is not as skewed as say his unit commander Chris (Alexis Manenti). However, he does little to create this connection, coming across as wooden rather than simply quiet. It is only in the film few scenes as the action ramps up that Bonnard's character begins to develop and emote. Manenti as the heavy-handed leader of the unit is a better match though, and Djibril Zonga as the conflicted man stuck between Manenti and Ruiz morally is the standout.
It's a promising debut from an exciting talent, and it feels like a very important film for France right now. It's just a shame that it never quite lives up to its potential.
Recommended
The Souvenir (2019)
Dir: Joanna Hogg | IMDb
British director Joanna Hogg's newest film is a semi-fictionalised tale that follows upper class student filmmaker Julie (Honor Swinton Byrne) in 1980s Britain, as she navigates a toxic relationship with older man Anthony (Tom Burke) who works at the Foreign Office.
The Souvenir is a film that takes its time to seep under your skin. The relationship between Julie and Anthony develops slowly as each struggle with their own direction in life. Director Hogg demonstrates here that she is a master of the craft of film-making. Every shot in the film has a purpose and is beautifully framed. Much like the painting the film is named after, each shot is a masterpiece. Recurring themes and motifs are interwoven throughout the film, subtle yet revealing to the overall nature of Hogg's vision. One such example is Hogg's use of mirrors demonstrating, no doubt amongst other things, the duality inherent in Julie's life and her ideal life, as well as the distorted and at times cracked nature of our protagonist's relationships.
Speaking of Swinton Byrne, this is a star-making turn by the young actor. She is truly wonderful as the shy, at times conflicted, Julie finding her way in the world. Equally brilliant is her co-star Burke who can switch so expertly from charismatic to arrogant, honest to nasty. These two lead performances make the film the success it is. Tilda Swinton appears as Julie's mother and is as brilliant as ever, whilst Richard Ayoade shows up briefly and is the pure definition of a scene stealer, infusing the scene with a sharp wit. However, this, at the end of the day, is Swinton Byrne's film.
The film also has precisely selected soundtrack that does more than just remind you of fantastic songs, but actively plays a part in drawing you into Julie's world. The Souvenir, with its great cast, stunning cinematography and music almost threatens to achieve masterpiece status.
However, the film is unfortunately a tad overlong. It hooks you, pulling you into this unique and captivating world of Julie's for a solid hour. The film is firing on all cylinders with near perfection displayed both in front and behind the camera. In its final stretch however it loses some steam and whilst it remains gorgeously shot, it feels a little messy. It doesn't quite stick the landing even after such pitch perfect build up. Perhaps this has something to do with the Hogg's artistic process which promotes a heavily improvised script and even experimental editing, and therefore lends itself to great moments of honesty and realism, but also uncertainty and plateaus. A trim to the ending could've resulted in something truly unforgettable and unique, instead it is just a film that is very very good.
Highly Recommended
Continue to Page 2 for reviews of Sword of Trust and Ghost Tropic as well as our current rankings for these four titles from the MIFF >>>